Image via One Wilson Square
San Juan City may be the smallest city in the Philippines, but it is large with real estate investment opportunities. With several exclusive schools like Xavier University, La Salle Greenhills, and Operation Brotherhood (OB) Montessori Center, Inc.; leading hospitals like Cardinal Santos Hospital, The Medical City, and St. Luke's Medical Center; lifestyle hubs like Greenhills Shopping Center, and Robinsons Galleria; and other notable establishments like Wack Wack Golf and Country Club set in and near the little city, San Juan is quickly becoming a favorite home among affluent families and thriving businessmen. Its proximity to its proximity to central business districts makes it a must-have among the local professionals and expatriates.
If you are thinking of investing in San Juan City, know that there are two types of real estate development in the city: townhouse and condominium.
Here are some pros and cons of buying a townhouse or a condominium to help you determine which property type will work best for you.
TOWNHOUSE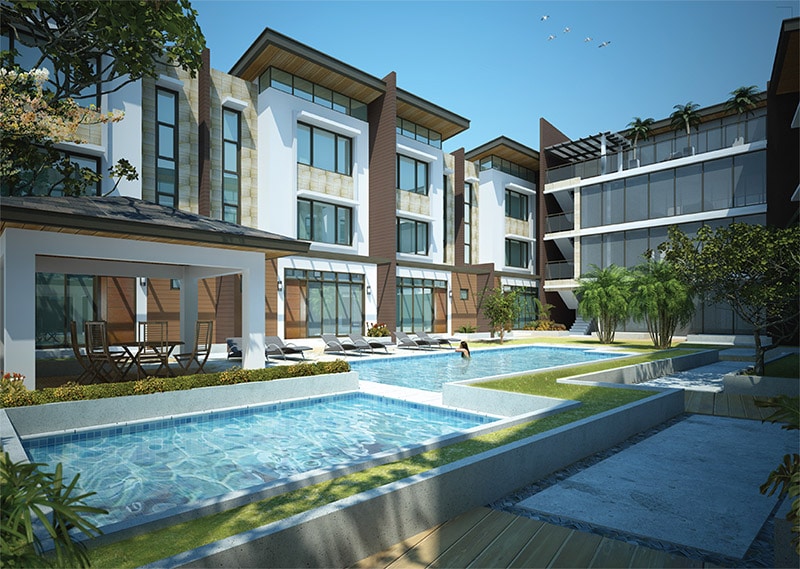 Image via Dover Hill
PROS
Land ownership
Buying a townhouse also buys the land it is built on. It is basically paying for a house and lot.
It is similar to a semi-detached house but within a multi-unit housing complex. Each unit has their own front and backyard, a parking space and multiple stories.
Larger Living space
Based on popular property portal Lamudi Philippines, most townhouses currently for sale in San Juan City are three-story, three-bedroom units. As such, you can easily furnish your living room with a large couch, side tables, and other décor without looking overcrowded.
Complimentary Parking Space
A townhouse unit often comes with a parking space, without additional costs or separate property titles.
Good Investment Potential
Set conveniently close to premier schools, topnotch hospitals, shopping centers, country clubs and business districts, San Juan City is a prime residential district ideal with families. A townhouse in San Juan City can be rented to large families, retirees, and expatriates.
Quick project turnover
Compared to condominium projects and subdivision developments, a townhouse complex can have as few as 2 units to as many as 35. Hence the construction phase is ideally shorter.
CONS
Higher Cost
As a 1st class highly urbanized city in Metro Manila, San Juan mostly offers upscale properties. On Lamudi Philippines, townhouse properties in San Juan City range from Php 16 million to Php 65 million; while comparable condominium units range from Php 2 million to Php 42 million.
Restricted Exterior Modification
Townhouse communities may restrict you from renovating the exterior of your property like the roof, façade, and driveway to maintain the coherent appearance of the neighborhood.
Shared walls with neighbors
Similar to semi-detached houses, townhouses share common walls and roofs. Hence, it may limit your privacy.
New Townhouses in San Juan City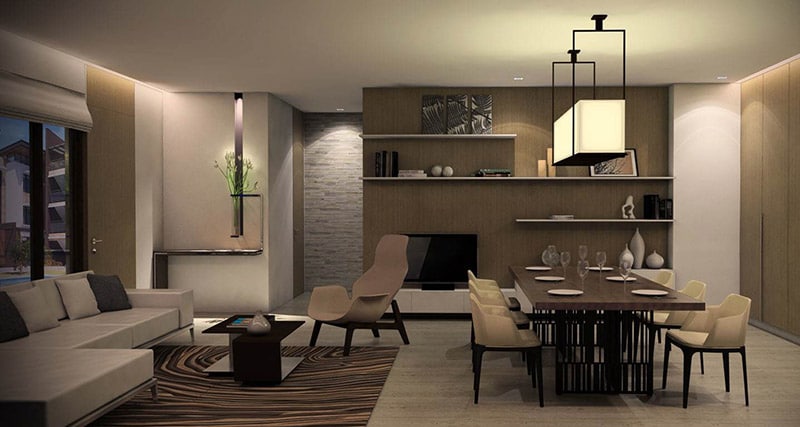 Image is from Dover Hill
Dover Hill is a luxury townhouse development by San Miguel Properties with lush greenery and carefully planned living spaces, set amidst the commercial and entertainment center of San Juan City.
Developer: San Miguel Properties
Location: A. Mabini cor. Ortega and Pilar Sts., San Juan City
Unit Type: 3BR, 4BR, 5BR Townhouse
Floor Area: 202sqm – 355 sqm
Price Range (on Zipmatch): 21.5M – 26M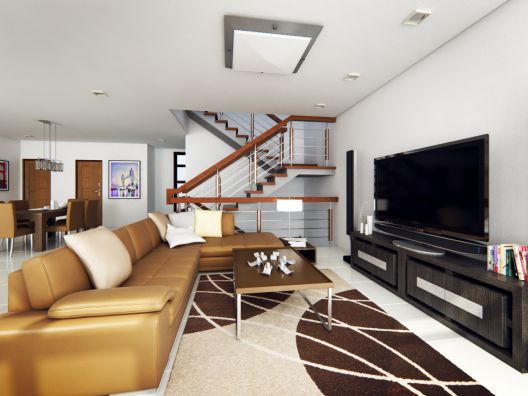 Image is from Arellano Townhouse
Arellano Townhouse is an exclusive six-unit residential enclave nestled in the neighborhood of Additional Hills.
Location: A. Mabini cor. Ortega and Pilar Sts., San Juan City
Unit Type: 5BR Townhouse
Floor Area: 328sqm – 387 sqm
Price Range (on Lamudi): 29M – 33M
CONDO
PROS
More affordable
A condominium unit in San Juan City costs less than a townhouse in the same prime area. On Lamudi Philippines, the price of a studio unit condo starts at Php 2 million to Php 42 million while townhouse properties in San Juan City range from Php 16 million to Php 65 million.
High Rental Yield
In a recent report released by Colliers Philippines, Metro Manila was said to have one of the most attractive rental yields in the Southeast Asian region with 5.1%. And with sustained demand from affluent families, foreign investors and offshore gaming firms, Colliers expects the rental and secondary market will remain strong.
Set in a highly urbanized city near established central business districts Makati, Ortigas and Bonifacio Global City, condos in San Juan are promising investments. A studio to two-bedroom unit condo can be rented or resold to young professionals, early nesters, retirees, and expatriates; while a three-bedroom unit and above are ideal for large families.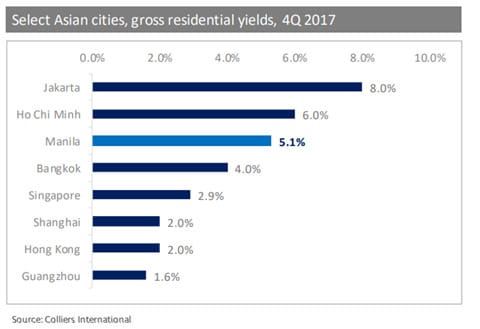 24/7 Security
Most condominiums are gated communities with CCTV surveillance cameras and roving guards patrolling the perimeter and its blind spots. You will have peace of mind when on vacation knowing that your home is tightly secured.
Amenities and Features
You have the luxury of enjoying a two-minute walk going to on-site amenities such as the swimming pool, fitness gym, landscaped gardens and more. Condos like One Wilson Square also provide concierge services, centralized mail room, fire detection and alarm system, and commercial space.
Easy Upkeep
Smaller living space is easy to maintain and require less utility. Also, you do not have to worry about mowing the lawn and fixing the roof. If you travel a lot or have a hectic schedule, these could be a big advantage for you.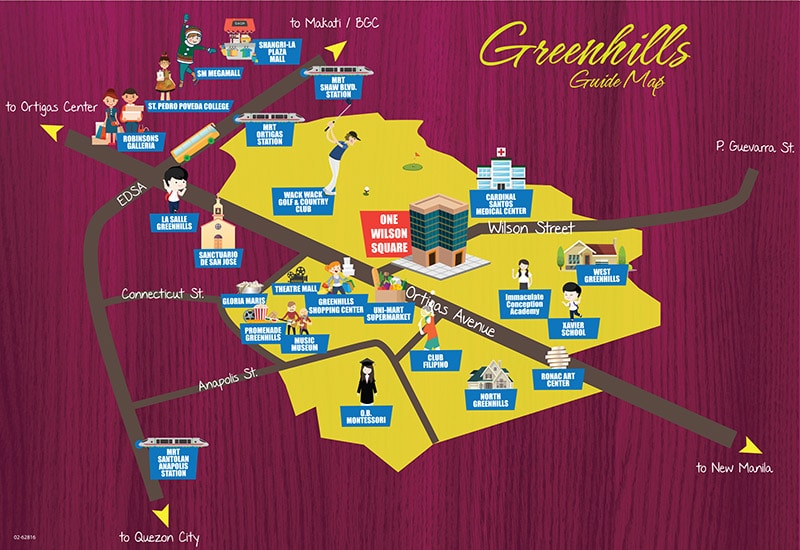 A Guide Map of Greenhills, San Juan City
CONS
Smaller floor size
Though there are large units like three-bedroom units and above, condominiums are generally smaller than townhouses. As such, you have to be creative in maximizing living space for you and your family.
Partial privacy
Unless you are in a penthouse, you will share walls with your neighbors. Sounds and smells can sometimes travel through adjoining walls. Try to be cautious, lest you become a cause of a disturbance.
HOA fees and rules
Because of shared ownership to the building structure and amenities, condominiums are run by the homeowners association (HOA). HOA collects a monthly fee for the upkeep of communal areas and to fund future repairs of the building.
Furthermore, some HOA has rules and regulations you need to abide. Some condo communities do not allow pets; some impose strict trash disposal schedule; some have noise restriction policies.
New Condominiums in San Juan City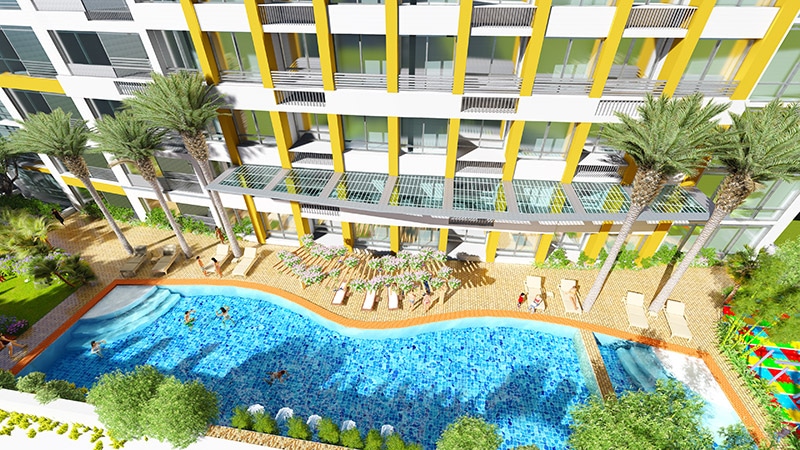 One Wilson Square
Set in a space that provides easy access to the major thoroughfares and business districts in Metro Manila, One Wilson Square has spacious and exquisitely appointed upscale condos for sale to provide you full access to an enhanced level of luxury.
Developer: Federal Land, Inc.
Location: Ortigas Ave. cor. Wilson St., Greenhills, San Juan City
Unit Type Available: 2BR, 3BR, 4BR Condo
Floor Area: 39sqm – 216 sqm
Average Price (for a two-bedroom unit): 11 M – 14 M
Classification: Ready for Occupancy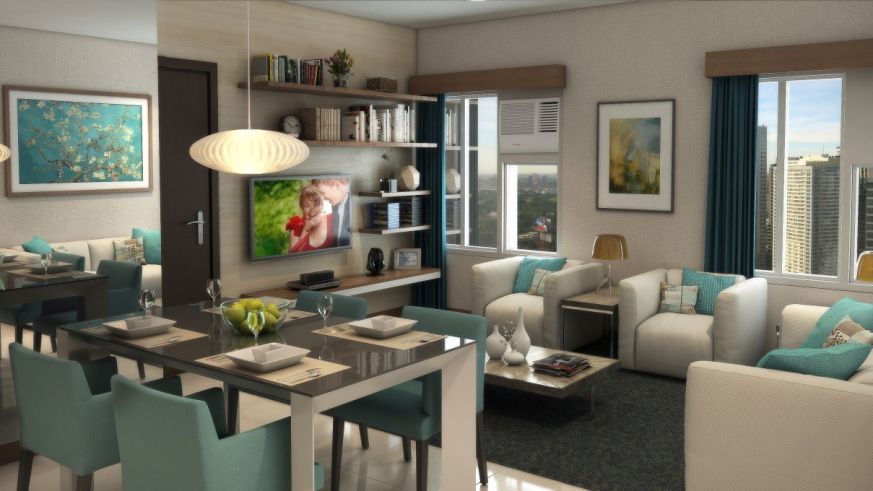 Chimes Greenhills
Located along one of the prominent addresses in the metro, Chimes Greenhills is a 40-story residential project with a distinctive architectural design that stands out among its neighboring buildings and will pave the way to an affordable affluent lifestyle.
Developer: Robinson Communities
Location: Annapolis Street, Greenhills, San Juan City
Unit Type: Studio, 1BR, 2BR, Condo
Floor Area: 21.7sqm – 48.9 sqm


Buying a home is a huge commitment. In the end, whatever you choose, you should make sure to buy the property that suits your lifestyle and your investment portfolio.
This 2019, top real estate developer, Federal Land, Inc., is slated to launch numerous condominium projects in Metro Manila and Cebu to add to your investment portfolio. Set in key areas of Makati, Bay Area, and Cebu, these condominium projects' value is projected to surge even further in the coming years, so watch out for the upcoming announcements and launches.
One of the projects you can avail this year is the One Wilson Square in Wilson St., San Juan City. Set in a space that provides easy access to the major thoroughfares and central business districts in Metro Manila, One Wilson Square is an upscale condominium community. It's a stone's throw away from the Greenhills Shopping Center and the intersection of EDSA and Ortigas, making a drive to Ortigas and Makati central business districts easy. Its prime location sets it near major commercial establishments, top notch schools, modern hospitals, avant-garde art galleries, an exclusive country club, and affluent communities.
One Wilson Square offers spacious and well-appointed condominium units that provide full access to an enhanced level of luxury. Every inch of a One Wilson Square home has been individually created to maximize the space for residents, with careful attention to detail in every aspect of life – living space with the power to relax, refresh and recover.