In 1976, it launched its first project, the Tytana Plaza and Mandarin Mansion in Binondo, Manila.
The success of Tytana Plaza and Mandarin Mansion gave way to more projects such as The Soler Tower in Binondo and Metrohomes Townhouses in San Juan City. In the 1980s and through the '90s, Federal Homes continued the development of high-rise residential and office projects around Metro Manila. The Group ventured to Makati with two projects, a residential-commercial building, Skyland Plaza, and an office building, Philippine AXA Life Centre building.
Legacy Timeline
History of Federal Land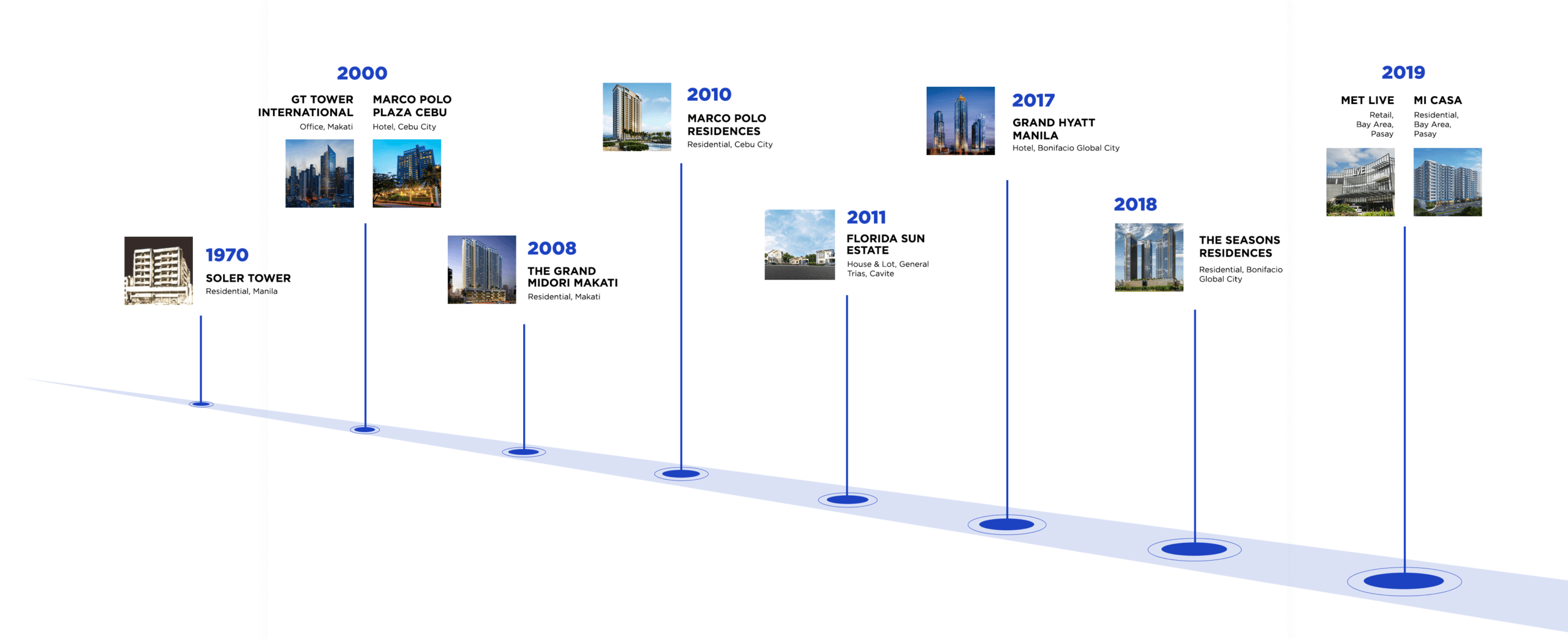 In 2002, Federal Homes changed its name to Federal Land, Inc. The rebranding signified the evolution of the Company as its portfolio of properties grew from residential and office buildings to now include commercial developments.
It progressed from single-tower buildings to multiple-tower communities in Pasay, Marikina, and Cavite. The Company also developed residential condominium clusters in new sites in Makati, Manila, and Quezon City, and eventually in Cebu.
In 2009, the Company opened its flagship office building, the 47-story GT Tower International on Ayala Avenue in Makati City. Federal Land further increased its footprint in the commercial real estate sector with event venues and strip malls in Pasay City.
Federal Land launched several landmark projects by partnering with some of the biggest and most trusted names in the global arena. World-renowned Foster + Partners designed their first project in Manila, the ultra-luxurious The Estate Makati. Federal Land partnered with Hyatt Hotels to develop the first Grand Hyatt branded residences in Southeast Asia, Grand Hyatt Manila Residences. The Seasons Residences is a collaboration with respected names in Japan architectural firm, Nomura Real Estate Development Co., Ltd., and retailer Isetan Mitsukoshi Holdings, Co. Ltd.
Federal Land believes that creating a core mix of residential and commercial properties makes self sustaining communities that are dynamic and attractive places to live, work, and play.
Misson
We create dynamic communities for generations to enjoy.
Vision
The dynamic Real Estate Developer most admired for its world class landmark projects and excellent customer service, highly capable team and outstanding innovations. It practices good governance and corporate social responsibility.
Awards and Citations
Federal Land continues to cement its position as one of the Philippine's leading real estate developers. Every accomplishment and recognition is a testament to our commitment in building dynamic communities for generations to enjoy.
We take pride in our distinctions which inspire us to deliver our products and services with excellence.
We are looking for you
At Federal Land, building quality developments for the people are at the heart of what we do. Be part of a company where you can develop career-defining skills while playing a key role in reshaping the Philippine skyline.
We value our employees as an important asset of the company and recognize their contributions as key to business success. Join us as we create iconic landmarks and build homes for generations to enjoy.
Places for Progress, Spaces for Life
For almost 50 years, Federal Land continues to build places for progress and spaces for life. Each development strikes that elusive balance between remarkable architecture and strong engineering to create modern-day structural icons that reflect the country's progress, and well-built spaces where people can enjoy life to the fullest.