October 5, 2022
5 Japanese-Inspired Design Trends for People Who Love Minimalist Looks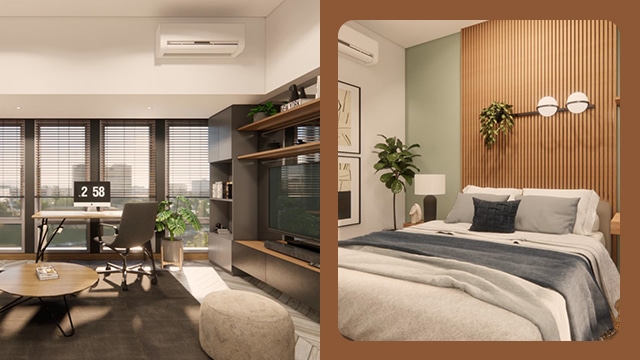 Japanese designers have just mastered the art of minimalism.
Japan has an aesthetic like no other. While most parts of the world find beauty in extravagant styles and embellishments, Japan finds beauty in serenity and simplicity. This is seen in how they design their home spaces and this is one of the reasons why places like The Grand Midori Ortigas have taken inspiration from the Japanese aesthetic to provide the same feeling of calm to their residents.
If you want to see more of this simple yet stylish aesthetic for your own home, check out these five popular interior design trends that hail from the land of the masters of minimalist design (AKA Japan!).
Minimalist Zen
"Zen" means meditation, so a room that follows a minimalist Zen aesthetic should foster an atmosphere conducive to it.
To create a meditative space, stick to a neutral palette, which helps instill a sense of calmness. In the same way, fill your room with textures from nature, like wood, stone, and linen. Keep your lights soft and gentle—it's a good way to set up the mood!
Stay away from clutter and choose furniture with straight, clean, and simple lines. When it comes to decor, remember that less is more!
Wabi-Sabi
There's beauty in imperfection, like in broken potteries painted with gold (see: kintsugi) or an exposed brick wall. This is the wabi-sabi aesthetic in a nutshell.
Wabi-Sabi sticks to a philosophy that makes room for asymmetry and intimacy. To achieve a wabi-sabi look for your room, use decor that adds a personal touch—like art made by a child or a statement vase. Be as real and raw with your elements, even if they're aged, unpolished, or cracked. You can also upcycle your old items and furniture and choose earth colors to match your theme.
Chikyu
Chikyu is about reconnecting with the earth. In a chikyu-style home, everything—from the walls, to furnishings, to the sinks, right down to the utensils, fabrics, and decor—uses organic materials that make you feel grounded with nature. You can clad your interior walls with a large reclaimed wood, or place cotton twigs in a handmade clay vase. For the ultimate experience, check the soothing scent of agarwood—a well-loved room scent in Japan.
Japandi
Minimalist and functional, yet welcoming, chic, and homey—Japandi perfectly fuses Japan's simplicity with the Scandinavian hygge (/hoo-ga/), or feelings of coziness and contentment.
To curate a Japandi home, mix and match simple and sumptuous elements, like a rustic rug on a warm white colored room. You may also blend in modern elements like industrial lighting against a wood slat wall.
As for color, the Japanese like warm earth tones while Scandinavians use whites and light neutrals. Pops of bold colors work, too, but these are generally kept at minimum. For a more natural feel, feel free to add in a few bright green plants.
Read more: Spot PH Online – News