Real-estate developer Federal Land Inc. continues to revolutionize the standards of Filipino luxury living with the two-tower Grand Hyatt Manila Residences, the first and only Grand Hyatt branded residences in Southeast Asia. Designed to bring hotel-like luxury living to its residents,homeowners can expect world-class architecture, thoughtful amenities, premier location, ala carte hotel services, and exclusive access to Grand Hyatt Manila.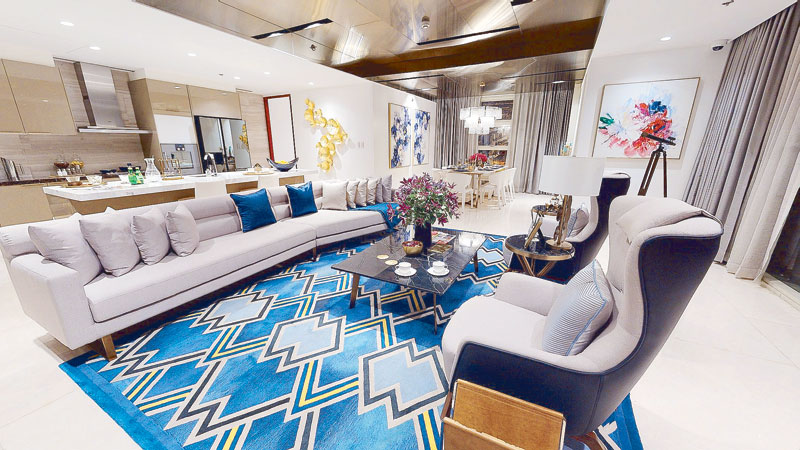 1 Five-star residences
Grand Hyatt Manila Residences is the epitome of luxury with an elegant design and 188 generous living spaces that are comprised of 120 sqm-to-143 sqm two-bedroom and 205 sqm-to-394 sqm three-bedroom configurations. Envisioned by Casas + Architects, Inc., the establishment puts a premium on space to give plenty of room for individuals and families to thrive and enrich their lifestyles.
Developed alongside Ove Arup & Partners and other local collaborators, the overall architectural design of the 50-story building melds style and function, masterfully constructed according to global standards of efficiency, safety, and engineering technology.
The living spaces are divided into zones, increasing privacy and exclusivity as the floors ascend. The low zone from the 8th to 25th floors consists of eight units per floor, the mid zone from the 26th to 38th floors house four units, while the high zone from the 39th to 50th floors has only two units per floor.
Inside, all units reflect a distinct, hotel-like ambiance — from high ceilings to expansive windows and private balconies that give a panoramic view of the city. Two three-bedroom units on the 39th floor have their own private garden.
All units also come with ceiling-concealed duct air-conditioning in the living, dining and bedroom areas. Designed with natural stone, polished marble, and engineered wood flooring, every living space exudes elegance and class.
Leveling up the concept of hotel-like living, the bathroom and kitchen spaces are also given the luxury treatment through seamless integration of trusted appliance brands. For instance, the two-bedroom units come with a Gaggenau range hood and cook top for the kitchen, as well as a front-loading, automatic, washer dryer in the service area.
Read more: Philstar Global