January 30, 2023
A living space that gives you room to grow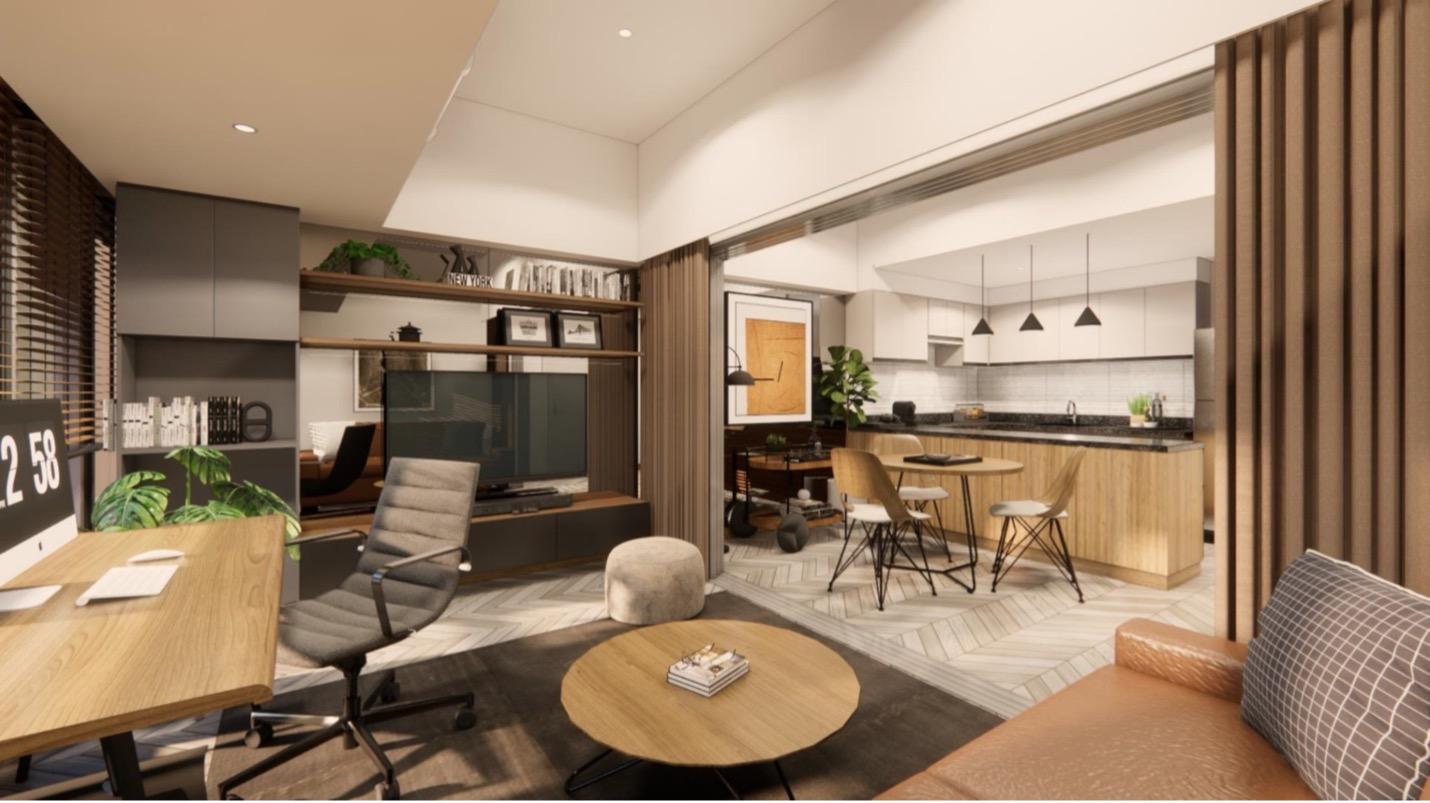 Finding a place closer to your new job? Are you a new couple getting ready to grow your family? Empty nester? Coming up into a new stage in your life is exciting, challenging, and always requires room for change. In this case, literally.
Different stages of life may bring you to find new spaces that work for you. Renting or buying a condominium is a popular choice now because many find that the security and services provided affords them flexibility in their life, but the limited space is one of the biggest challenges of living in one. As you build towards a new goal or dream, a bit of interior design magic can open up your living space and make room for your lifestyle.
Mirrors
The most common solution to giving the illusion of space is the use of mirrors. Mount a mirror or reflective surface on a bare wall to help your space look bigger. It also helps with brightening up your space by reflecting the light coming from windows or light fixtures. Mirrors are also handy near narrow entryways and foyers to give you a wider feel while doing your final outfit check before going out for work or a night out.
Space savers
Well-made double-duty furniture and space-saving pieces are available today to help you create flexi-use areas on your home. Having four people over for dinner instead of two? An expandable dining table easily folds out to accommodate your guests. Cube stools, kitchen tables, and day beds that incorporate concealed storage help keep your belongings safely out of sight. Chairs you can stow away when not in use can give you space for your morning yoga. Go for less bulky, multi-purpose pieces to keep your space fluid.
Wall mounts
Limited square footage means you will have to keep things off the floor to make your space feel less crowded. Wall mount the television set and speakers to free up media console tables. Mount shelves where you can organize books and precious family photos. The more floor space you free up, the wider your living area will feel.
Decluttering
Nothing takes up space like clutter. Possessions that slowly build up and populate your little nooks and crannies can make any space feel cramped. Take the time to periodically get rid of things that you know you haven't used in a good while. Donate items that you know will find a good home with others who will have better use for them. Use covered bins to organize and conceal bric-a-brac to make your space easy on the eye. Zen-inspired decorating is also a big help in creating an uncluttered, calm look.
Finding the perfect space for you, whichever stage of life you're in, is always a good starting point in organizing and building up the goals and plans you've made for yourself. Choose a home that brings clarity and simplicity while still being adaptable.
The Grand Midori Ortigas gives you all the aspects of calm while giving you the freedom to have the flexibility you need in living spaces. Their two towers of Zen-inspired sanctuary in the heart of Ortigas Center in Pasig City will readily give you all the solace of home while providing amenities that make life convenient for the busiest of lifestyles.
The development has a special set of unit offerings called 'Flex Suite' designed to give you more space to cater to your needs and pursue your interests. These Flex Suites are situated in the sides of each tower that get sufficient ambient lighting instead of direct sun, away from the noise of the traffic below and with an unobstructed panorama of BGC and Makati skyline (for high zone units), giving you an inspiring view for hobby studio, remote work setup, or social gatherings. The units come with a built-in glass partition to segment your space while blocking interruptions. With a divider that has a clean and light design, the look of open space is preserved while providing privacy to sections of your home when you need it.
The Flex Suites at The Grand Midori Ortigas are perfect for a progressing lifestyle that needs more space while remaining flexible. It is a space that evolves just as you evolve – a living space that expands and flows at life's every stage.
For inquiries, visit the The Grand Midori Ortigas website, email invest@federalland.ph, or call (632) 7796 7253 to book a private viewing.