February 28, 2023
Federal Land tops Tower 1 of The Grand Midori Ortigas development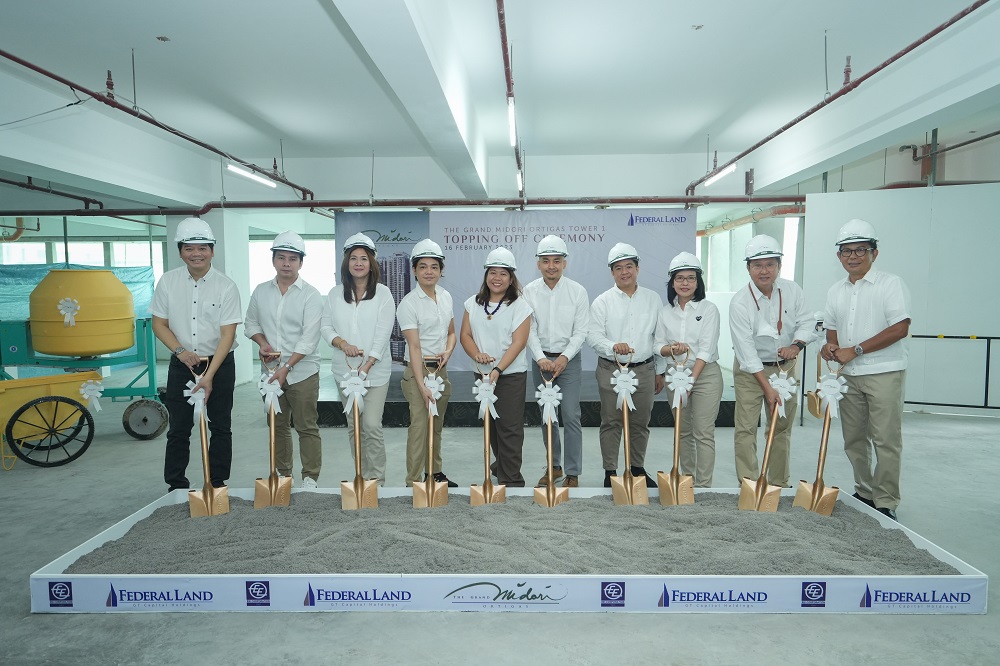 Federal Land, Inc. celebrates another milestone with the topping off ceremony of The Grand Midori Ortigas Tower 1. The event marks the structural completion of the first tower of the development — a testament to Federal Land's commitment to stay on target for the handover and delivery of its projects.
Designed by world-renowned Japanese architectural firm Tange Associates, The Grand Midori Ortigas offers premium Zen living in the heart of thriving Ortigas Center. The development is set to launch its second tower in Q2 2023 intended to provide a balanced lifestyle, tranquil atmosphere, well-curated amenities, and spacious residential units, all within one prime and accessible location. The Grand Midori Ortigas will feature minimalist interior design and Japanese gardens that will foster relaxation and recreation within a dynamic city.
In the photo are Federal Land, Inc. executives and partners (from left to right): EEI Corporation Vice President Mr. Paul Visaya; FLI Sales Channel Head Mr. Allen Gafar Mindalano; FLI Sales Group Head Ms. Margarita Saenz-Resurreccion; FLI Brand Marketing Head Mr. Jose Eliseo Bringas; FLI Product Planning Department Head Ms. Robie M. Belgica; FLI Senior Design Manager Ar. Raymund C. Quimson; FLI Construction Management Group Head Engr. James Ryan Salas; GFP Architects and Partners Managing Partner Ar. Annette F. Gaddi-Liganor; EEI Corporation Executive Vice President Mr. Norman Macapagal; DCI President Senen Salvacion.
Read more: Tech and Lifestyle Journal – Blog