December 8, 2022
From Japan, with love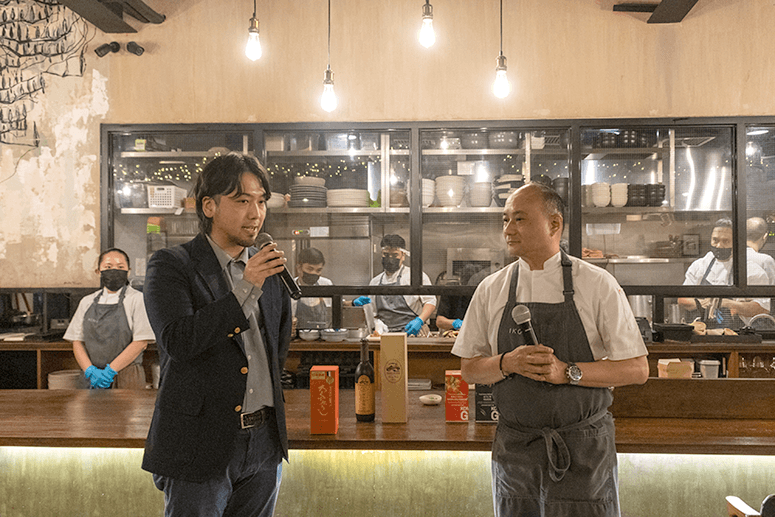 The way to the heart is through the stomach, they say. Sharing meals with our nearest and dearest, after all, can be as personal and intimate as it is festive and celebratory. It's a toast to many things all at once: the friendships built through the years and the occasions that brought us together, the heart and soul put into the preparation of the meal, and the shared cultural experiences that are expressed in the dishes that complement each other.
Recently, the Japan External Trade Organization, or JETRO, a Japanese government-related organization that promotes mutual trade and investment between Japan and the rest of the world, together with Japanese restaurant Ikomai Tochi in Makati, and the newly opened Mitsukoshi Mall in BGC, hosted a Christmas dinner for media and friends, presenting the finest of what Japan has to offer—from its refreshing alcoholic drinks, to the crowd-favorite Sendai wagyu, to its bestselling desserts.
After almost two years of staying at home, to actually be able to gather and have dinner together was such a delight, and it was thoughtful of JETRO to share with us their most recommended treats from Japan, made available in Manila, as a fitting prelude to their upcoming Okurimono Holiday Fair (okurimono means "present" or "gift") happening from Dec. 9 to 26 at Mitsukoshi Mall in BGC.
Chef Antolin of Ikomai Tochi, who conceptualized the dishes, and Takato Ishimoto of Mitsukoshi Federal Retail Inc., who paired the cocktails, excitedly told us about each part of the five-course meal, and we found their spirit infectious.
How do we wagyu? Let us count the ways. We first readied our palates with the welcome drink, the bright and bubbly Shichiken sparkling sake, before we were treated to a duo of wagyu appetizers. The first was raw Sendai wagyu beef with black truffle sauce on a crisp slice of baguette, especially good with the 13-year-old barrel-aged rokuchousi red shochu that was served next; and the second one was the aburi Sendai wagyu beef sushi, with unagi glaze, kirashi mayo, and ikura (red caviar), truly a tasty treat.
For the main course, out came Ikomai's specialties: the karaage (lightly coated, deep-fried chicken) and the Nagoya-style tebasaki wings (glazed crispy wings) on sweet sauce and Ikomai's special sauces, both of which we were encouraged to consume with our hands.
We were then served the Sakurajima Komikan gin tonic, a refreshing citrus-y drink that everyone loved. It's made with the Sakurajima Komikan, known as the smallest Japanese orange in the world, about four centimeters in diameter, we were told.
There's always room for more wagyu, and we saved some for the ramen and sando combo—essentially our comfort noodle dish and sandwich, but elevated with prime beef. The Sendai wagyu sirloin on the ramen tonkotsu was lean and flavorful, satisfying, and just right on the tummy; while the wagyu sirloin sando with Yakiniku glaze was thick and juicy, making the perfect pair.
We enjoyed the ramen and sando with Beniotome lemon sour, hints of lemon combined with the multi-awarded Beniotome Superiore shochu, a Japanese-crafted spirit said to be loved by locals. It had a distinct vanilla aroma from its more than 10 years' aging process in a French oak barrel.
For dessert, we had popular Japanese treats made extra special, beginning with the Tokyo Banana, garnished with white chocolate, coconut Chantilly, and pineapple-mandarin confit. The next was the matcha zenzai, featuring Mitsukoshi's adzuki mochi, served with rich matcha broth, and topped with honeycomb tuile and black sesame granola.
We capped it off with hot hojicha (green tea) orange Komasa gin, a unique and unexpected pairing that further brought out the flavor of the matcha dessert. The warm gin combined with Komasa roasted hojicha tea exuded a roasty aroma and a wood-like fragrance with a subtle sweetness. It was a fitting ending to the sumptuous Japanese holiday feast—and a food experience we can't wait to share with our loved ones this season.
Read more: The Philippine Star Online – News