October 13, 2022
Itadakimasu: JETRO Brings Home A Taste Of Japan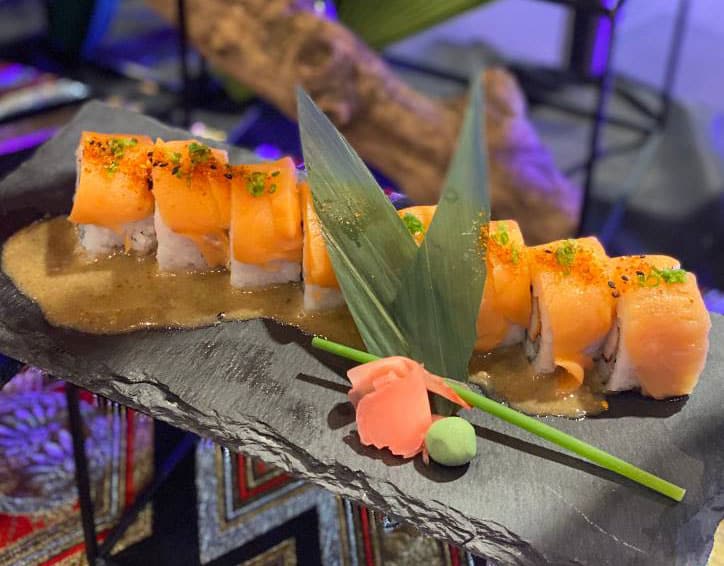 Irasshaimase!
The Japan External Trade Organization (JETRO) has launched "Bringing Home a Taste of Japan" to promote Japanese food products.
The event series began with an October 5 Japanese cooking demonstration at Bonifacio Global City's The Seasons Residences Showroom.
After a showcase of Japan's finest food products, Chef Masaaki Ishikawa held a demo and subsequent tasting. The said chef prepared a menu of dishes prepared using authentic ingredients from the Land of the Rising Sun.
The lineup of sumptuous servings included Kani Salad (Ozaki Kani Sticks, Ozaki Japanese Mayonnaise, Ozaki Tobiko), Tamagoyaki (Futaba Shiro Dashi), Onigiri (Mitsukoshi Katsuo Furikake, Ozaki Nori Sheets), Temari Sushi, Salmon Rolls, and Cold Somen Noodles (Jinenjo Somen Noodles, Yamasa Somen Sauce, Katagi Sesame Seeds).
Meanwhile, premium drink options included Okukuma High-Ball (Toyonaga Okukuma from Kumamoto Prefecture), Shochu Kahlua Milk (Little Kiss Coffee Liquor from Kagoshima, milk), Hojicha Soda (Komasa Gin from Komasa Jyozo), Ume-Yuzu Beer (Atiho Plum, Yuzu Liquor, beer), Tokubetsu Junmai Yamada Nishiki sake (100% Yamada-Nishiki premium rice), and Karatamba Cocktail (Ozeki Sake, grated ginger juice, lemon juice).
Japanese Food Supporters
JETRO is a Japanese government-related organization that promotes mutual trade and investment between Japan and other countries. Through its services and activities, it aims to help small to medium size Japanese firms maximize their global export potential.
The organization has also launched the Japanese Food Supporter program. Under this initiative, restaurants that serve dishes prepared using ingredients sourced from Japan can apply for certification as Japanese Food Supporters. This also covers retail stores that sell Japanese food products.
Certified Japanese Food Supporters can display the official logo at their establishments. This seal indicates that they use high-quality, safe, and trusted Japanese ingredients.
Moreover, they will gain access to more information about Japanese food and distribution networks. They will also be able to avail PR opportunities provided by the Japanese Ministry of Agriculture, Forestry, and Fisheries on its website.
In fact, Mitsukoshi Fresh will offer all the ingredients, condiments, and drinks highlighted in the event. The supermarket's much-anticipated opening will make it easier to obtain authentic Japanese ingredients.
Photos via IMPRINT Media Group.
Read more: Lifestyle Asia Online – News