June 7, 2019
Live-Work-Play at Metro Park: An All-in-One Township
As the country's economy continues to rise and its citizens continue to thrive, consumer demands change and product preferences shift.  This is especially felt in the real estate industry; wherein current developments reflect the property preferences of the majority.
The newly established families prefer to carefully consider all relevant factors before investing their hard-earned money.  A highly popular choice is a more integrated package of having everything in one place such as in a township.
Townships are master planned, integrated mixed-use developments that offer residents the convenience to live, work, and play in one place.  Unlike the typical gated subdivisions and solo condominium towers, the appeal and value of townships lie on its convenience and accessibility as townships develop residential units within walking distance to corporate offices, retail shops, lifestyle hubs, and sometimes even schools and hospitals.
Prime real estate developer Federal Land Inc. is on top of this new standard.  In 2000, Federal Land introduced Metro Park, a sprawling 36-hectare master-planned community in the business district of Bay Area, Pasay. Metro Park is a modern and vibrant community home to luxury resort residences, stylish shopping centers, thriving business hubs, exciting weekend event spaces, and an elite college – all set within the emerging Entertainment City.
Deluxe Resort Community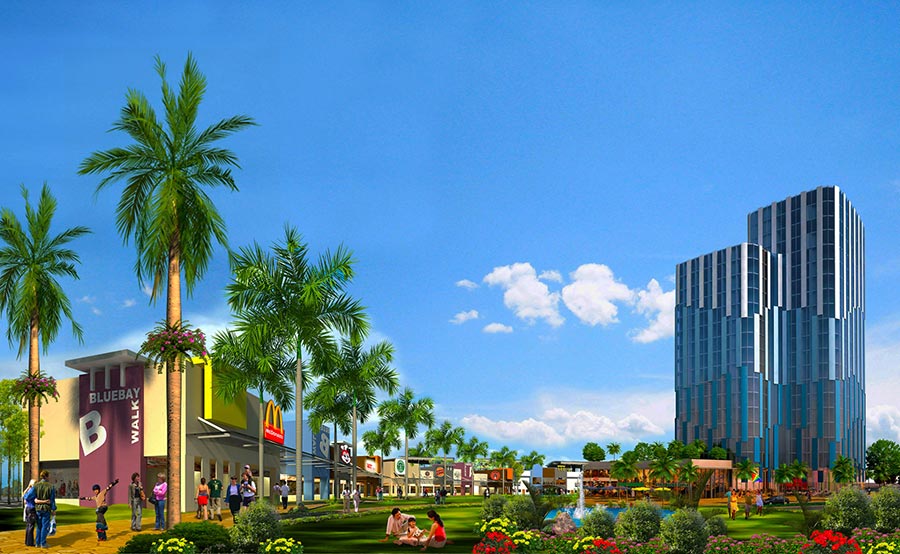 Six Senses Residences at Metro Park
The various condominium communities of Metro Park redefine high-end living with its promise to deliver a relaxing vacation atmosphere.  Residents will get the feeling of not just being at home, but also being like at a resort at the same time with its club-like amenities and tropical aesthetics against the backdrop of the world-famous Manila Bay sunset, only for the select few.
The first community to rise in Metro Park enclave is Bay Garden Club and Residences, an exclusive three-tower residence that carries Federal Land's signature of developing vacation homes.
The Palm Beach Villas and Palm Beach West are both four-tower resort-inspired communities crafted to welcome warmth and relaxation.  Each unit is designed to give space to unwind and a resort-inspired amenity deck to complete the urbane and adventurous lifestyle.
Distinctive for its lucky number eight shape, the Six Senses Residences is a six-tower deluxe project in the bustling Macapagal – Bay Area district.  Each tower is defined with elegant edges and refined curves of interiors reminiscent of classic sculptures. It places more units at opportune and spacious corners, immersing your home to the infinite wonders that lay just beyond the horizon of Manila Bay.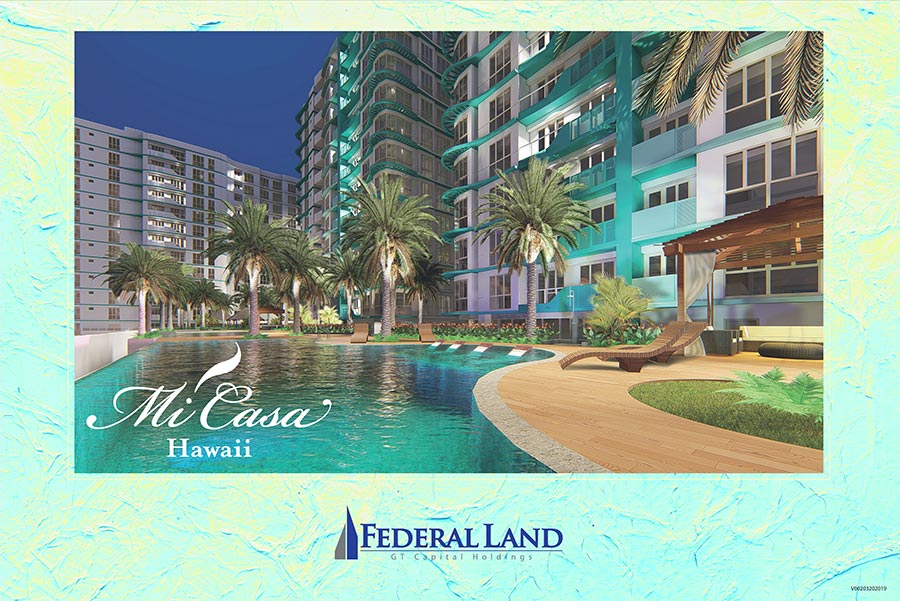 Mi Casa – Hawaii Tower at Metro Park
Federal Land's latest offering by the bay is Mi Casa, a vibrant vertical residence reminiscent of Hawaii's reinvigorating aesthetic of open sea and air.  Mi Casa will have four towers: Hawaii, Maui, Lanai, and Honolulu that will bring in the modern tropical paradise streamlined for Filipino contemporary living.
Mi Casa offers thoughtfully designed spaces that evoke Hawaii's tight-knit community with intimate gathering spaces that highlight a close communal relationship.  Residents can host barbeque parties, movie nights and play dates all within a neighborhood that embraces the sun, wind, and sea.
Central Park and Commercial Centers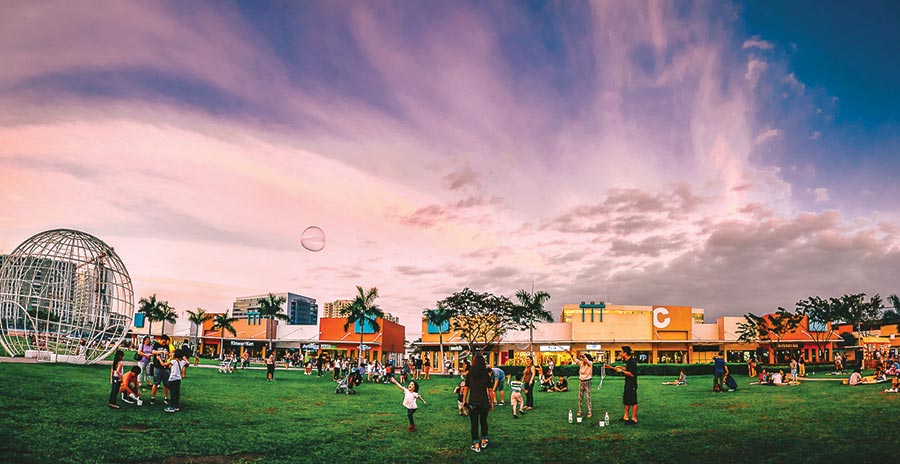 Blue Bay Walk at Metro Park
Nestled in between the immense community is its central park, Blue Bay Walk.  Blue Bay Walk is built to be a sanctuary for Metro Park families to play with their pets, enjoy an afternoon picnic, or simply relax while watching the weekend shows.
Blue Bay Walk is also a lifestyle hub where authenticity and relaxation fuse together to indulge the senses.  More than a strip mall, Blue Bay Walk offers signature shops and branded boutiques for the fashionable without the worries of overcrowding.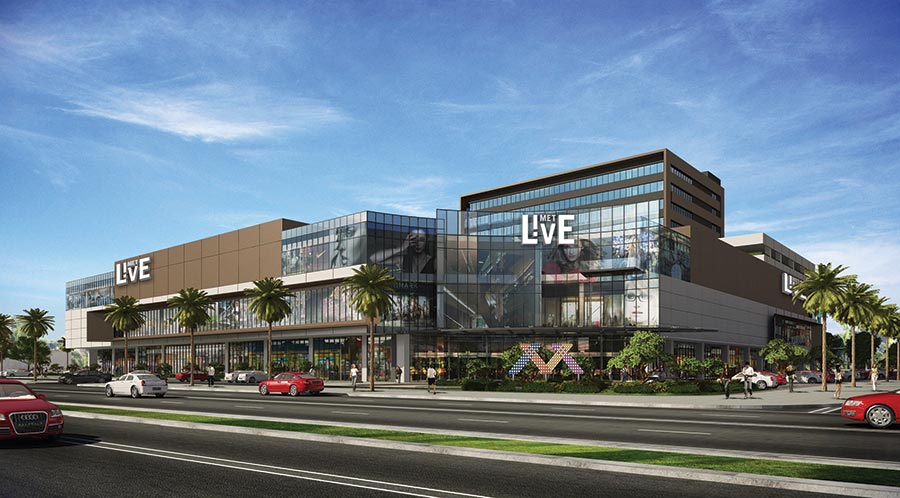 Met Live at Metro Park
Across the Macapagal Street, upscale shopping mall Met Live rises in complement to Blue Bay Walk.   Met Live offers a well-curated selection of restaurants, coffee shops, health clinics, indoor playgrounds, home décor stores, and other specialty stores.  Office floors will also be available for lease to corporate clients.  An all-encompassing retail destination for locals and visitors to indulge in leisure and experience the extraordinary.
To provide an ideal venue to celebrate life's occasions, Metro Park has two event halls Le Parc and Le Pavillon that can make a special celebration even more magnificent. Le Parc offers two function halls that can host 250 guests each for intimate gatherings.  For grand affairs, Le Pavillon can accommodate 1500 guests. Picture a glorious event where only your imagination sets the limit.
Thriving Business Centers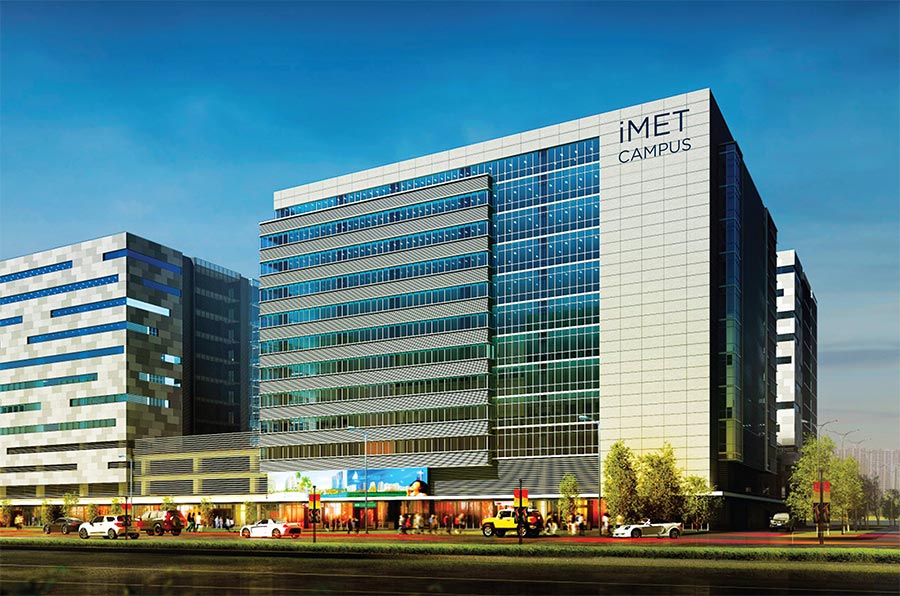 iMet BPO at Metro Park
To complete the live-work-play components of a viable township, Metro Park has iMET BPO, a four-tower grade A office complex within the latest business district in the metropolis.  iMET BPO stands within a PEZA IT Park to ensure BPO locators can avail fiscal incentives.
Metro Park is also home to Toyota Manila Bay Corporation (TMBC), a forerunner in the automotive industry principally engaged in the sales and maintenance of Toyota vehicles.
 
Top Tier Nursing School


Manila Tytana at Metro Park
First known as the Manila Doctors Hospital School of Nursing in 1975, Manila Tytana College is one of the country's top nursing schools with a 100% passing rate in the June 2018 Nursing Licensure Exams.  The school offers bachelors, masters, doctorate, and short Nursing courses; as well as Psychology, Nutrition, IT, Communication, Accountancy and Management courses.
Located along Macapagal Avenue, Manila Tytana College is just a stone's throw away to the condominium communities and office towers in Metro Park. Students residing in Metro Park can also start their career within the township.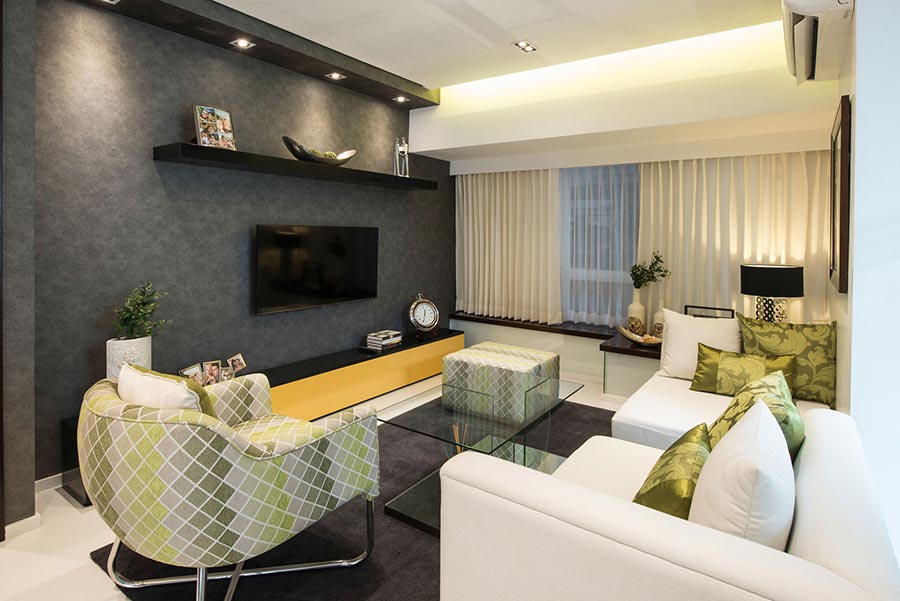 Metro Park is a gem of a township.  The high demand can be attributed to its strategic location, exclusive communities, PEZA IT Park, quaint shopping galleries, and pet-friendly park against the world breathtakingly beautiful Manila Bay sunset.  A balanced live-work-play lifestyle awaits residents looking to live the good life.
To know more about Metro Park, visit the website at www.federalland.ph or visit the Mi Casa Showroom and Palm Beach West Showroom located at Metro Park, Bay Area, Pasay City.
–
About Federal Land, Inc.
A prime real estate developer, Federal Land, Inc. is a member of GT Capital Holdings. With 47 years of experience in reshaping the skyline and with its commitment to invest in the country, Federal Land, Inc. creates properties built on trust, reliability, and integrity through its masterbrands, Federal Land and Horizon Land.