August 27, 2023
Mitsukoshi fresh stocks exclusive Japanese items you won't find anywhere else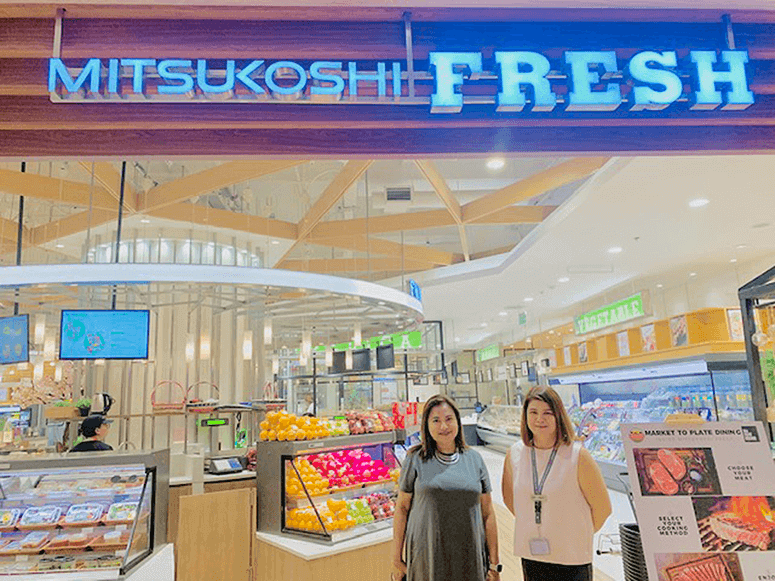 Whenever we traveled to Japan, we wanted to take pieces of it home with us in the form of food. We couldn't transport Hokkaido ice cream or A5 Wagyu in our bags, so we settled for candies, cakes and treats that were super-kawaii thanks to their artful wrapping and exquisite presentation.
Now you don't need to travel to Japan to find specialty food items and worry about how to take them home. There's one place in BGC that carries all these items and more.
Since opening in 2022, Mitsukoshi Fresh, a Japanese-themed supermarket inside MiTsukoshi BGC, has attracted not only Japanese expats but increasingly, Filipinos and foreigners living here who crave something uniquely Japanese. The mall itself feels like being immersed in a large department store in Tokyo—which is exactly what MiTsukoshi BGC is, as it celebrates its 350th year of operating in the city.
As Mitsukoshi Federal Retail, Inc. merchandising and marketing division head Jennifer F. Start told us, "What really sets Mitsukoshi Fresh apart is that we carry Japanese items that are exclusive to us, that you won't find elsewhere," like Tokyo Banana, boxes of individually wrapped soft cakes with banana filling that are a craze now among Japanophiles.
Or how about bottles of Little Kiss coffee and black tea liqueur, which are a real after-dinner treat? Whisky collectors will love their rare Okukuma Shochu that's aged in Olorosso sherry casks.
And, of course, there's Japanese Wagyu. Mitsukoshi Fresh carries a selection of the best cuts, from the vaunted A5 to sukiyaki-cut A4 chuck roll to Saikoro Steak, Wagyu cubes so affordable that you can have steak every day. Also don't miss the Japanese Crispy Sausage for breakfast: juicy, bursting with pork flavor and perfect to the bite with that crispy skin.
Right now, the market carries a mix of premium European items (like German sausage, French cheeses), local favorites and Japanese imports.
Last year, Start says, "When we did the opening, there was a total shift because we realized that it's really the Japanese products our market is demanding. So that's why we have already expanded our Japanese goods." It's about 50 percent Japanese at present, but Start hopes to bring in much more. We'd like to bring in more fruits, vegetables and meats," such as the light-pink strawberries that are so delicious in Japan, or— possibly—Kobe beef at some point. "Of course, it's still a challenge because of the trade restrictions. But we will keep on introducing more Japanese products and once the local market is able to catch up,—'Oh, this is becoming popular'—they'll buy it. So you always have to be a step ahead."
There's an "Ah!" factor to discovering rare items: popular condiments like furikake, which Pinoys love to mix with rice for an easy Japanese flavor fix. Mitsukoshi FRESH also has its own brand of ready-to-eat foods called Isetan Mitsukoshi, featuring everything from beef curry to a chicken-and-vegetable packet that you mix with hot rice and voila! Instant meal.
Also easy to cook are spicy curry, miso soup, and instant Pokka Sapporo cups (in flavors from clam chowder to pumpkin bisque)—the things you'd easily stumble upon in any Tokyo grocery, but are much harder to locate here. "A lot of our customers are BGC residents who want to cook with authentic Japanese ingredients," Start notes, adding that most of the Japanese nationals located here stay in BGC. So it's a convenient stop.
Sweets are something we adore, so we stocked up on the popular Tokyo Banana cream-filled cakes, Fujibambi Kokuto Donuts (with the cartoon brown bear on the package), My Bake cookies and some Mini Loaf Milk and Chocolate cakes (in the shape of a bread loaf).
Therese has a savory tooth, so she snagged boxes of Hinodeya Seika shrimp crackers, which come two to a sleeve and are as beautifully wrapped as birthday gifts. She's also a noodle freak, so microwavable Chibo Okonomiyaki Fried Noodles with Squid was another item she chose.
We also got some gyoza packs and fresh crabsticks that you can cook hotpot-style.
Mitsukoshi Fresh air-freights in its seafood weekly, and they have a team of Japanese-trained cutters to do daily sushi packs: king salmon, buri sashimi, packaged nigiri, and unagi maki rolls. The sashimi is so fresh it melts in your mouth.
If you like it straight from the butcher section to the table, their Meat Kitchen section offers a new feature: Market to Plate Dining. You can pick out a piece of beef, lamb, sausages, fish and seafood—whatever you like—and they can grill it for you on the premises, and serve it within minutes. You can order it as skewers, in a rice bowl; they can even do ebi tempura. It's a unique dining experience on the premises, because "The freshness is there. The quality of the meats is exceptional."
Key to enticing customers to new Japanese flavors, Start says, is the frequent food sampling events they do in the supermarket: "The floor of the store is really a multisensory shopping experience. You don't just see the items—you get to taste them. That way our customers can get a firsthand feel and taste of the product, even the condiments. We did a sampling of the A5 wagyu and had a setup there to pair the beef with sukiyaki sauce, with leeks, vegetables, together with the aroma and everything. So that helps with sales of the bento box offerings."
Yes, Mitsukoshi Fresh even offers frozen Okame bento boxes, which are also beautifully packaged.
Coffee culture is so big in Japan, Scott had to sample some Sumiyaki dark roast from the UCC Experience hub in the middle of the store: at this spot, you can smell and sample freshly ground beans, each kept under a glass cover, to decide what to buy. (The Sumiyaki is so flavorful, we had to get 200 grams for home grinding.)
Start says that the precooked meals are their top sellers, like chicken karaage, chirashi bowls and sushi rolls, showing that the market for convenient, ready-to-eat and exclusive Japanese foods is going strong and expanding every day.
MITSUKOSHI BGC is located at the podium level of The Seasons Residences. To know more, visit www.theseasonsresidences.ph.
Read more: Philippine Star Life Online – News