July 31, 2023
STEP INTO THE ENCHANTING WORLD OF J-BEAUTY AT MITSUKOSHI BEAUTY!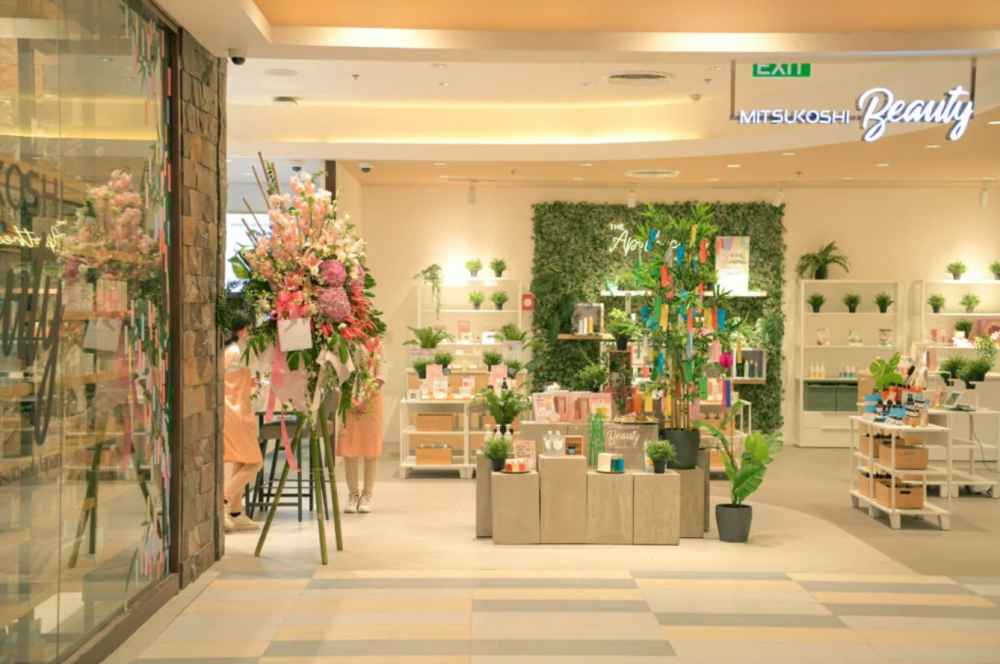 Attention all beauty lovers, prepare to be dazzled by the captivating allure of Japanese beauty! With its minimalist routines and natural ingredients infused with cutting-edge technology, J-beauty has become a global sensation, and now you can dive into this world of wonders at MITSUKOSHI Beauty in BGC!
Located along 8th Ave. in North Bonifacio Global City and nestled at the podium of The Seasons Residences, MITSUKOSHI BGC houses an irresistible collection of carefully-curated, under-the-radar Japanese skincare, haircare, and makeup brands. Get ready to discover the best-kept secrets of J-beauty right at your fingertips!
Now, brace yourself for the ultimate beauty game-changer! The limited edition collection brings together the brilliant minds of Waphyto, E Standard, and La Casta, three sophisticated and high-quality Japanese brands that will leave you swooning!
Waphyto – The brainchild of founder Atsuko Morita, Waphyto combines the power of phytotherapy, biotechnology, and herbology to create a skincare line that's truly one-of-a-kind. Perfect for both men and women, this plant bio methodology brand offers a wide range of products for skin, hair, body, and intimate care, sourced from the vitamin-rich soil of Mikawa, Japan.
E Standard – Get ready to treat your hair like royalty with E Standard's holistic approach to hair and scalp care. These meticulous hair products are inspired by the concept that "hair care is also skincare," using organic ingredients like nine plant extracts and three essential oils. Say hello to luscious, healthy, and beautiful hair!
La Casta – Prepare for a hair care revolution with La Casta's natural aromas and botanical ingredients. This award-winning brand is the secret of professional stylists in Japan's top hair salons! Say goodbye to hair concerns like thinning, frizz, and dryness as you indulge in their shampoo, conditioner, masks, and more. Not sure which range is right for you? Fear not! La Casta's expert Beauty Advisors are here to guide you to hair nirvana!
But wait, there's more to love about MITSUKOSHI BGC! Own a piece of Japan's enchantment at The Seasons Residences, a stunning fusion of Japanese innovation and Filipino community spirit. Get lost in the magic of MITSUKOSHI, a four-story mall showcasing Japanese design elements, and experience MITSUKOSHI FRESH, a haven of top-shelf Japanese food and products. Plus, don't forget to explore MITSUKOSHI Beauty's array of natural cosmetic brands to complete your J-beauty journey!
Ready to embark on this stylish adventure? Visit MITSUKOSHI Beauty and unleash the hidden gems of J-Beauty! Better yet, make MITSUKOSHI BGC your own haven by owning a piece of Japan at The Seasons Residences. Schedule a private viewing at the showroom and be prepared to be captivated by the beauty that awaits you!
To stay in the loop, visit their website, Facebook, and Instagram page. Don't miss your chance to experience the magic of Japan in the heart of BGC! #MitsukoshiBeauty #JBeautySecrets #StylishAdventure
Read more: When in Manila Online – News