March 22, 2021
7 Tips to a Quick and More Effective Condo Cleaning
Summer is almost here, and with it comes the desire to make everything in your condominium bright and airy. The sun is shining, flowers are blooming, but if the insides of your unit feel gloomy, crack open your windows and deep clean your condo.
Cleaning can be tiring, but it can also be rewarding. Here are some pro cleaning tips to help you clean up faster and more effective as you welcome summer into your home.
How to Quickly Clean Your Condo
1. Make a day of it
Choose a day of the week to dedicate to cleaning. Label it Weekly General Cleaning on your calendar to make it official and stick to it as much as possible.  If you have an important activity for that day, simply reschedule another cleaning day to keep the clutter from becoming a bigger mess.
2. Spring Clean Workout
Think of housework as a workout. The chores you do at home count as exercise if you do them right. Vacuuming the carpet, washing the windows, scrubbing the bathroom for 30 minutes or more are great ways to burn calories. Of course, intensity is the key, so pick up the pace and tighten those abs while you grind your way towards toned muscles and squeaky clean home.
3. Step 1, 2, 3
Sometimes, if you clean the rooms of your condo randomly, you might overlook certain areas. A rule of thumb is to clean from top to bottom. That means starting with the ceiling fan, bulbs, and the top of the shelves, before wiping the counter then finally cleaning the floor. You can also go room to room, starting from the inner areas of your condo, bedrooms, bathrooms, then move outwards to the kitchen and living room to make sure you don't miss any nook and cranny in your spring cleaning frenzy.
4. Use the right tool for the job
Work smart instead of hard by using the proper cleaning tools. Start with the basics such as the broom, microfiber rags, scrubs, brushes, and a mop. Fill your cleaning caddy with disinfecting multi-surface cleaner, powdered abrasive cleanser, furniture polish, and glass cleaner. Given the current situation, add disinfectant products to your supplies. CDC recommends using disinfectant products containing 70% or more alcohol or bleach. Vinegar and other natural products are not recommended.
5. Clean as you go
Keep things tidy throughout the week by doing the little things. After you use something, put it away, don't leave it lying around. Wash the dishes after meals, then wipe the sink and countertop to avoid grime build-up. Always put dirty clothes in the laundry basket. The more you do on the go, the less cluttered your space will be, the faster you get to relax in a spotless environment.
6. Two for one
Who doesn't love a good buy one take one deal in the shops? You can recreate that feeling when you tackle two chores at the same time. Do a load of laundry while you clean another room. Put a bowl of lemon slices and water in the microwave or oven for a few minutes to loosen the grease stuck on the surface while you wash the dishes.  Clear out the fridge and pantry of expired food before you take out the trash. Pairing these chores will save you time and energy.
7. Make it a team effort
Turn cleaning day into a bonding moment with the whole family. Divide the chores and make sure everyone is doing their fair share of keeping the home neat. Working together can be fun, and your condo will be sparkling clean in no time. For young children, start with simple tasks such as making their bed, organizing their toys, or wiping the table. This will teach them good habits they can carry for life. Their future partners will surely thank you.
A schedule, some focus, and a little bit of organization will make your spring cleaning a whiz. The rest is easy. One of the perks of condo living is a low-maintenance home. Residents don't have to worry about pool maintenance or roof repair as the property management takes care of that. But since this maintenance benefit doesn't extend inside your unit, keep in mind these tips to help you keep your condo unit tidy.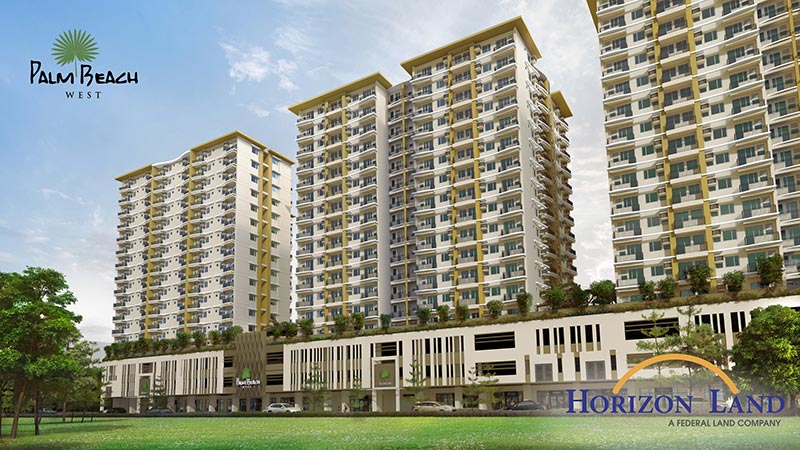 Palm Beach West is a preselling condominium at Metro Park, Bay Area
Welcome summer into your home at Palm Beach West, a four-tower resort-inspired community crafted to welcome warmth and relaxation.  Located within the sprawling Metro Park in Bay Area, Pasay City, Palm Beach West provides your family a safe and secure home, with a resort-theme atmosphere and lifestyle amenities and a neighborhood bustling with life and excitement of Entertainment City.
To reserve a Palm Beach West preselling unit, call 8804-9941 or email invest@federalland.ph.