July 1, 2014
Come home to heritage in Federal Land's upscale Binondo condo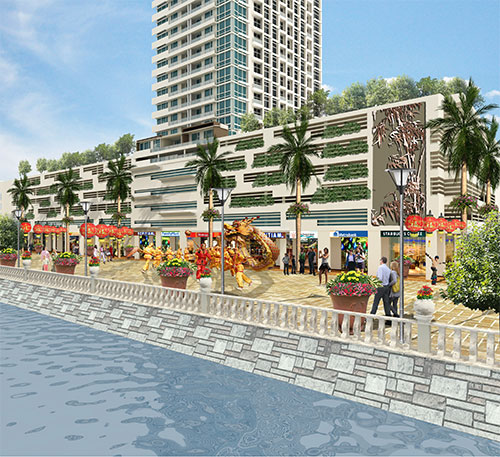 For Filipinos with Chinese descent as well as foreign nationals from mainland China, there is truly no other place in the Philippines like Binondo.
Simply, this historically rich community in the capital city of Manila is the closest they could call to home—or rather, what they already call home itself. It is a bustling yet colorful locale that celebrates their language, culture, food, commerce and lifestyle. Even if successful individuals and families expand elsewhere in the country, Binondo is where they took roots and will always be a place of comfort, nostalgia and familiarity.
The Chinese, being dubbed as "merchants of the East," actually pioneered what modern urban developers today would call a mixed-use environment—a place where daily activities intersect with business transactions and socio-civic interests. Binondo is perhaps one of the best paragons of such a lifestyle that continues up to this very day.
Whether one is in search of affordable wares or a unique piece of jewelry, Binondo is the place to scour. Authentic and reasonably priced Chinese delicacies also abound, along with other cultural items such as apparel and accessories. Most importantly, entrepreneurs and business owners know that Binondo is the heart of virtually all retail and trade in the country.
Culture permeates through the walls – from the richness of close family ties as evinced by their preference to live together. Those who grew up in this distinctive community know that they can always come home to a place that ensures this enduring heritage. And with the advent of high-rise residences, more options for modern-day living become available for Binondo locals.
Federal Land, with over 40 years of solid experience, continues to develop prime real estate in Binondo. Adding to the foray of quality luxury condominiums it has built throughout the years – the Tytana Plaza, the Escolta Twin Towers, Magdalena Mansions and the Soler Tower to name a few –are Four Season Riviera and Riverview Mansion.
Four Season Riviera is Manila's best kept secret – luxury living with an unobstructed view of the famed Pasig River and mere minutes away from the bustling inner streets of Chinatown.
The project sits on close to a hectare lot – the biggest residential development in this urban community. The best address for a riverfront home framed by landmarks of Old Manila – the walled city of Intramuros, Fort Santiago and the historic Post Office, it offers complete amenities and conveniences.
With address in Muelle dela Industria St., which is currently being rehabilitated for the convenience of future homeowners, this luxury condominium is in the quiet side of Chinatown. Unobstructed by other buildings, cool breeze from the river flows freely, naturally cooling each unit.
Keeping the family in mind throughout its design, it houses the biggest podium garden in Manila. This common area, linking all towers, includes first-rate amenities such as a swimming pool, a jogging path, spacious play and alfresco areas, a gym with yoga and pilates facilities, a multi-purpose hall, a reading lounge and a meditation spot. Soon, restaurants, coffee shops and other establishments will open at the ground floor.
The blueprint of the condominium meshes luxury living with the convenience of being near places of trade and culture. With its 35 floors per tower, Four Season Riviera is an auspicious address for local and immigrant Chinese who wishes to make Binondo their place of address. Plum Blossom, the condominium's tower 1 is for turnover by the end of 2014; Lotus, tower 2 will be ready by 2016.
Another premiere development of Federal Land in Binondo is Riverview Mansion. Situated in Central Chinatown while still overlooking the river, it offers prime facilities built for growing families who want to enjoy life's simple pleasures. Ready for occupancy units are available with only a few left.
Living in Binondo replete with rich experiences is now possible with the Four Season Riviera and Riverview Mansion. For more information visit www.fourseasonriviera.com.ph and www.federalland.com.ph and or call 708-2888.