January 17, 2020
How to Tidy Your Condo the KonMari Way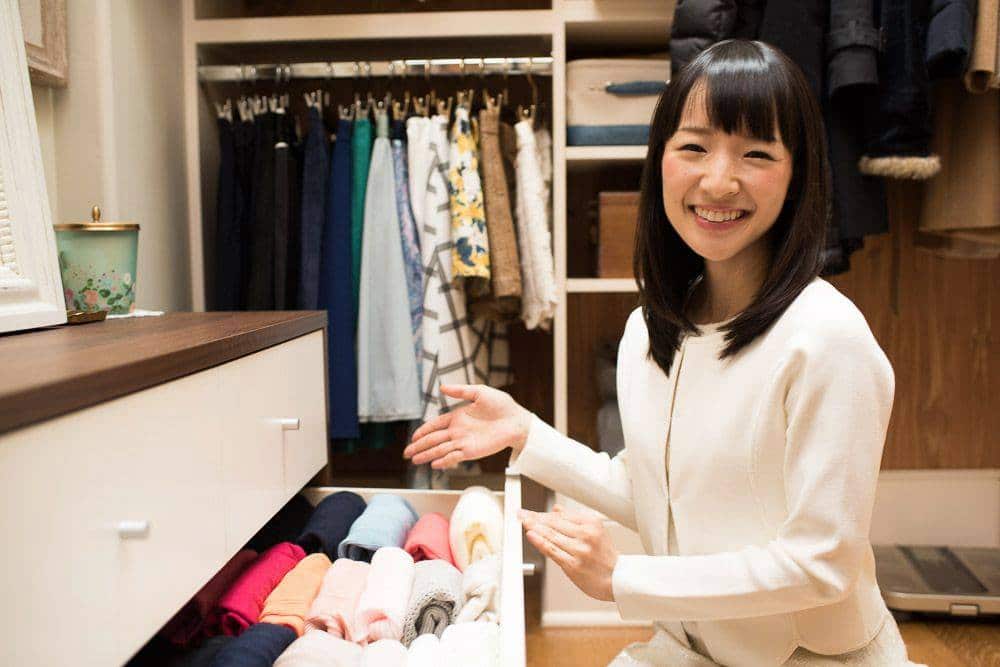 People around the world have been clearing out their closets and simplifying their homes to the tune of Marie Kondo's sensational tidying techniques. Marie Kondo is a renowned tidying expert that aims to organize the world one home at a time.  In her bestselling book The Life-Changing Magic of Tidying Up, Kondo introduces the KonMari Method, which focuses on appreciating things that speak to the heart and getting rid of the excess.
Here are 11 tidying tips to transform your condo into a home that sparks joy.
11 Tips to Tidy Your Home the KonMari Way
1. Tidy all at once
Marie Kondo claims that decluttering your entire space in one go ensures that you will not go back to your old, hoarding ways. Rather than decluttering little by little, tidying in one go resets your space and teaches you to live a more thoughtful and mindful life.
2. Visualize your dream life
Before you start tidying, imagine the kind of life you want to live. What do you want your dream home to look and feel like? What would less clutter mean? Dig deep and specify how you want your room to be like. Remember, the more exact you are, the better.
3. Discard and organize
The KonMari method is a two-part system: discarding and organizing. Though Kondo's bestseller book is titled The Life-changing Magic of Tidying Up, it focuses more on purging your condo with things that don't speak to your heart. Discarding what you do not want, then organizing the essentials are the key to tidying effectively.
4. Keep only the things that spark joy
The KonMari method asks you to decide what to keep, not what to throw away. Hold each item in hand and ask: 'Does it spark joy?' If it does, keep it. If not, sincerely thank the item for its service then place it on the discard or donate pile.  The result is a home full of things that give you joy and pleasure.
5. "Someday" never comes
If you are holding on to some stuff because you think it will come in handy someday, discard it.  Though it is good to be prepared, these "someday" items are often left unused and become dust collectors. It is better to donate them, so they can be of use to others.
6. Organize by category, not location
Since we normally keep similar items in different areas around the condo, organizing room by room only compartmentalizes clutter.  Kondo advises to organize by category, and not by location. Kondo emphasizes that working by category keeps you on track of all items stored in different rooms.  This also helps you build an effective mental inventory of all your things.
7. Work in the right order
Kondo advises to begin with clothes since it is the least emotionally valuable possession. Then move on to books, papers, and komono or miscellaneous items.  Save the mementos for last, since they are the hardest things to let go of. Working in this order strengthens your "spark joy" meter which will help you tackle the last category, sentimental items.
8. It's not about storage
Kondo believes that putting things away only creates the illusion of zero clutter. The issue is never about the lack of space or storage; it is having more than what you need or want. Kondo suggests to keep storage as simple as possible. This means that storage should not be scattered and stacks are to be avoided at all cost.
9. Fold the "hikidashi" way
The KonMari method promotes folding clothes into a small, smooth, simple rectangle that can stand up on its own.  Start by folding in the sleeves, fold the short end of the rectangle towards each other, then fold in thirds.  The goal is to easily see and reach for your clothes in the dresser.
10. Paper rules
The general rule is to discard almost all documents and papers. However, there are three categories you should keep:  papers you need to deal with such as bills; papers you need for a limited time such as warranties; and papers you need to keep forever such as marriage certificates, and real estate titles.  These documents should be filed per category and organized in one place.
11. A grateful heart
One of the key takeaways from Marie Kondo is to respect and thank your possessions. The KonMari method takes its roots from Shinto religion, where objects are respected and treated with value, regardless of actual monetary worth. Kondo asks that you consider the feelings of your possessions. Before tidying, greet and thank your home for its service.  Always thank your items for their service before launching them on a new journey.
Tidiness sparks joy
Marie Kondo's philosophy is more than cleaning your home.  It is about recognizing what truly makes you happy and shedding what weighs you down. Followed to a T, the KonMari method will help you transform your condo into an oasis in the midst of the business of life. When everything flows, joy and serenity will come easily.
Many people feel that decluttering can be very stressful, so try not to feel overwhelmed yourself. Take decluttering one step at a time. Whether it's clearing out a shelf or a medicine cabinet, the important thing is to have progress every day.
Hassle-free decluttering is one of the perks you get in a quality condo unit from Federal Land. We offer a wide range of ready-for-occupancy condominiums in prime spots with high investment potential in the Philippines. Find the best match for you and get in touch with our knowledgeable real estate professionals.