November 20, 2020
Is buying a condo in a township a good investment?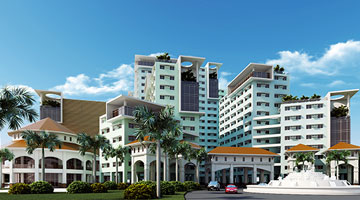 Investing in a condo within a township is generally seen as a smart investment move. Townships are master-planned, integrated and mixed-use developments that offer residents the convenience to live, work, and play in one place. Compared to secluded gated subdivisions and stand-alone projects, townships' appeal lies in its convenience and accessibility to corporate offices, retail shops, even schools and hospitals rising side-by-side with the residential condominiums.
As the economy start to recover from the impact of COVID-19 crisis, we will likely see a release of pent up demand for condominium units in Metro Manila, with the bulk of the demand going to township properties. The pandemic has further emphasized the advantages of township communities, where residents can easily access their essential needs and receive support from the community.
Of course, for every benefit there is a corresponding disadvantage. Let's take a look at the pros and cons to help you decide whether investing and living within a township is for you.
Pros of Buying a Condo in a Township
The Live-Work-Play Lifestyle
The live-work-play concept is rooted in the idea that people can be happier in a community that provides most of their needs. Considered a "city within a city," townships offer necessary elements such as housing, business hubs, shopping centers, and leisure amenities creating a community of its own. Residents of master-planned township developments can easily access essential goods and services without a long drive around the metro. And with the worsening traffic in the city, townships, where residents can just walk to work, shop, and dine in one place, is a boon for most urban folks.
Improved Services
Aside from cutting on the travel time, money, and effort, townships provide an added advantage of land development. Townships are planned with the growth of the whole district in mind; thus, townships also develop infrastructure for public security, traffic routes, power lines, water connection, and waste management within its community.
Community Support
In times of need, township administration can step up to support its community. A prime example is the Marco Polo Residences community in Cebu City. During the ECQ and GCQ, the HOA and township administration worked together to offer essential services such as a shuttle service to the local grocery, special rates from hotel restaurants and shops, and a "mobile palengke" on weekends.
Greater Capital Returns
Given its numerous advantages, townships are growing in popularity among urban dwellers. Real estate organization Colliers International believes township developments offer a better value proposition and a higher return on investment than stand-alone projects, especially with the attractiveness of the live-work-play lifestyle and central location. Properties in township developments also offer tremendous income potential to investors.
Cons of Buying a Condo in a Township

High maintenance costs
The monthly or annual maintenance fees can run a bit higher in a township property compared to a stand-alone condominium. In a stand-alone property, your maintenance bill will only cover the building's upkeep and security of its residents. While in a township development, a substantial portion of your maintenance bill will have to cover civic amenities such as street lighting, sewerage, perimeter security, and other services under the township administration.
Longer construction period
Township projects are typically built in phases, which can take an extended construction period than stand-alone buildings. Depending on how elaborate is its development plan, a township can have several phases with one or two structures per phase. Meaning a whole township can take up to 10-20 years to accomplish in its entirety. Unit owners of Phase 1 properties may have to wait some time before they can enjoy the planned shopping center or open park.
If you look closely at the benefits of township development, you will see that the pros outweigh the cons. Townships are master-planned communities that give ample consideration to building layouts, traffic circulation, and local growth when designing communities. Townships also contribute significantly to the rapid urbanization of its locality. The construction of residential, retail, and office properties support and cater to the expansion of business activities.
The Pros Outweigh the Cons
Prime real estate developer Federal Land, Inc. is on top of this standard. Federal Land has several townships under its portfolio. In 2000, Federal Land introduced Metro Park, a sprawling 36-hectare master-planned community in the business district of Pasay City. Metro Park is a modern and vibrant community home to resort residences, shopping centers, business hubs, event spaces, and a college – all set within the country's Bay Area. In Bonifacio Global City, Federal Land has Grand Central Park, a master-planned township patterned after the vision of diverse New York City where you can live, work, and shop in one place. It is anchored by the luxury hotel Grand Hyatt Manila, its branded residences Grand Hyatt Manila Residences, the first Mitsukoshi mall in the Philippines, and other exclusive condominiums.
Federal Land has developed several more townships: Florida Sun Estates in Cavite, Tropicana Garden City in Marikina, and Marco Polo Residences in Cebu. To know more about Federal Land townships, email invest@federalland.ph.