November 12, 2011
Kid-friendly garden community soon to rise in Paco, Manila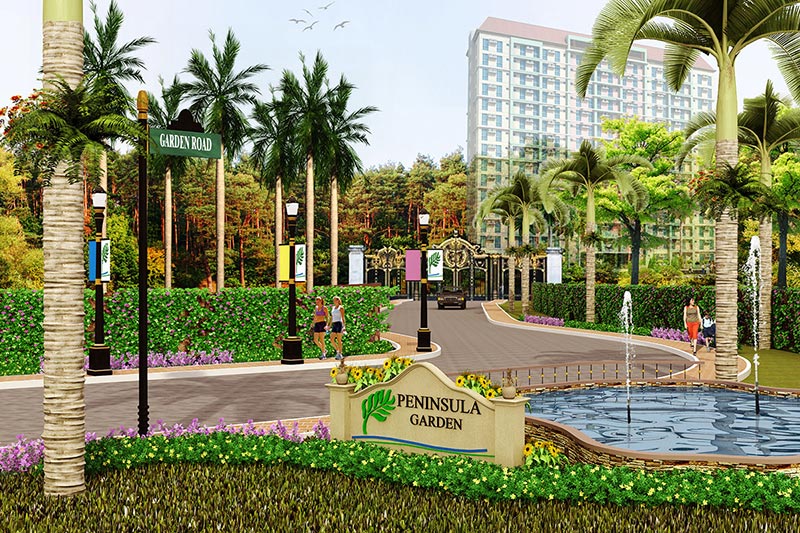 One of the biggest garden communities in the metro has risen at the heart of Paco district in Manila. Horizon Land, a subsidiary of Federal Land Inc., part of George Ty's group of companies that includes Metrobank, is now building an ambitious project called the Peninsula Garden Midtown Homes (PGMH), an 8-tower condo to be built on a 2.1 hectare of land that will offer a unique garden community with kid-friendly features.
During the recent ground-breaking ceremony for the project's Maple Tower, its second tower, the executive vice president of Horizon Land, Mr. Jose Mari Banzon, said that the Peninsula Garden Midtown Homes is focusing on three key points to arouse the interest of its prospective buyers — kid-friendly, accessibility and affordability.
We envision the Peninsula Garden Midtown Homes to be a garden community and kid-friendly development that is geared more for the whole family," Banzon said. "We want urban-based Filipino families to enjoy the amenities of garden living in the city at a more affordable rate — and without need for them to relocate to the suburbs.
For starters, Horizon Land will allocate more than fifty percent of open spaces to enable the children (and at the same time, the young-at-heart) to enjoy and cherish the various play and learning activities.
Horizon Land will also provide the necessary facilities to ensure that the facilities for use during the kids' play time will be safe and relaxing — whether they are swimming at the kiddie pool, reading a book by the gazebos and the garden, or playing their favorite ball games at the development's multi-purpose court. Also to be put up as part of the open spaces are a promenade and a jogging path for running and physical fitness activities.
There will also be venues for people who simply want to enjoy camaraderie with friends and loved ones in the comfort of their own homes. There'll be an indoor game room, a multi-purpose hall and a clubhouse that can accommodate a large group of people.
To ensure utmost safety for the family and their kids, we've decided to install an indoor game room and a basketball court to be located at the parking building. There is also a plan to put a badminton court in the future," Banzon added.
Once completed, Peninsula Garden Midtown Homes will also give parents and the kids' guardians an opportunity to keep their bodies healthy by visiting the gym or fitness area. While at it, they can also leave their children in a nurturing environment over at the day care center. The Peninsula Garden Midtown Homes is also very strategically located. It is easily accessible to schools, hospitals and retail establishments as well to major road networks such as the Quirino Avenue, United Nations Avenue and Paz Guazon Street.
Moreover, its accessibility will also allow residents to reach commercial districts such as Binondo and Makati in just a short time. This way, parents who work in offices can still have time to bond with their kids after office hours by assisting them in their homework and playing with them.
Horizon Land has also incorporated safety and exclusivity at Peninsula Garden Midtown Homes. It has top-of-the-line security measures to guarantee safety and privacy of the residents. There is a well-lighted entrance gate, a perimeter fence, CCTV systems complemented by a 24-hour security. An administration office will also be posted to take care of the facilities for the residents.
According to Mr. Banzon, the spacious and lush environment of the Peninsula Garden Midtown Homes brings a good blending with the body of water surrounding the entire development. "This is supposed to bring good luck based on Chinese belief," he beams. For better mobility of the residents, the company will also include a shuttle service that can bring residents in and out of the community.
As we go along, residents can expect more improvements to come along as the project proceeds to development. At Horizon Land, we always strive to improve on our every project, introducing innovations as we go along for residents' benefit," Banzon adds.
Horizon Land reported brisk sales for the initial offering of Peninsula Garden Midtown Homes' first tower called Molave, which has almost been sold out. Banzon also reported that the Maple Tower (its second tower) is already almost 80 percent sold out. To entice the market further who'd wish to buy units at the third tower (aptly called Narra), Horizon Land is upping the ante by offering a free balcony for every buyer who buys two units. Expected completion of the Molave Tower is end of this year while both the Maple and Narra towers will follow suit in 2014.
The Narra and the Maple towers will offer two-bedroom units ranging from 33.6 to 38.2 square meters, while the Molave Tower shall offer one-bedroom and two-bedroom units ranging from 33.5 to 75.5 square meters. For more information, please call 497-8646. Visit its showroom at Quirino Ave. Extension – OTIS (Peñafrancia), Paco, Manila.