October 8, 2018
10 Things To Do In The Pasay City Bay Area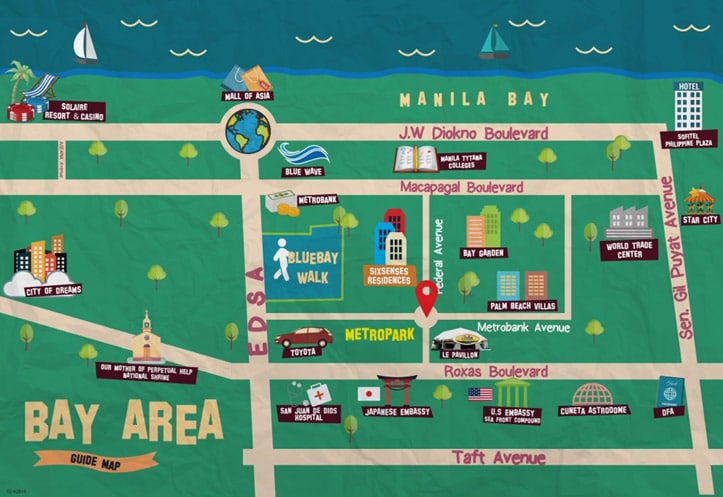 Over the past decade, the Bay Area of Pasay City has blossomed into the exciting Entertainment City. Bay Area offers plenty of ways to entertain. Whether you are looking to enjoy yourself, family or friends, the Bay Area has it and more. Here is a quick list of 10 fun things to do in Bay Area.
1. Picnic at the iGarden
Devote a wholesome fun afternoon in the park for the whole family at the gardens of Six Senses Residences. Play Frisbee with your dog or teach your kids how to fly a kite, and then enjoy a picnic lunch – there are many ways to Sunday at the lush iGarden.
Location: Six Senses Residences, Metro Bank Ave, Pasay, Metro Manila
2. Walk Your Dog at Metro Park
With its wide green grass field and pet-friendly policies, the Metro Park is one of the best places to bring our furry friends for a romp in the park. Blue Bay Walk in Metro Park is also one of the few malls that hosts various pet events and allows them inside the shopping mall.
Location: Metro Bank Ave, Pasay, Metro Manila
Mall Hours: Sunday to Thursday 11:00AM-10:00PM, Friday to Saturday 11:00AM-11:00PM
3. Watch the Sun Set at Manila Bay
In contrast with the hustle and bustle of the metropolis, the quiet beauty of setting sun at Manila Bay presents a soothing sight to the denizens. Stroll along the Baywalk of Roxas Boulevard for the best view of the world famous sunset.
Location: Baywalk, Roxas Boulevard, Metro Manila
4. Shop And Dine At Blue Bay Walk
With quaint shopping galleries and a wide grass field, Blue Bay Walk is very different from other malls in Metro Manila. Blue Bay Walk is a lifestyle hub where you can find a fusion of authenticity, relaxation, and indulgence. Pamper yourself with the latest fashion trends or delectable meals without the worries of overcrowding.
Location: Macapagal Boulevard corner EDSA Extension, Pasay
Mall Hours: Sunday to Thursday 11:00AM-10:00PM, Friday to Saturday 11:00AM-11:00PM
5. Test Drive a Car at Toyota Manila Bay
Car enthusiasts should not miss visiting the Toyota Manila Bay. One of the largest car dealership in the country, Toyota Manila Bay's showroom exhibits bestselling passenger cars, commercial vehicles, rugged 4x4s, environmental-friendly hybrids and performance racing car, GT 86.
Location: Roxas Boulevard corner EDSA Extension, Pasay
Hours: Monday to Saturday 9:00AM-7:00PM, Sunday 9:00AM-5:30PM
6. Say a Prayer at Baclaran Church
When in need of divine guidance or spiritual solace, try visiting the Baclaran Church. The Baclaran Church or the National Shrine of Our Mother of Perpetual Help is the biggest shrine in the world dedicated to Our Mother of Perpetual Help. Devotion to Our Mother of Perpetual Help is popular amongst Filipino Catholics, with devotees flocking to the Church every Wednesday. Thus, Wednesdays are popularly called "Baclaran day" in Manila.
Location: Redemptorist Road cor Roxas Boulevard Service Road, Baclaran, Parañaque
7. Learn the Latest Trends at World Trade Center Metro Manila
A member of the World Trade Centers Association of New York, World Trade Center Metro Manila is the preferred venue for international and professional events such as the APEC Summit 1996 and 2016. Most of the trade shows and exhibits are open to the public. Check their calendar of events to see if an event catches your fancy.
Location: Sen. Gil Puyat Avenue cor Macapagal Boulevard, Pasay
Hours: Monday to Friday 8:00AM-5:00PM
8. Prioritize Wealth at San Juan De Dios Hospital
Founded in 1578, San Juan De Dios Educational Foundation, Inc. Hospital is the oldest hospital in the Philippines. It is also Asia's first hospital certified in OHSAS and first Philippine Hospital certified in Environment Management System and with Triple ISO Certification. So if you are looking for a new health care provider, why not consider a tested and proven hospital?
Location: 2772 Roxas Boulevard, Pasay
Clinic Hours: Tuesday to Friday 9:00AM-8:00PM
9. Host Your Event at Le Parc and Le Pavilion
From weddings to debuts, product launches and corporate events, fashion show to bargain hunting, events halls Le Parc and Le Pavillon at Metro Park are here for you. Picture a grand affair and you can do it in the grand hall where only your imagination sets the limit.
Location: Le Parc: EDSA, Pasay; Le Pavillon: Metro Bank Avenue, Pasay
10.Bump Cars at Star City
Unleash your inner child and enjoy the rides and attractions in Star City. With more than 30 different rides and attractions including the largest Ferris wheel in the country, Star City is a thrilling paradise to both kids and kids at hearts seeking adventures.
Location: Sotto Street, CCP Complex, Pasay
Fee/Admission Pass: Php80.00, Ride All You Can Pass: Php490.00
Hours: Monday to Thursday 4:00PM-11:00PM, Friday to Sunday 2:00PM-11:00PM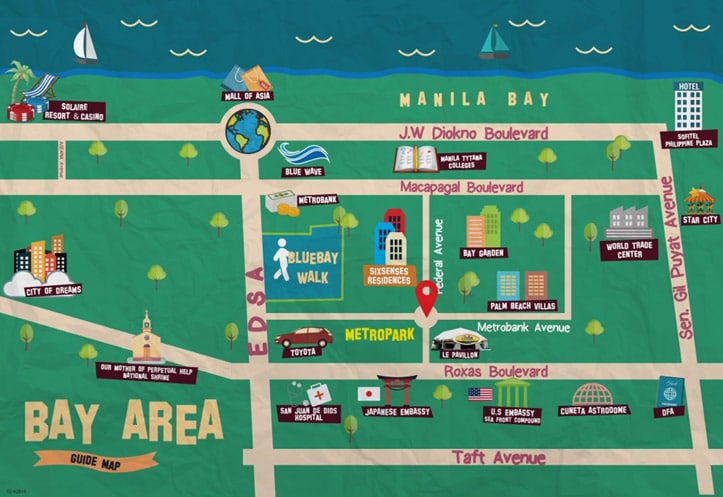 Want to be in the middle of these hotspots? Palm Beach West Residences – Baler Tower is opening pre-selling condo units for sale. Located within the sprawling Metro Park, between the two most traveled boulevards, Roxas and Macapagal, in Pasay City, Palm Beach West provides your family a safe and secure home, with resort-theme atmosphere and lifestyle amenities for the enjoyment of the family and a neighborhood bustling with life and excitement of Entertainment City.
With Federal Land, owning your first condominium residence is easy. Just contact our representatives, provide a Philippine government-issued ID (with your Tax Identification Number), fill up the required forms, pay the reservation fee and voila! The unit is booked under your name. You are now ready to start a home loan application through in-house or bank financing.
Federal Land Inc., also offers condominium units for sale in
Makati
;
BGC (Fort)
,
Taguig
;
Binondo
and
Paco, Manila
;
Entertainment City, Pasay
;
Greenhills, San Juan
;
Quezon City
;
Marikina
;
Cebu
as well as in
General Trias, Cavite
. For lease to own plan details or pre-selling reservations, email us at
digital.mktg@federalland.ph
.