June 30, 2022
10 Tech Products to Turn Your Condo Into a Smart Home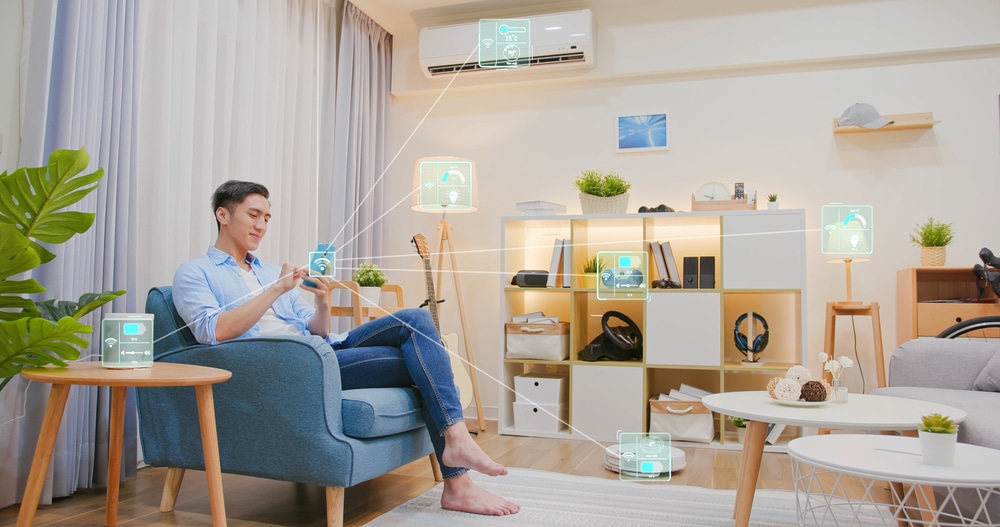 Recent innovations in the Internet of Things (IoT) and artificial intelligence (AI) have allowed society to live a more convenient lifestyle indoors. According to a study, the Philippines' smart home control and connectivity devices markets saw a 71.5% growth in 2021—or a staggering $20.83 million in market value.
If you're one of these owners looking to transform your humble abode into a smart condo, this listicle will provide automation options to let you do that.
10 Tech Products to Turn Your Condo Into a Smart Home
Given the increasing preference to stay indoors, more and more homeowners see the need to give their homes a tech update. Smart home offers significant of advantages to homeowners including maximizing cost and energy savings, improved home security, and more importantly, a substantial increase in property value.  
With technology constantly evolving, more smart home devices are being created for homeowners who want a smart home, and now it is easier to make your home life more convenient. Consider these devices for an easy start to a smart home project.

Smart Plug
Investing in smart plugs is one of the easiest ways to transform your condominium into a smart home. When appliances like TVs, lights, and electric fans are plugged into a smart plug, it will enable you to control them through your phone or voice commands via a virtual assistant.
Additionally, some smart plugs allow you to monitor your energy consumption. They estimate how much certain devices cost when functioning in your home. Automating your home is now achievable by replacing primary outlets with inexpensive and high-functioning smart plugs.
Smart Speaker
If you start or end your day with music, then a smart speaker is something to consider. This device enables you to play songs through voice commands. Beyond playing music, the smart speaker acts as a central hub where you can check current events, news, and weather.
Smart Display
Smart displays eliminate the need for multiple applications to operate different devices. Similar to a smart speaker with added features, it features a screen to make video calls and a front-facing camera that can reinforce your home security.
Additionally, a smart display serves as a central control point for your other smart devices, allowing you to operate all devices from one console.
Smart Vacuum
If you like coming home to a clean condo, a smart vacuum is something you should consider purchasing. Smart vacuums aid your cleaning efforts thanks to their multi-surface rubber brushes, powerful suction, and a high-efficiency filter to trap dirt.
One of the most significant features of a smart vacuum is that you can control it even when you're out of the house. It also sends progress reports on how the cleaning is going.
Smart Lock
Smart devices don't just make your life easier. For instance, smart locks have practical uses by providing home security measures. They easily attach to the deadbolt for added security while still allowing you to use your key to unlock the door from the outside.
Additionally, some models have a feature that automatically alerts you when a door has been left open.
Mesh Wi-Fi System
A mesh Wi-Fi system acts as the primary router, directly connecting to your modem. Investing in a mesh Wi-Fi system decongests your network for better internet connectivity speed, increased reliability, and greater area coverage than conventional routers.
Smart Pet Devices
For responsible pet owners who want to watch their animals while out of their condos, smart pet devices are essential. 
Smart home gadgets for pets like a smart dog camera allow you to look over your pet while away, even providing alerts when they make a noise. Some also dispense treats remotely and will enable you to talk to your pets through a two-way audio speaker.
Smart Fridge
Perfect for busy individuals, smart fridges keep your food cool and have smart functionality to aid in your grocery shopping. They usually have a screen that you can use to create shopping lists, account for your groceries, and send messages.
Some smart fridges also have a feature that lets owners check the contents of their fridges remotely, perfect for when they need to see what else to shop for.
Smart Thermostat
While smart thermostats are small devices a condo owner barely notices, they significantly benefit electricity consumption. These devices allow you to set specific temperature levels when home or out at work. They also sense when the condo owner is not at home and adjusts the temperature accordingly.
Not only is this device convenient, but it can also potentially save the homeowner in electricity costs.
Smart Smoke Detectors
Fire safety is made easier with smart smoke detectors. It can be installed in every room of the condo, alerting you to the specific area where smoke or carbon monoxide is detected. Compatible with most smartphone devices, smart smoke detectors can automatically turn on your lights for easier evacuation when they detect a fire.
Making a Smart Investment
Smart devices are no longer niche products but the norm. Most of the world is starting to invest in them to improve life at home. Those looking to transform their run-of-the-mill home into a smart condo may want to consider these products as they enhance the functionality of indoor living.
In search of a condo for sale in the Philippines? Look no further than Federal Land. Offering thoughtfully-designed and well-built  Ready for Occupancy and preselling units, Federal land offers condominiums in prime spots with high investment potential in the Philippines. Contact us today, and one of our knowledgeable real estate professionals will help you in your homebuying journey.