December 9, 2022
Childproofing Your Home: A Room-by-Room Guide for Condo Dwellers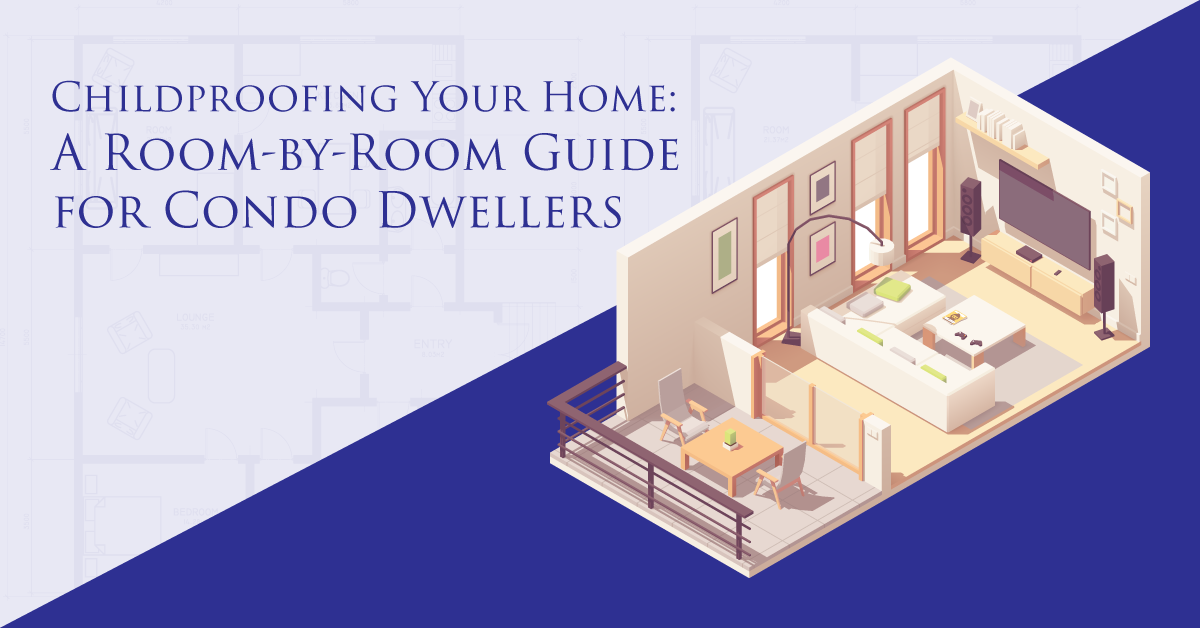 Parents only want the best for their children, so having a happy and healthy baby is one of the greatest gifts they can have. 
Another parenting goal is to keep their kids safe in a well-built home and secure neighborhood. Here, a condominium unit can provide the necessary protective measures for your baby while offering the warmth of a loving and caring family home.  
While watching your little bundles of joy grow into curious toddlers is exciting, their well-being must come first. Unfortunately, even the most ordinary furnishings and fixtures can be a hazard for your little explorer. 
This infographic examines each room of your home and guides you through the extra steps you can take to keep your children safe.

Childproofing Your Home: A Room-by-Room Guide for Condo Dwellers
Making your home a safe space for the young ones in your family can be more manageable if you know how to minimize the hazards inside out.
Living Room
The living room is one of the most frequented areas around the house, and most likely, this will be the area where your kids will get much of their playtime. Allow your child to enjoy this space safely with these tips.
Reduce sharp corners and edges
Your child must learn how to crawl, stand, and walk. However, sharp corners and edges may pose a potentially dangerous obstacle. 
Run your hand along and over the surfaces of your living room to identify danger zones. Then, install edge guards, corner protectors, and other padding materials to avoid possible injuries for your child.
It may be best to get down on your hands and knees so you can see things from your child's perspective—taking this extra step can go a long way. 
Add carpets and rugs to soften surfaces
Chances are, your child will spend a lot of time crawling and playing on the floor. Rugs and carpets can soften your living room's harsh floorings, making it easier and safer for your child to explore.
You can also place baby play mats around your living room if you worry about rug burns on your child's sensitive knees and elbows. These materials also act as a buffer to soften falls that might happen once your child starts exploring their little world.
Did you know that 98.9% of entanglement injuries caused by window blinds involve the cords that go with them? Thankfully, there are cordless products that can prevent your child from hanging on to blinds, which might result in falls and other nasty accidents.
Those little holes about the same height as your baby can attract curious little fingers to probe around. Avoid the chances of getting your child into electrical-related injuries by installing outlet covers. These covers typically lay flat on the outlet to make sure that little hands cannot grab onto them or pull them out.
Mount and secure furniture
Tall furniture like shelves and cabinets can threaten your child's safety, as it can fall over if not secured properly. To prevent them from tipping over and causing accidents, childproof your home by setting up tension straps, command strips, and other security features.
Kitchen and Dining
With a brood to feed, the kitchen is often the busiest part of the house. However, this area is also full of items that can harm your children if exposed. Here's how you can make the kitchen and dining place safer for your kids.
Kids searching for food may reach countertops or tables to settle their cravings. Spilled food will be the least of your problems, but sharp objects like forks and knives can fall on your curious child's body. 
To prevent this, keep your countertops clean and free from sharp utensils after using them. Also, remember that some boxes of aluminum foil, waxed paper, and plastic wraps have serrated edges that may cut little fingers. If possible, keep them away from children's reach by storing them in drawers and cabinets and installing locks as an added precaution.
Secure kitchen appliances
Kitchen appliances and oven doors can get hot enough to cause burns to your baby's delicate skin. It's safer to use the back burners of your stove to prevent the risk of your child reaching the handle of a hot pan. You can also choose to invest in stove guards to minimize accidents.
Your child could mistake a simple, hollow handle for a ladder to step on and climb countertops. As such, you must be mindful of the grips in the kitchen your child can unwittingly explore. 
Choose furniture and appliances with recessed handles so your kids can't grab them. You should also secure oven or stove knobs and refrigerator handles using childproof covers—or replace them entirely if necessary. 
Preparing meals for your family can be a messy task. Make sure to clean up spillages immediately and store away unnecessary utensils as soon as possible to avoid the risk of your baby slipping on puddles or injuring themselves on sharp objects. 
Properly dispose of trash
Children reaching inside an unsupervised trash bin and grabbing anything they can hold on to can be a recipe for an accident. Best to keep the garbage can behind locked cabinets and tie trash bags with a secure knot to keep kitchen waste away from inspecting hands. Then, immediately dispose of hazardous objects, like old medicine or sharp plastic packaging.
Bathroom
Most kids enjoy playing with water, so making the bathroom as safe as possible is best to help them have a wonderful time while splashing around. Do these tips to make your bathroom more kid-friendly.
Invest in slip-resistant materials
Wet bathroom floors, slippery showers, and bathtubs are hotspots for accidental slips at any age. Prevent these odds by placing non-slip rugs on susceptible spaces in your bathroom. Bathing seats, which are available with different security features, can also make bath time fun and safe for your baby.   
Cover spouts with soft materials
Spout covers keep your baby entertained in the bathtub and avoid the risk of your baby injuring their head on the hard steel of the tub or sink faucet heads. The soft silicone or rubber that makes up these covers can help soften the blow on your child's body parts. 
Regularly check the water temperature
Keep your child's delicate skin away from scalding hot water by maintaining a safe 37–38°C (98.6–100.4°F) on your water heater. You can take safety further by installing anti-scalding devices on your faucets.
Keep your toilet closed at all times to prevent the possibility of a drowning incident or your child hitting their head or fingers on the toilet lids. It's also possible for your child to throw small items and flush them down without your attention. If possible, install special toilet seat covers and handle locks for added protection. 
Keep chemicals out of reach
Store medicine, cleaning chemicals, and cosmetics away from your child's reach. These products can cause grave consequences when kids play around with them or ingest them. Store them inside high drawers or cabinets, preferably with locks, to avoid possible hazards.
Bedroom
After a full day of playing and exploring, your tikes should get ample sleep to help them recharge. However, there are often hidden dangers lurking in the bedroom that can put your kids in danger. Here's what you can do.
Keep floors clean of small objects 
Children love putting anything they get their little hands on into their mouths. Ensure your child's safety from choking hazards by regularly checking for small toys or objects they can reach. Regularly sweep or vacuum your floors to gather dust bunnies and lint that aren't visible at first glance.
Meet furniture safety standards
Your child is going to spend a lot of time in their cribs. Avoid possible accidents by ensuring that the slats surrounding your child's bed are about 6 cm apart. Also, double-check with the manufacturer if the product contains toxic materials like formaldehyde—the last thing you want is to expose your child to these dangerous substances. 
Use small blankets to avoid suffocation
Although they are essential to keep your baby warm through cold nights, baby blankets should not be too large to reduce the risk of suffocation or entanglement. Allocate a specific cupboard for your child's blankets when not in use during warmer nights. 
Window guards keep your windows closed and locked, minimizing the chances of your child climbing outside the window and getting into an accident—especially for the upper levels. Window guards can differ depending on the window you have on your unit. Generally, these locks ensure your children can't climb out of your condo.
Watch out for electrical hazards
Different appliances in the bedroom require electricity. Make the room childproof by arranging them in neat lines with zip ties and tape. You can also take the extra effort to hide electrical cords and plugs in cabinets or behind furniture, away from your child's reach. 
Balcony
Most condo owners have access to a balcony that provides them  views of the metro. However, this area poses a significant threat to curious, adventurous kids, so limiting their access to it is necessary. These ideas may help.
Your little explorer can get excited with the idea of exploring the outdoors, and for condominiums, this usually means the balcony. Regularly check your locks to see if they're working correctly. As a primary preventive measure, keep your doors locked to avoid accidents when you aren't around to supervise.
In childproofing your home, you also have to consider the risks outside your home. For example, a baby gate provides extra security for your home by adding a complicated latch that can make it difficult for your child to go out.
Suppose your child manages to get through your security measures. In that case, an alarm can keep them safe by letting you know they're trying to get into your balcony—even if you're in a different room. Although an alarm alone can't prevent your child from going outside without you, it'll help alert you of your child's whereabouts.
Make sure plants are non-toxic
Research the kinds of plants you have at home to ensure they don't have harmful toxins or accident-prone thorns. Soil, blossoms, and leaves from your potted plants can be hazardous when ingested. Remember to grow your plants in appropriate pots to keep them from getting tipped over.
Keep plants and furniture far from the railing
Ensure a good few inches between the balcony railings and any item, such as plants and furniture, to keep your children away from the balcony ledge. This off-limit area minimizes the risk of kids misstepping toward the edge of the terrace and helps prevent injuries, falls, and other accidents.
Happy Baby and Happy Family Life
Indeed, prevention is better than cure. 
Home and family safety has reached new heights to fit property owners' changing needs and demands, including start up families who prefer acquiring real estate with top-notch security and stylish interiors. Siena Towers' condo for sale in Marikina offers these luxuries at a family-friendly price tag. 
If you're looking for affordable, quality facilities that fit your needs, Horizon Land is for you. As a Federal Land, Inc. subsidiary, Horizon Land is a developer of practical, sensible, and reliable properties in strategic locations. Experience memorable family time and live a meaningful life in Horizon Land's vibrant and sustainable communities.