August 26, 2022
Family Day: 10 Fun Family Activities to Do in Your Condo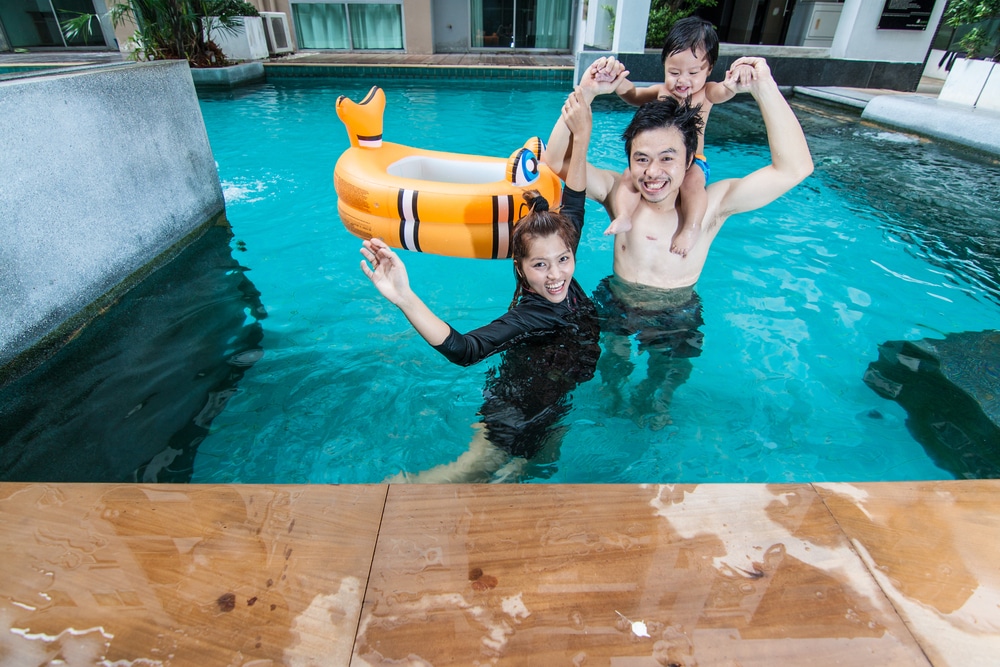 One of life's most cherished moments is family time. Family activities are worthwhile, whether it's having a movie night, going on an out-of-town trip, or simply spending quality time together. But sometimes bad weather, limited budget, or some other reason gets in the way of family activities.
Fortunately, condo dwellers can plan an exciting family bonding day within the confines of their condo neighborhood. It does not have to be complicated or overly planned—it can simply be having the family come together, connect, and have fun.
Fun with the Family
There are many exciting ideas you can try doing in and around your family home. With Federal Land's spacious properties and exciting amenities, family day is more entertaining than ever. 
1. Bask in the sun with a pool party
There is no need to book a stay in a faraway resort when you have a pool within your condo. Swimming pool amenities are available in Federal Land's residences. You can have fun under the sun with your loved ones without having to leave the comfort of your home. Best of all, kiddie pools are nearby so everyone can join in on the fun!
2. Get a good old-fashioned BBQ party going
Nothing beats a get-together over great food. Grilling and eating your favorite food will help restore much-needed energy to keep the fun going while you enjoy family day activities outdoors.
While you can replicate the taste of grilled food inside your unit with a cast iron grill pan, nothing beats the real deal. This is not a problem for residents of Federal Land's Mi Casa, a Hawaii-inspired condominium in Pasay City. Residents can grill, chill, and appreciate the alfresco setting with its open barbecue area beside the swimming pool. 
3. Take turns trying out new recipes
Fun family time does not always have to be outdoors. You can keep things exciting in the kitchen by exploring new recipes with your family. 
Meals at home are far from boring if you delve into recipes everyone would love to try. You can even make a little competition out of who makes the best meal. Who knows? You might discover a new family recipe from your home-cooking activity! 
4. Have a friendly yet competitive family game night
Game night comprising of card and board games is another fantastic idea for family time.
However, a game room takes game nights to a whole new level. Most of Federal Land's condo developments offer a  game room amenity where you and your family would be more than eager for playtime. 
The game rooms include a pool table, ping-pong table, game consoles, etc. You could set up a friendly competition to see who wins the most at these games.
5. Go on a movie marathon
On days when you want to take it easy, sit back, and relax, you can enjoy family time with a movie marathon. Watching films has always been a fun and classic way to spend time with family.
Typically, you might think of going to the cinemas to do this. But there is no need to visit a movie house nearby. With comfortable theater seats, a sound system, and a big screen, some of  Federal Land's projects like Four Season Riviera, Mi Casa, Marco Polo Residences, and Park Avenue, offer you a cinematic experience within the place you call home, and you get to share this with your loved ones.
6. Take care of your thriving balcony garden
Every family almost always has a plantita or plantito. You can express that side of you by decorating and beautifying your balcony with plants.
Gardening is an interactive and educational activity you and your family can bond over. Teach kids about basic plant care over a weekly gardening session. It would also be practical to have plants like basil and oregano that you can harvest and use in the kitchen. 
7. Compete in your little family Olympics
For sporty families, organizing a little sporting competition may be right up your alley. There are many sports and fitness amenities within Federal Land's residentials. These include tennis courts, basketball courts, jogging paths, open spaces, and gyms. 
Working out, exercising, and staying fit with your family will enable you to practice healthy habits. You can even hold a mini family Olympics to motivate each other and push yourselves to become more active. 
8. Have a spa day
Pampering without going to a spa is possible. In fact, a spa day is better when you are at home relaxing. In this activity, you and your family can exchange acts of loving service with foot massages and back rubs. 
Meanwhile, families who want to glam up can take turns applying face masks, foot baths, and sharing skincare routines. Better yet, why not add a Japanese twist to your pamper day? You can relax in The Seasons Residences' Japanese hot spring and spa while you bask in its calming Zen-inspired design.
9. Dine outdoors via picnic
Another old-school family experience is a traditional picnic. Get everyone involved with the preparation, from concocting fruity drinks and sandwiches to making sure you have a blanket big enough to fit everyone.
Take a stroll around the residences' outdoors, soak up some vitamin D, and find a spot to picnic. You and your family can enjoy homemade food and appreciate your condo's greenery and scenery. 
10. Do a home cleanup
This is probably an activity the kids might not look forward to, as house cleanup is typically a task for moms and dads. But you can always make cleaning up fun. Play their favorite tunes in the background or create a friendly competition on who can clean the best and fastest.
Besides being a light, fun family chore, house cleaning is also a smart way to start teaching kids how to tidy up after themselves and learn some household chores. 
Spend Fun Family Activities in the Perfect Home
You are probably picturing a beautiful home with all these fun family day activities. Finding condos for sale in the Philippines with very inviting amenities and facilities is crucial.
Federal Land offers well-built and thoughtfully-designed ready-for-occupancy and pre-selling condominiums in the country's prime spots with high investment potential. Each of these condominium projects offers curated-amenities that address the lifestyle needs of its residents, whether in health and wellness, recreational, or business functions.
Our real estate professionals can help you find the perfect family home.