July 13, 2023
8 Cool Spots to Experience the Nightlife in Metro Manila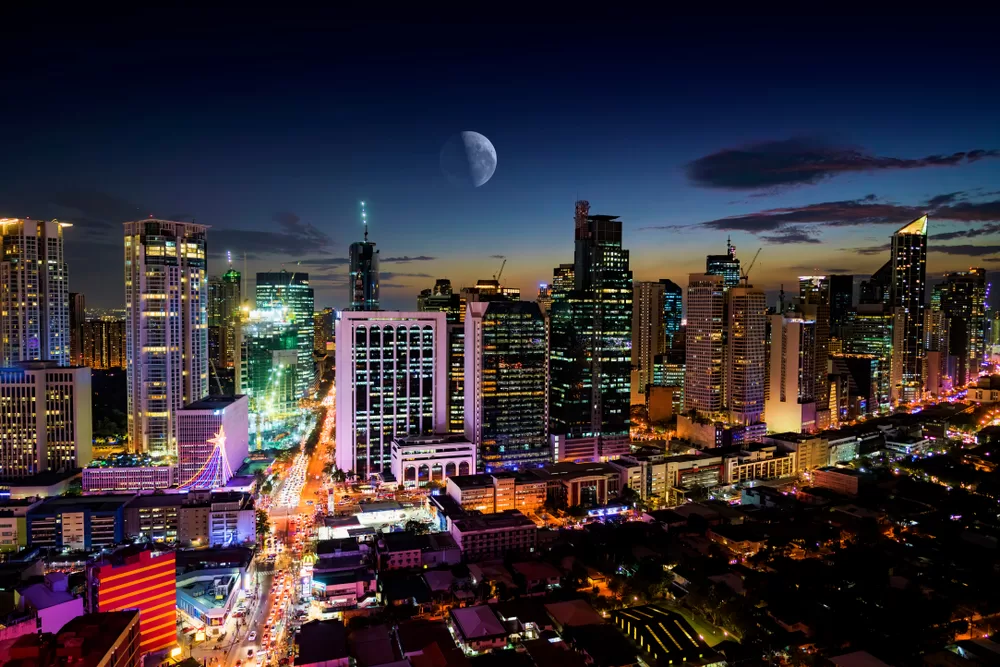 If you're a young professional residing in the heart of Metro Manila, you'll discover why this place is the ultimate urban playground. Not only is it conveniently close to your office grind and daytime hangouts, but it also knows how to turn up the heat once the sun sets.
The nightlife in Metro Manila is as diverse as it gets, offering a kaleidoscope of vibrant experiences. Whether you're looking for a place to unwind after a long work day or looking forward to chilling on weekends, the city has your back.
This blog takes you on an enjoyable journey through Metro Manila's most fabulous nightlife and residential spots.
8 of the Hippest Nightlife Spots in Metro Manila
Whether you're into buzzing clubs, laid-back bars, or unique experiences, these exciting areas are sure to ignite your nocturnal spirit.
1. Poblacion, Makati
Poblacion is a gem of a nightlife spot in Makati. This colorful area is a favorite among locals and expats alike. When the streetlights turn on, the avenue comes to life and buzzes with energy. An impressive array of clubs, pubs, and bars line its streets, catering to every taste. 
Some of Poblacion's featured destinations include the Z Hostel Roofdeck Bar, with its wonderful views and live music. Polilya is another option popular for its exclusive local brews and spirits. You can also enjoy Alamat Filipino Pub & Deli's delicious food and drinks.
Situated at Makati, Pasay, and Manila borders, Quantum Residences offers an easy way to get to Poblacion by hopping on a taxi or a few jeepneys. This sleek condominium boasts modern amenities and stylish living spaces, perfect for thrill-seekers like yourself who want to be in the center of everything.
2. Kapitolyo, Pasig
Kapitolyo is a hip neighborhood in Pasig known for its culinary wonders and lively bar scene. This foodie paradise has many restaurants and gastropubs that satisfy even the most discerning palates. For the connoisseur, you can sample some locally brewed independent beers in one of its many gastropubs.
Visit The Perfect Pint to enjoy curated meals and brews. Meanwhile, the Alchemy Bistro Bar offers European cuisine paired with exotic spirits. If you're seeking variety, Gastro Park Kapitolyo has over a dozen food and beverage stalls for whatever you fancy.
Less than 10 minutes away from all the buzz is The Grand Midori Ortigas. Its Zen-inspired design provides tranquility amid the busy city for that perfect mix of relaxation and adventure.
3. Cubao Expo, Quezon City
For a unique and artsy nightlife experience, head over to Cubao Expo in Quezon City. This eclectic hub is a haven for creatives and free spirits. It features a collection of vintage shops, art galleries, indie music venues, and quirky bars that'll transport you to a different era. The distinct vibe and diverse crowd make it a must-visit if you're after something out of the box.
For a touch of history, Fred's Revolución has been catering to firebrand drinkers for many years. If live entertainment's more your speed, 12 Monkeys Music Hall & Pub has a weekly lineup of established artists and up-and-comers. For the mellow visitors, INT. Bar / EXT. Café is a quiet bar filled with vintage décor.
It's easy to fall in love with such an unconventional spot, but thankfully, you don't have to be away for too long. One Wilson Square in San Juan is a nearby residential option with luxurious units. This property is also situated near the Music Museum Complex, which makes it ideal for catching late night theater and stand up comedy shows.
4. Katipunan Avenue, Quezon City
If you're a student or young professional, you're probably already familiar with the nightlife scene along Katipunan. This bustling boulevard is home to some of Metro Manila's most prominent universities, making it a hotspot for the youth. 
The nightlife scene includes trendy bars like Lan Kwai Speakeasy & Hong Kong Cuisine, casual pubs like Tomato Kick, and live music venues to keep you entertained. These are spots where you can unwind with like-minded individuals.
If you're looking for easy access to Katipunan's thriving nightlife scene, consider Siena Towers in Marikina. It has cozy and affordable units in a strategic location at just the right distance to avoid most of the traffic but is still close enough to the action.
5. Timog Avenue and Tomas Morato Avenue, Quezon City
Of course, the city with the most people also has the most spots on this list! Timog and Tomas Morato are synonymous with QC nightlife. Clubs, bars, and entertainment hubs pack these bustling avenues. From live band performances to themed bars and karaoke joints, the options here are endless.
The Beech is a spacious bar and bistro, offering gastro delights to suit all tastes. For your karaoke needs, Music 21 Plaza lets you sing your heart out while accompanied by delicious food and drinks. For your exotic food adventures, Tomas Morato's Rue Bourbon brings the style and energy of New Orleans to Quezon City.
As a resident of Valencia Hills Tower E, you can easily access Timog's and Tomas Morato's delights. Plus, the condo's central location in the QC neighborhood gives easy access to the city's other hotspots. 
6. City of Dreams, Pasay
For a touch of Las Vegas in the Philippines, the City of Dreams in Pasay is a must-visit. This integrated resort complex has world-class casinos, upscale bars, and dazzling entertainment shows. Whether you want to try your luck at the tables or dance the night away at a swanky club, City of Dreams is the destination.
If you're looking to dine and enjoy performances after some cards or slots, CenterPlay is a luxurious entertainment hub in the City of Dreams. Red Ginger is another delightful restaurant in the venue, specializing in Chinese cuisine. 
Of course, a fancy night out should end at an equally fancy home. Consider Six Senses Residences, a luxurious and sophisticated condominium nearby. This prestigious address offers exclusive living spaces and top-notch amenities to complement your glamorous lifestyle.
7. Seaside Boulevard, Pasay
How can this guide mention Pasay without talking about the Bay? Seaside Boulevard is a vibrant strip lined with beach-themed bars, al fresco restaurants, and live music venues that offer a refreshing twist on a night out. With the laid-back ambiance and stunning view of Manila Bay, Seaside Boulevard perfectly encapsulates the Philippines' relaxed but beautiful vibe.
House Manila is the club around Seaside Boulevard. If you're lucky, you may even catch some performances from international musicians. If you're looking for a show with your drinks, The Singing Cooks & Waiters Atbp. offers a delightful concert with every visit. 
Mi Casa is a nearby residential option that doubles down on the Pacific paradise theme of the area with its design and amenities. Residing here makes you only a few minutes away from the tropical wonders of Seaside Boulevard. 
8. Bonifacio Global City, Taguig
Last but certainly not least, we have Bonifacio Global City (BGC) in Taguig. What can't you find in BGC? The district is known for its cosmopolitan vibe and an array of upscale bars, clubs, and restaurants. From chic rooftop bars with breathtaking city views to sleek lounges and fine dining establishments, BGC has become the go-to destination for the sophisticated.
For one, The Peak on the 62nd floor of Grand Hyatt Manila is a beautiful collision of a restaurant, speakeasy, bar, and music lounge. Imagine dining on a succulent steak paired with the best wine while gazing upon the highest views of Manila's skyline – truly an exceptional experience of the high life. 
A swanky bachelor's pad is perfect for BGC regulars like yourself. Consider The Seasons Residences, a high-end development in upscale BGC. You can expect only the best from a condominium designed for Metro Manila's upper class.
Metro Manila's Nocturnal Delights
So, there you have it! Eight of the best nightlife spots in Metro Manila will keep you entertained from dusk till dawn. And when it's time to call it a night, there's a range of exceptional condominiums nearby, letting you recover in no time. Embrace this urban playground's excitement and let the Manila nightlife sweep you off your feet!
If you're looking for a home in prime spots throughout Metro Manila, let Federal Land help! Federal Land is a premier Philippine real estate company that develops well-built and thoughtfully designed RFO and pre-selling condominiums with high investment potential.
Apart from their proximity to the hottest spots in the Metro,, Federal Land's retail podiums, indoor and outdoor retail developments, five-star hotel can give you easy access to your after-party supply run or next-day hangover cures. 
Contact them today if you're interested!