August 30, 2022
Green Architecture: 9 Sustainable Features of Federal Land Projects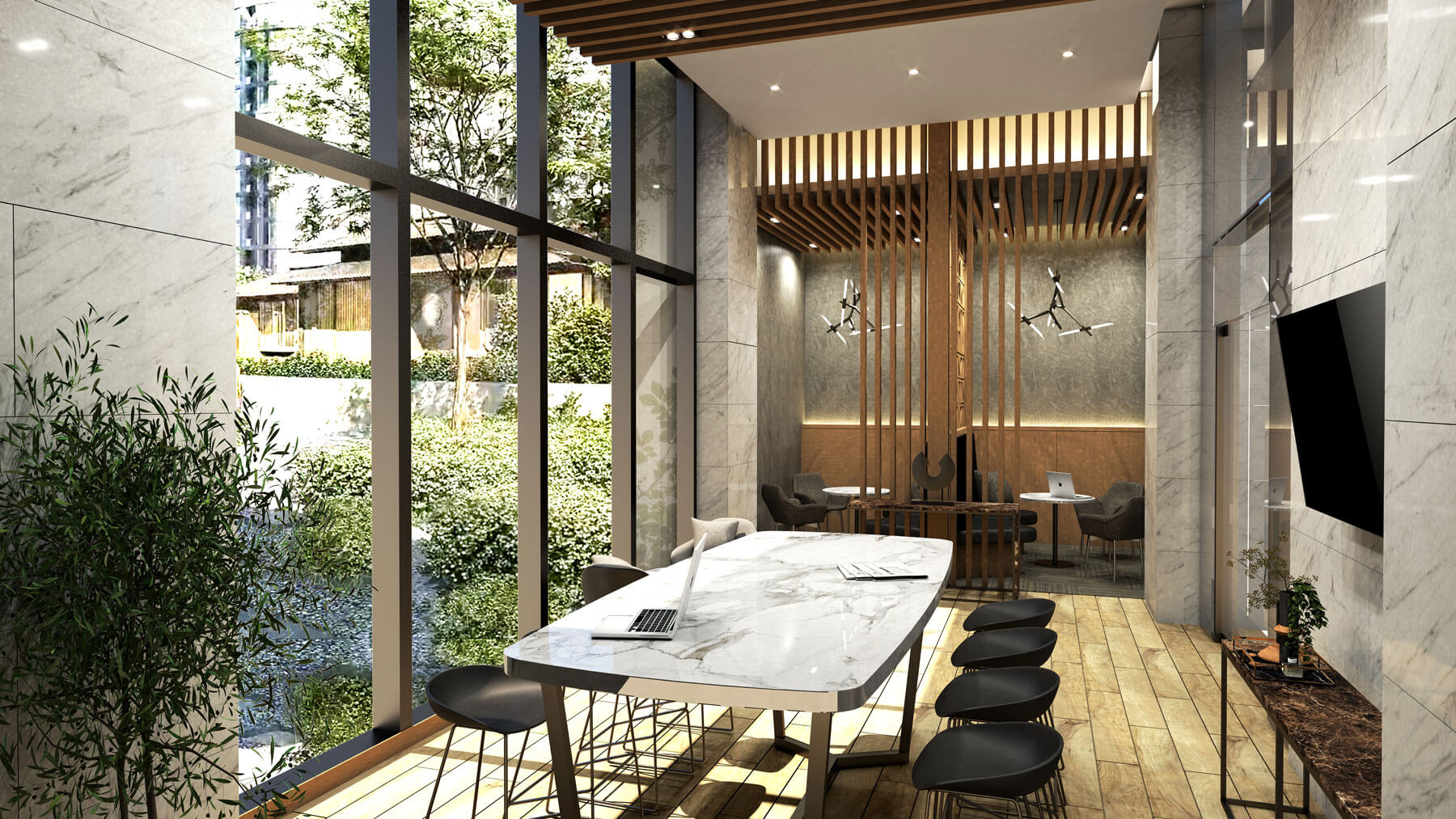 Climate change and global warming opened our eyes to the importance of including sustainability in our daily routines. Primarily, a sustainable lifestyle starts with where you live. If you live in a condominium, it must have eco-conscious features upholding your sustainable life.
Fortunately, it is easy to live well and live green within projects developed by Federal Land as it offers a variety of sustainable architectural features.
9 Key Sustainable Features of Federal Land Projects
1. Energy-efficient building design
Sustainable living should start with the design of the building itself. The structure must be capable of  passively reducing the energy consumption of your home through wise and efficient design.
Thanks to the innovative and sustainable concepts by Foster + Architects, Federal Land's The Estate Makati presents a cross-shaped design, which will allow residences to optimize natural light and have true corner views. In conjunction with the protruding fins of the structure, the angled bay windows fitted with high-performance glass protect the interior from the intense sunlight and UV rays. All of these elements help produce a cooler environment indoors, which reduces the requirements for air-conditioning.
The building also uses LED lights, which are not only eco-friendly but also safer to use than normal incandescent ones as they operate on a low-voltage electrical system. On average, these can last for up to 100,000 operating hours and emit little to no warmth. This prevents excess energy from being wasted through heat. Moreover, this means that your air conditioner will not have to work as hard to cool both living spaces and common areas. 
Our building architecture is also thoughtfully designed to work well in tropical climates. In particular, tower hallways are positioned to harvest as much natural ventilation as possible, helping reduce the requirement for mechanical ventilation and the cost of operating it.
2. Double glazed windows
One of the things that a sustainable building needs to consider is solar heat gain coefficient (SHGC). SHGC refers to the amount of solar radiation entering the building as heat through the glass windows. 
With double glazed windows, Federal Land projects can lower the SHGC by reducing heat absorption while allowing optimum natural light toward the interiors. This results in a cooler building and lower electricity costs as air conditioning systems don't have to work all day 
3. Rainwater harvesting
This particular feature doesn't just help you save up from your utility bills. It also helps the environment during storms. Modern Federal Land buildings with this feature have structures designed to catch and store rainwater. 
The collected rainwater can then be used to water the landscape, reducing wastage and the need for dependence on freshwater—not to mention alleviating stress on local clean water sources.
4. Water-saving toilet fixtures
When flushing toilets, you can use up to 7 gallons of water per flush. Federal Land has swapped old faucet and flush mechanisms for the latest ones that use less water.   For example, dual-flush technology provides both thorough cleaning and low-volume flushing to help reduce water waste. 
Federal Land's signature project, The Seasons Residences located in BGC has water-efficient bathroom fixtures with distinct Japanese spalets from INAX. These functionalities are good for the environment as it helps conserve water while giving residents a comfortable, luxurious living experience.
5. Abundant and open green spaces
Undeniably, real estate trends have shown a preference for lush green spaces—and the Marco Polo Residences in Cebu is up for the challenge. This project has numerous outdoor amenities where residents can relax after a hard day's work, including landscaped gardens, a jogging path, outdoor lounges, multi-functional activity areas, outdoor fitness facilities, and a mini putting green.
Apart from boosting your mood and providing good air quality, garden landscapes can help cool the area by covering you from harsh sunlight. They also help absorb rainwater, reducing the stress on sewers and preventing flood events. 
6. Cool roof systems 
Part of green architecture is to help keep the building cool without using too much electricity. This is where cool roof systems can help. Unlike the usual dark roof, this feature makes the sunlight bounce back instead of absorbing the heat. 
This makes condominiums like The Grand Midori Ortigas cost-effective homes since they are less dependent on mechanical cooling systems. With a cool roof system, Federal Land ensures thermal comfort for homeowners and reduces the heat island effect not just within the development but in the surrounding community as well.
7. Efficient temperature control
Constructing sustainable buildings using materials with high Solar Reflectance Index (SRI) values can help reduce heat island effects on the community. Such materials include "low e-glass," LED lighting, and high SRI valued paint colors. 
Federal Land's first-ever Mitsukoshi Mall in the Philippines implements an Exterior Insulation and Finish System (EIFS) for thermal insulation and stabilizing the indoor environment. The Variable Refrigerant Flow (VRF) air-conditioning system further helps with temperature control by using only the necessary amount of energy to keep a room cool in its condition not just for residential but also for all commercial projects.
8. Sewage treatment plant 
Also known as a wastewater treatment system, this feature can help reduce water waste by using air circulation to promote bacteria growth to break down sewage. Besides providing reusable water for non-potable purposes, this feature also allows for more comfort with minimal odor emissions, reduced water bills, minimal maintenance, and less waste. This environment-friendly facility is fundamental to all Federal Land Projects. 
9. Materials recovery facility 
Reliable real estate developers like Federal Land adopt comprehensive waste management systems. For instance, a materials recovery facility segregates waste into biodegradable, recyclable, non-recyclable, and special or hazardous materials.
This practice is a sustainable way of handling waste from every residence since biodegradable materials are used to fertilize plants and garden landscapes within the building.
Live Green, Live Sustainably 
As people become more conscious of their surroundings and how their actions affect the environment, they turn to homes that have sustainable features. Here, Federal Land's projects fit the bill with green architecture features in every home.
If you're looking to commit to an eco-friendly home, Federal Land has well-built and thoughtfully designed RFO or pre-selling condos for sale in the Philippines located in prime spots with high investment potential. Let our knowledgeable real estate professionals help you in your homebuying journey.