October 7, 2021
Should You Invest in Ready-For-Occupancy (RFO) Condos?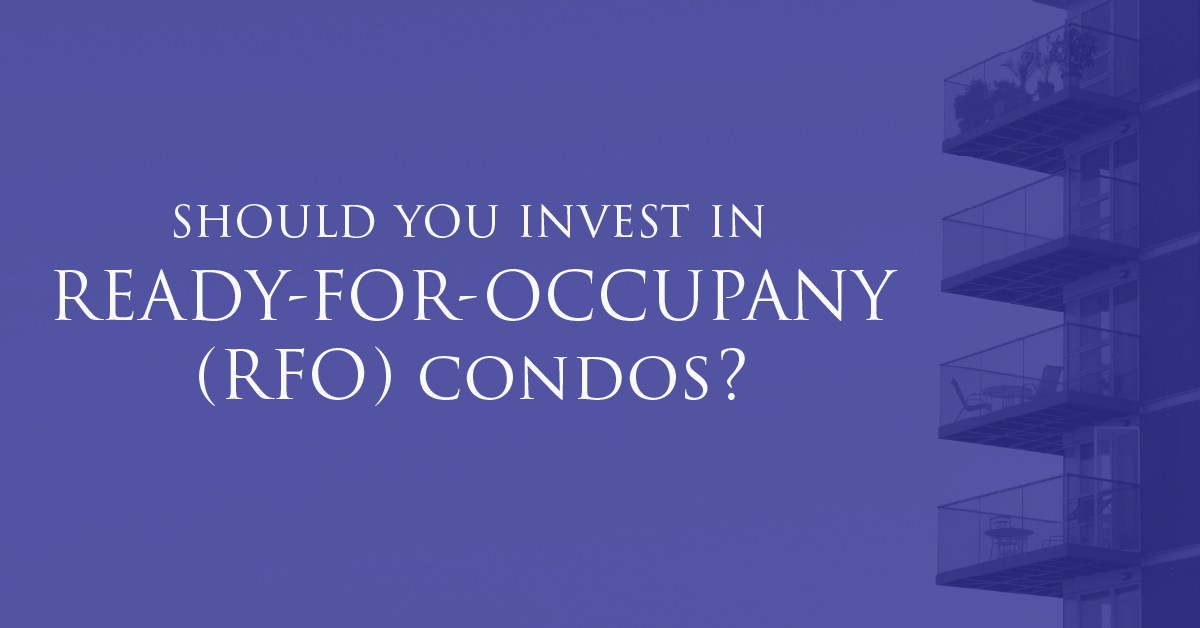 Out of all the investment options available, real estate is one of the most stable and is a tried-and-true choice for those new to investing or who want to see the fruit of their hard-earned savings. Data shows that condominium investments bring excellent returns, especially for properties that are in prime locations.
Condominiums are just one of the different types of property investments that you can consider. The other types include empty lots, commercial properties, and homes. With condos, most of the units in the market are either at the pre-selling stage or ready-for-occupancy (RFO).
Owning a condo, specifically RFO units, offers several advantages for both owners and property investors. Below is an infographic that will walk you through the pros and cons of investing in ready-for-occupancy condo properties.

Should You Invest in Ready-for-Occupancy (RFO) Condos?
Homebuyers and property investors have various options for real estate investment, and one of them is ready-for-occupancy condos. You can determine what type of property suits you best based on your wants and needs, but if you're considering RFOs, here are some things to ponder and tips to help you make the right investment when buying a condo in the Philippines.
Advantages of RFO Units
Below are several benefits present with RFO units that make them attractive to buyers.
RFO condos are already completed
RFO units are fully constructed and finished; some are even fully furnished. Unlike pre-selling units, buyers get to see what the actual property looks like, meaning you don't have to wait years to see the place and move into it. Essentially, what you see in RFO units is what you get.
Available property tour and inspection
RFO units have utilities either on standby for installation or already installed. This lets you see and experience the unit in its complete form and condition. You can assess if it's up to par with your standards and ticks all boxes.
Plus, isn't condo tripping a lot more fun when the units aren't bare? Of course, you can always redesign the space, but at least you already have a good foundation to start with.
People think that attractive discounts are only available to pre-selling condos. However, these can also apply to RFO units. Some developers offer up to 30% discounts, low reservation fees, and other move-in promos for potential buyers of move-in-ready units.
Upon finalizing the sale, settling the payment, and submitting the necessary documents, buyers can move into the RFO condo unit immediately—a lot faster than when purchasing a pre-selling unit. This set-up is best for families, partners, or individuals who are relocating or looking for a home they can move into fast.
Available utility services
If you are buying new RFO units, utilities like power and water are typically already installed. If not, they're ready for quick installation. On the other hand, previously owned units listed for sale and ready for easy move-in also likely have utilities installed and ready for use, making moving easier for buyers.
Getting move-in-ready units in completed condo projects with amenities and facilities readily available for use is one of the attractive benefits that entice buyers. Besides the fact that you can move into the unit quickly, you can also enjoy the roster of amenities in the building, such as the pool and gym center.
While they're priced higher and require a little extra cash, some developers and previous owners offer flexible or negotiable payment terms. Usually, RFOs offer a rent-to-own payment method, where buyers pay a down payment and move into the home. At the same time, they continue the monthly payments until they've completed the total amount.
You can always discuss the payment options, possible discounts, and other services with the sales agent before purchasing.
Disadvantages of RFO Units
Here are some of the cons to consider when looking for RFO units. 
Costs more compared to pre-selling units
RFO properties cost more than pre-selling units because its value has appreciated compared to when before the property was developed.  Moreover, price appreciation for RFOs tends to rise as more units get sold or become more popular. This price appreciation may also mean that the property has high investment potential,
Spot equity is often required
Some sellers require buyers to pay spot equity or the excess amount of the property's price not covered by your loan. Sellers prefer buyers to pay this before moving in, while others allow negotiations or flexible payment terms for spot equity. For example, you can pay the spot equity amount divided throughout the agreed payment term.
Limited selection of units
If you're lucky and manage to look at RFO units sold during the early stages, you may have a few options placed in relatively good locations. However, note that developers typically sell RFO units positioned on lower floors. While this is not always the case for all developers, the key to getting a good RFO unit is to get your first choice. 
Helpful Tips When Investing in RFO Units
Buying an RFO unit is a good investment for people who need a property fast. Here are some practical tips when RFO condo hunting. 
Choose a development in a good location
Consider the neighborhood, establishments, and market value of the place you for significant returns in the future.
Think about the price of the RFO unit
When assessing the price, take note of the size of the unit and other factors that may affect its value, such as the view and position. This way, you can gauge if the price is too high or good enough for your budget.
Learn and understand the fees associated
The monthly amortization isn't the only monthly payment you need to make—there are maintenance, association dues, cleaning, and more.
Review the maintenance management agreement
Buying a condo comes with amenities, security, and other benefits. These will entail a maintenance agreement with the building administration. It's essential to know how the building maintains the property and addresses your concerns as a tenant.
Ensure there are no hidden charges in the amount presented
Before finalizing the deal, make sure that the amount indicated is the total amount you will pay—no hidden charges that may come up after purchase. You can ask the agent for the breakdown of the expenses before buying and ask about the fees you will have to pay once you move in. This way, you can gauge if you can afford the monthly payments.
Move-In Quick Without a Hassle
RFOs properties are excellent investments since you get to inspect the unit first before paying and moving in. They may come at a higher price tag than pre-selling units and other properties, but for some, the advantages RFOs bring suit the lifestyle they lead or is an ideal option for where they are in life.
If you're in the market for properties you can move into with ease and quickly, consider condo hunting for RFO units. Find premium condominium units that are right for your needs and wants with the help of a reputable real estate company in the Philippines like Federal Land. Look for your ideal home in prime spots in the Philippines today.
Learn more about Federal Land's RFO units today.