July 1, 2021
The Cost of Owning a Condo: A Complete List of Homeowner Fees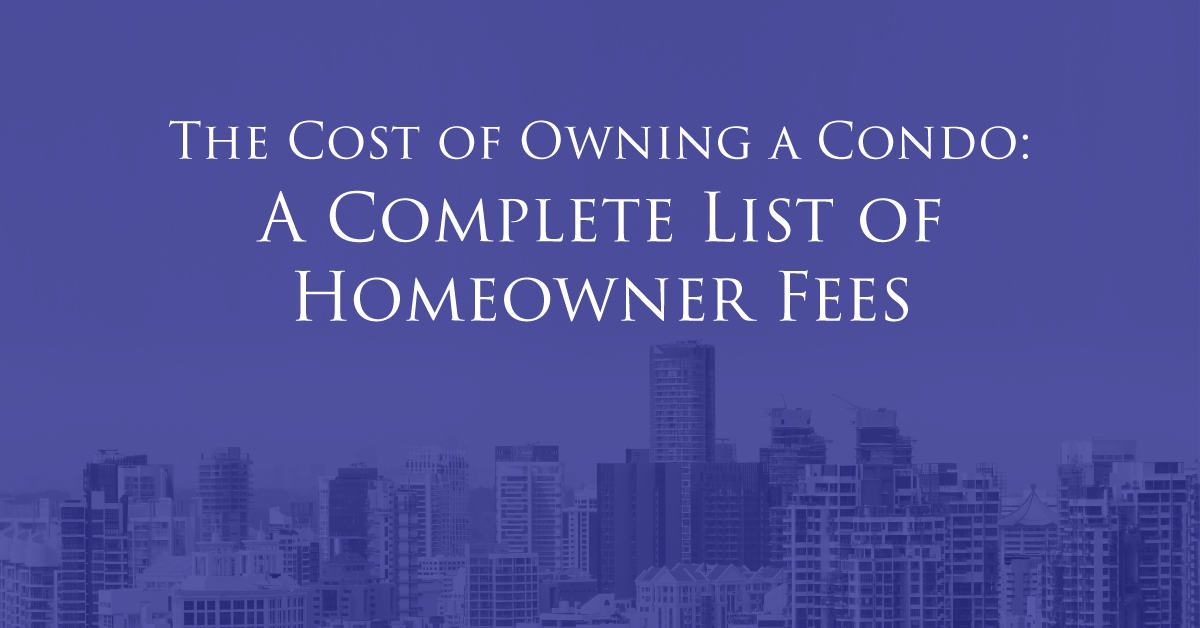 Condo-living is great for several reasons. Whether you live alone or with family, settling in one will entitle you to many benefits for that complete urban experience. To name a few perks, condo owners have access to high-quality amenities, so they don't have to worry about security and maintenance, and can potentially use their units to generate profit. 
While these advantages sound fantastic, it's important to keep in mind the financial obligations that come with owning a condo. As you prepare for your move, you'll need to be mindful of factors such as upkeep, utility bills, and association dues. To help you budget accordingly, the guide below will talk about the costs of owning a condo.

Condo Living: A Breakdown of Your Expenses
Recent trends suggest that the demand for condominiums is on the rise. Thanks to the security and convenience they provide, they're seen by many as a desirable housing option. At the same time, they can be lucrative investment options that can yield high returns. As such, it's no surprise why many people are looking to get one. 
As you settle into your new condo, you'll need to take note of both upfront and recurring fees to manage your budget wisely. Here are some of the expenses that come with condo living.
Upfront costs
This encompasses all of the initial payments that come with purchasing the property. These expenses may be charged by your real estate partner, chosen service provider, and governing agencies. These balances must be settled before you officially acquire your title.   
Moving costs

–

As you move from one place to another, you'll need to consider the fees that come with transferring equipment. This includes truck rentals, manpower, and other related services.

Property cost/Downpayment

–

This is the price you pay to officially acquire a property. This can be done either through an upfront transaction or a downpayment with periodical amortizations.

Legal document fees and property taxes

–

These are expenses you incur to acquire the property title. Notarial fees, documentary stamps, and charges imposed by the government are some common examples.

Loan/financing fees

–

If you're looking to mortgage your home or acquire a loan to pay off your condo unit, then you'll need to consider lender charges. Interest rates aside, service fees and miscellaneous expenses should also be taken into account. 
Recurring payments
These are essential services that are billed periodically. These transactions are necessary for maintaining your standard of living and are usually settled every month, quarter, or year.
Rent

–

Usually paid every month, this refers to the amount a tenant pays when leasing space. Note that this does not apply to you if you own your condo unit 

Mortgage payment

–

For those who have mortgaged their units, there is a balance you need to pay off to settle off your debt. While this is usually done monthly, terms may vary from one lender to another. Projecting your expenses will ensure that you don't walk on a financial tightrope.



Association dues

–

These are monthly payments by unit owners and tenants for the maintenance of the condominium. The fees are used to preserve common areas, manage amenities, and pay security.

Amenity fees (parking, etc.)

–

You may get billed for using your condo's facilities. While some amenities, such as pools and common areas, are complimentary, some real estate providers may charge you for parking or renting conference rooms. 
Utility bills

–

These expenses are essential for maintaining your quality of life. Some examples are water, electricity, and internet bills. You are usually charged monthly, and prices vary according to your needs and usage. 

Yearly property tax

–

These are real estate taxes imposed by the government. Take note of the necessary due dates since failure to settle balances will subject you to penalties. 
4. Maintenance
This is the payment for the general upkeep of your living space to minimize wear and tear, from minor repairs such as leaks to major design renovations.
Landscaping/Gardening

–

If your condo has a designated area for greenery, expect to shell out some money for gardening. Budget properly to keep your plants healthy! 

Cleaning the home

–

Regularly cleaning your home to maintain the atmosphere of your unit is crucial.

Consider the price of cleaning materials or the rates of sanitation services when budgeting.

Appliance maintenance

–

Naturally, appliances such as stoves and washing machines will break down with regular use. With that said, you should plan for eventual repairs and replacements. 

Pest treatment and prevention

–

Pests can cause a great deal of inconvenience. If you have a rodent or bug infestation, extermination services should be on your list of expenses.

Furnishing and décor

–

Proper furnishing will pave the way for a happy and comfortable living space. Set aside some cash when canvassing for fixtures and other essential pieces.
5. Emergency Funds
Accidents or breakdowns can happen unexpectedly, so it's always good to have a safety net to fall back on. Having an emergency fund can help you pay off sudden repairs and give you more breathing room in case of an emergency. 
Unexpected repairs

–

Appliance malfunctions and accidents can happen at any point in time. As you allocate your monthly budget, set some money aside for unexpected repairs and emergencies. 

Broken fixtures, pipes, and electrical wires

–

Down the line, wear and tear will eventually diminish the inner workings of your home. Whether your home is in good shape or not, don't forget to budget for broken fixtures, pipes, and electrical wires. 

Insurance (Fire and Mortgage Redemption)

–

The best way to protect your home is to have it covered with a comprehensive insurance plan. Getting one will give you financial flexibility in case of a fire or any other disaster that can destroy your home. 
Budget Wisely
Despite the effects of the COVID-19 pandemic, it's good to know that there is still a lot of optimism surrounding the real estate industry in the Philippines. Now that prices and terms are more favorable than ever, today is arguably the best time to purchase a property.
Taking note of the factors above will ensure your comfort and guarantee a smooth transition. Budgeting effectively will help you address the needs of the present while preparing for what's to come. If you're on the lookout for prime condo units in the country, head on over to Federal Land today!