May 26, 2021
The Definitive Guide to Buying a Condo in the Philippines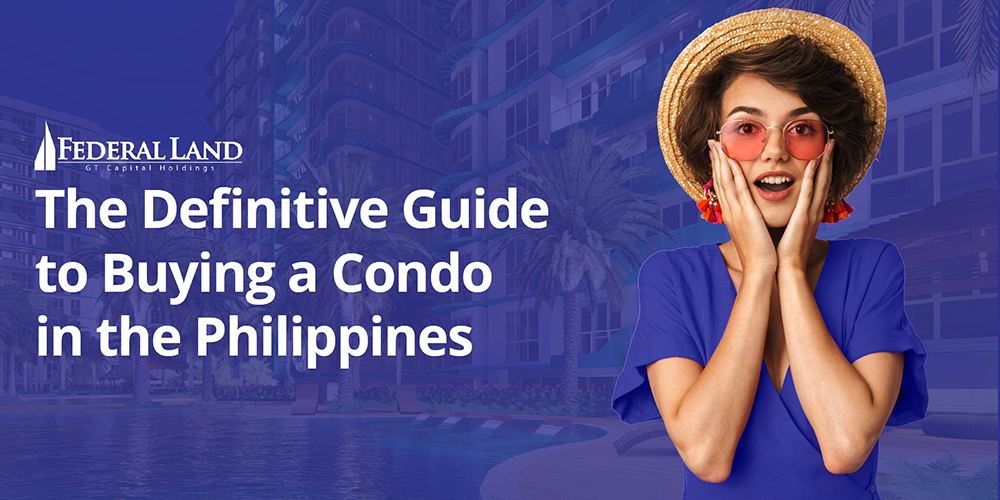 Buying a condo typically coincides with a particular milestone in life. Perhaps you've reached a financial breakthrough to make your first solo move possible.
Owning a condo can also mark the start of your investment journey in real estate in the Philippines. You'll probably choose a condo space in the early years of building a family, too.
Indeed, buying a condo is a huge step that entails planning and selecting the best match for your purpose. For this, you need a guide that breaks down the various things to consider and steps in buying a condo to help you navigate the market as you look for that place to call home.

Is a condo right for you?
By now, this question is settled. It's safe to say you're a condo person if you checked most of the items in the short quiz above.
You're comfortable living in a condo with limited space, perhaps because you're living on your own or with only one or two family members. Your active lifestyle probably takes you away from home most of the time, so you're willing to trade space for the convenience that comes with condo living and maintenance.
Many condo buildings have fully developed communities where goods or services are readily available for unit owners. You also have membership privileges at the clubhouse pool, gym, and function room, and on top of that, you get to enjoy 24/7 gated security.
Daily commutes are manageable if you're living in a condo located near or in the center of business or commercial districts. If you own a car, you can rent or buy a parking space on one of the condo floors. Insurance-wise, you're only responsible for your condo unit, not the entire building.
Financing Options for Condo Buyers
One of the first things to consider when buying a condo is financing it. Luckily, having the condo of your dreams is possible thanks to flexible payment schemes and available financing options.
If you're in the market for a condo or real estate in the Philippines, there are four ways you can buy your target property—spot cash, in-house financing, bank loan, and Pag-IBIG loan. Each of these financing options differs in loan amounts, interest rates, and terms and conditions.
1. Spot cash

What is it? A spot cash mode of payment is where you use cash to buy the property from the condo developer. After reserving a unit, you're allowed up to a month to pay the entire balance.

Pros:
Since you'll be settling the total amount in cash, you won't need to undergo a credit check from the bank or lending institution.

You'll enjoy significant discounts from making a one-time payment instead of stretching the payment period to five years or more, which will incur annual interest rates.
 Cons:
You may exhaust your finances by paying everything in cash.

Unless you have an existing property that you plan to sell to fund your condo purchase, making a spot cash payment will require more money.
2. In-house financing
What is it? The condo developer serves as the lending institution, allowing you to make a 10% to 20% down payment and pay the balance through monthly amortizations.
Pros:
In-house financing involves less paperwork and faster processing than bank loans.

You can pay more than 20% in down payment to lower your monthly amortizations.



Cons:
In exchange for flexible payment terms, developers may charge higher interest rates.

If you only pay the minimum down payment, you'll have a higher loan balance and higher monthly payments.
3. Bank loan
What is it? By taking out a loan from the bank, you're making arrangements with the bank to pay the real estate or condo developer. In return, you'll pay through monthly amortizations.
Pros:
The loan repayment period can be up to 20 years.

You can borrow up to 80% of the total property price, depending on your financial capabilities.
Cons:
The property will serve as loan collateral and remain under the bank's name until you're fully paid.

Most banks have strict policies on loan approvals and missed monthly payments.
4. Pag-IBIG
What is it? Pag-IBIG members can avail themselves of housing loan benefits to purchase a residential property, such as a condo in the Philippines. Depending on the arrangement, Pag-IBIG may deduct the monthly amortizations from your salary.
Pros:
Pag-IBIG lets you borrow up to P6 million at low interest rates, starting at approximately 6%.

Short-term and long-term repayment options are available. The maximum payment period is 30 years. 
Cons:
The amount you can loan will depend on several factors, including Pag-IBIG's value appraisal of the property.

Not all realty companies accommodate Pag-IBIG financing.
The 3 Types of Condo Units
The real estate industry features several condo types, ranging from studio unit, 1- to 3-bedroom suite, or penthouse. The type of condo unit you choose will depend on your lifestyle, status, needs, and budget.
Here are some tips to help you decide which condo type is the most suitable for your situation.
Choose a studio if:
You're single or a couple who doesn't need an overly spacious area. Studio units have the smallest floor area, with some starting at 18 sqm.

You prefer a basic home structure, a minimalistic lifestyle, and an uncluttered, easy-to-maintain unit.

You have a tight budget but feel confident about getting started with mortgaged living.
Choose a unit with bedrooms if:
You have a small family that will fit in up to three bedrooms.

You want to maintain a level of privacy by having your own room.

Your idea of a comfortable home has separate areas for the living room, dining and kitchen, and storage.

You have saved enough money to pay for higher monthly amortizations.
Choose a penthouse if:
You want to get the best view of the city by living on the topmost floor of the condo.

You'd rather have a stand-alone unit than have adjacent units belonging to other tenants.

You're after exclusive perks like dedicated elevators and private areas with a pool or lanai.

You have the financial capability to support living a premium lifestyle.
10 Things to Consider When Buying a Condo
Moving into a condo is a process of planning, comparing alternatives, and looking at the overall picture of home buying. That can be overwhelming, but not if you take these recommended steps in buying a condo. The idea is to simplify that process while ensuring that you're maximizing the benefits of your property investment.
1. Ascertain your goals
.
Condo living comes with pros and cons. On the one hand, it represents a modern lifestyle that makes it a popular choice among individuals and families attracted to the comfort and convenience of city life.
On the other hand, condominiums offer less living space than single-detached properties. It's a matter of identifying what you want and what you can't compromise.
2. Study the unit structure
.
Your condo unit will be your home for years to come. It should be comfortable and presentable enough, at least based on your standards. If the arrangement or placement of rooms and other structures feels different to you, you should not settle and instead look for other units that you'd want to come home to every day.
3. Settle on a location
.
Many condos are close to offices, schools, malls, hospitals, and other essential facilities. When choosing a site for your condo, you may want to consider whether it's in a first-class, second-class, or third-class municipality, as this can have an impact on your cost of living.
4. Review the fine print.
It would not be correct to assume that condo rules and policies about homeowner association fees, building maintenance, unit renovations, or personnel salaries are the same across real estate companies. As a unit owner, it's your responsibility to determine what to expect from the condo association and vice versa.

5. Choose your financing option carefully
.
More and more Filipino families realize their dream of owning a condo. The key is to examine the available financing options thoroughly and review the offers presented. 
For instance, low interest rates aren't the be-all-end-all of selecting a funding source, as you also have to consider if the loan amount you'll be receiving can cover the total contract price of your target property.
6. Ask about the amenities
.
The more amenities available, the more activities you can do without leaving the condo's vicinity. Although developers aren't likely to charge you for using the condo building amenities like pools, gyms, function rooms, basketball courts, or lobby Wi-Fi, there may be exceptions that you should know, such as homeowners association dues for maintenance and upkeep.
You might also want to think about which amenities are non-negotiable to you and which ones you can live without.

7. Inquire about security
.
24/7 security is one of the best features of condo living. Besides this aspect, other security must-haves are CCTV cameras and intercom systems, smoke detectors, fire alarms and exits, power generators, and emergency plans.

8. Observe the neighborhood
.
What's your vision of an ideal neighborhood—is it a friendly, close-knit community, or would you rather be distant from everyone else? These may seem like trivial details, but remember, such considerations can affect your condo living experience one way or another.
9. Research about the property developer
.
A reputable, professional property developer like Federal Land adds a lot of weight to a smooth condo-buying venture.
The best ones know the trends of real estate in the Philippines inside out, from finding the most strategic locations to developing a well-planned community and offering attractive deals. Check the developer's track record, especially in completing pre-selling units on schedule.

10. Check for parking
.
Parking spaces in condos are either for rent or sale, so be ready to pay anywhere from a few thousand to hundreds of thousands if you want your own. Some residents choose to rent their unused parking slot at lower prices, so be on the lookout for this option.
What Legal Documents Should You Prepare?
A condo purchase is considered an investment, which requires complete paperwork to ensure that transactions are fair and legal for buyers and sellers. Once you've decided on the condo unit you intend to buy, you must secure these documents:
Letter of Intent (LOI) to Purchase
Also called an offer to purchase, this document signifies your interest in buying a property from the seller or developer. The LOI typically contains details like property description, pricing terms and conditions, and other financing information. Although it's not a binding agreement, the seller must sign the LOI and reserve the property for you for an agreed period upon your payment of a reservation fee.
Reservation Application
In paying the reservation fee, you'll receive a reservation application stating essential information, such as the property's complete address, type, size or floor area, preferred financing option, and payment terms. This document formalizes the agreement between you and the seller. Included is the seller's promise to take the unit out of the market. This way, no other buyer can make an offer for the same property.
Contract to Sell
Your broker or developer will draft this document to detail the sales provisions you and the other party must comply with before paying the property in full via home financing. Upon settling these requirements, the developer will use the Contract to Sell as the basis for the Deed of Absolute Sale.

Tax Declaration
As a condo unit owner, you'll have to request the City Assessor's office to issue a Tax Declaration to your name. That means you will be paying all tax obligations moving forward. Tax declarations require a copy of the title and photo of the property you purchased.
Letter of Guarantee
If you have secured a loan as payment for the condo unit's remaining balance, the bank or lending institution shall issue a written guarantee to the developer containing details about your home financing loan, such as the amount and date of release. Ensure that the details in the Contract to Sell and Letter of Guarantee match to avoid potential legal issues.
Deed of Absolute Sale
This document is the final requirement to be submitted to the Registry of Deeds, who will issue a Condominium Certificate Title to indicate the transfer of the condo ownership to your name. Either you or the developer can prepare this document with a Notary Public.

These are six of the most common documents requested when buying a condo, you may check Federal Land's full list of requirements here. 
Get Your Dream Condo
Buying a condo is a worthy and rewarding investment if it fits your budget, needs, and lifestyle. The important thing is to know as much as you can about the options and opportunities available to you. In the Philippines, the real estate market is teeming with quality condos in prime spots. Check out your dream property from Federal Land.