September 15, 2022
Understanding the Millennial Homebuying Behavior: A Guide for Investors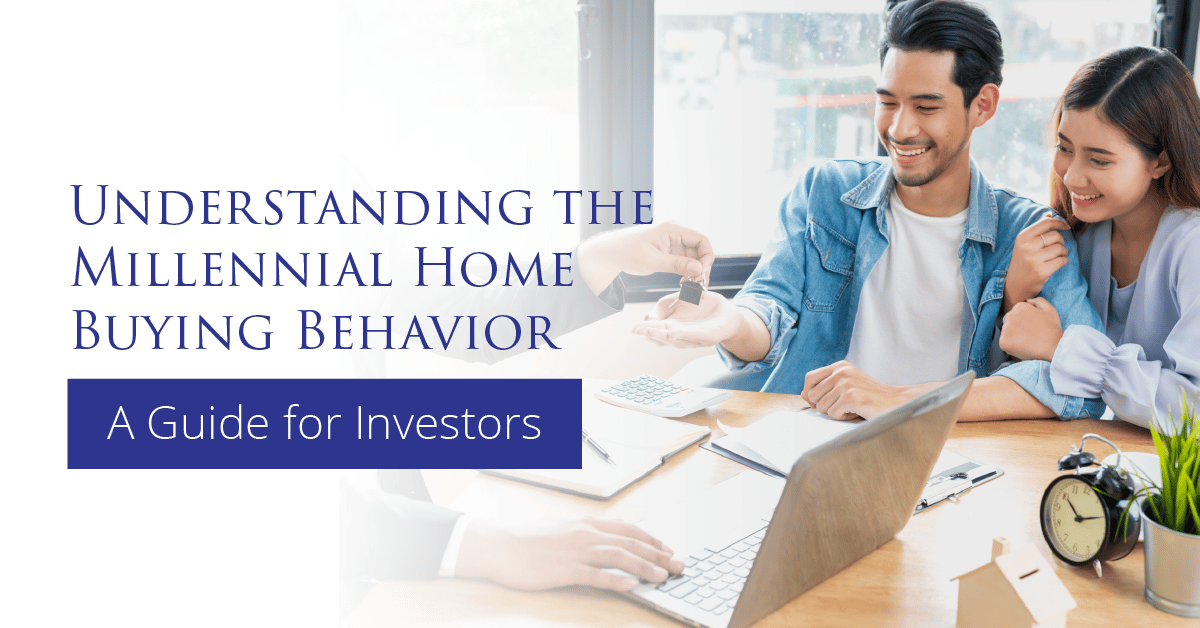 The millennial generation's values and attitudes differ drastically compared to other age groups. Researchers have found that the demographic is more self-confident, tech-savvy, highly educated, and ambitious than their older counterparts.
Now that millennials are a big part of the workforce, they are also entering the real estate market. As they are also known to take a more hands-on approach to different aspects of their lives, it's only natural that they have particular demands regarding real estate.
Property investors should be aware of how millennial values and attitudes affect the industry to navigate the market better.
Curious about how this generation of buyers and homeowners will impact the market? This article will discuss how Filipino millennials affect the real estate market and how millennial home buying trends shape the industry.

Filipino Millennials and their Attitudes Toward Real Estate
47.1% of over 66 million Filipino workers identified as millennials
As almost half of the Philippine workforce are millennials, real estate developers and investors must pay close attention to the needs and aspirations of the new generation of buyers. The number of millennial workers will only continue to grow. 
Experts predict that as millennials become the dominant segment of the earning workforce, homebuying from Generation Y will accelerate in the coming years. The shift will ultimately affect the strategies and trends the real estate market will implement.
Roughly 30% of Filipinos between 25 and 34 are searching for Philippine properties to house their families or tap into passive income sources
The pandemic significantly altered the financial habits of millennials. As society grew increasingly aware of the global health crisis' long-term effects, millennials started redirecting their spending to property ownership.
Aside from the pandemic, the abundance of better overall deals in the market and the rising popularity of a hybrid work setup were catalysts for millennials to consider homeownership heavily.
Most Filipino millennials are free of college debts, increasing their savings rate and spending power
Unlike past generations of homeowners, schooling debts do not weigh down the millennial generation. While the Philippines' average income is lower than most developed countries, Filipino parents strongly value education and, often, fully cover their children's college schooling.
With most, if not all, college debts paid off, Filipino millennials have the advantage of saving and spending more compared to other age groups, which leaves them free to pursue homeownership early in life.
How Filipino Millennials are Changing the Home Buying Process
Millennials' tastes are changing
The millennial generation initially preferred smaller houses as they were more cost-effective and significantly less environmentally harmful than big homes. But with recent innovations in green technologies for real estate, it is becoming more viable for big houses to be ecologically conscious. 
With this new trend, experts predict that older millennials will eventually lose interest in smaller spaces. At the same time, the demand for residential properties in fringe areas and peripheries of central commercial business districts will spike. Larger, more sustainable, and more affordable homes will be the primary offering of the real estate market.
Millennials heavily use the internet to go house hunting
As the first generation brought up with fast internet access and convenient digital services, millennials often start their homebuying journey online. As statistics show, Filipino millennials between the ages of 25 and 34 spent the most time on a particular real estate platform, accounting for 36.8% of sessions, 64.7% of page views, and leads at 36.1%.
Property investors and developers must prioritize their visibility to this generation since they leverage the internet when house hunting. 
They're tech-savvy and are at the age when they can afford big purchases, making them the ideal real estate market—compared to baby boomers and Gen X, who are not as technologically versed, and Gen Z, who do not have the means to buy properties yet.
Millennials still prefer condominiums over other property types
In the first quarter of 2021, 15.71% of total condominium pageviews came from the 25–34 millennial age bracket. While this is a slight dip from previous years, millennials still contributed the most significant condo lead shares, with listings priced at ₱1.5 to 3 million boasting the most leads.
Properties priced in this range are more popular among millennials due to first-time buyers pursuing more affordable condos without sacrificing luxury. In addition to more accessible and aspirational residential options, a key driver in millennials' lead shares is their increased interest in real estate as a viable investment option.
Millennials prefer to go greener
Per reports, 90% of millennials are more willing to switch to a brand that prioritizes sustainability or is mindful of their business's environmental impact. The figure is substantially higher, considering only 72% of Generation Z survey-takers are willing to do the same. 
With the overwhelming majority of millennials looking for environmentally-friendly homes, developers are innovating green technologies in their projects. A prime example is Federal Land's sustainability initiatives thoughtfully designed around the Philippines' tropical climate.
In particular, tower hallways are designed to catch as much natural ventilation as possible, helping reduce the need for air-conditioning. Apart from this, they are equipped with double-glazed windows that reject heat from the sunlight while letting natural light in.
Millennials actively seek options
Unlike previous generations, millennials have the internet to guide them in making well-thought-out homebuying decisions. Millennials have twice as many mortgage quotes, with six on average, compared to baby boomers, who only have three. 
As assessing one's many diverse options with help from the internet becomes the norm, developers and investors will have a longer buying window when completing transactions with millennials. This helps property investors present an offer that covers the needs and wants of millennial homebuyers and expedite the transaction process.
Millennials prefer digital payment methods
The millennial lifestyle involves a lot of online transactions using digital wallets and mobile banking apps. 
These online payment methods eliminate the need to visit a physical financial institution to pay, deposit, or make advances. Additionally, the pandemic brought about the rise of contactless payment, which most millennials prefer and is fast becoming the new norm post-health crisis.
Property investors and developers can capitalize on this trend by learning millennial preferences. Understanding the requirements of millennial real estate buyers allows them to tailor their strategies and presentation of their properties to be more appealing.
The Wave of the Future
The impact of millennials on the real estate market will soon become more apparent. From being significantly more particular regarding location, preferring condos over conventional homes, to going environmentally friendly, millennials expect customization and great attention to detail when buying a house.
With the homebuying industry changing because of millennials and their real estate behavior, condo buyers and proper investors must be mindful and monitor the millennial real estate trends as they can affect some aspects of their buying endeavors.
If you're looking for a condo for sale in the Philippines, Federal Land offers ready-for-occupancy condominiums with well-built living spaces and sensible amenities. Federal Land projects are located in prime spots in the Philippines with high investment potential. 
To learn more, contact them today. Their knowledgeable real estate professionals would happily assist in your homebuying journey.