February 8, 2022
9 Valentine's Day Date Ideas You Can Do in Your Condo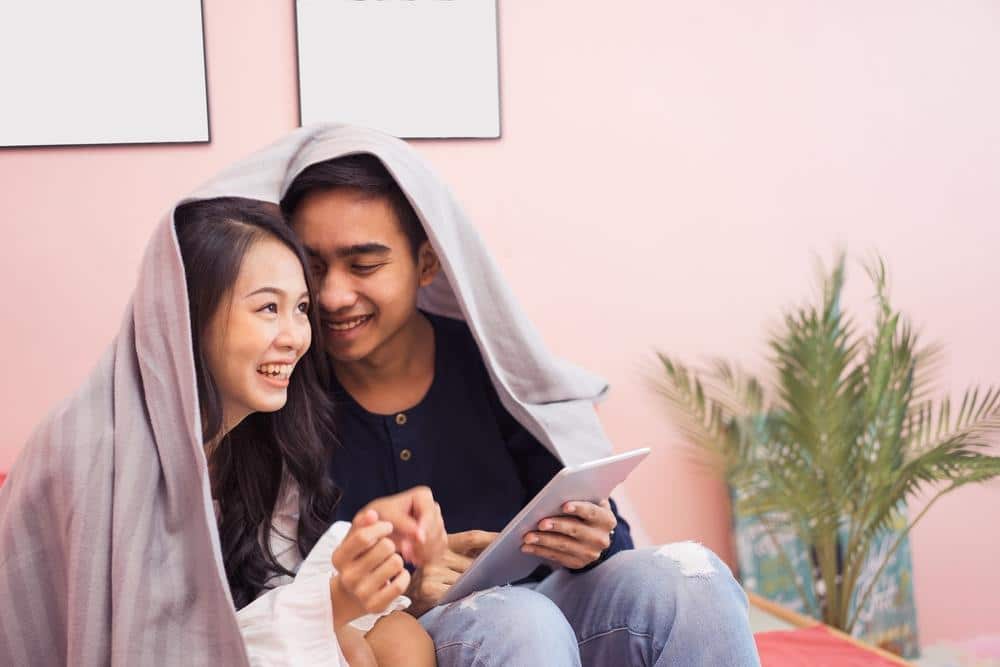 Valentine's Day is fast approaching. If you and your partner prefer to stay in, fret not! There are numerous ways you can celebrate your love and affection in the comforts of your condo. Sometimes, the simplest date ideas are the most memorable ones. Flying in a hot air balloon or attending a concert may frame a meaningful date, but there's nothing like the intimacy of an at-home rendezvous.
Spice up February 14 by turning your condo into the perfect location for a romantic getaway with these ideas for at-home date nights.
9 Condo Valentine's Date Ideas
1. At-home movie date night
Movie nights are a go-to casual at-home date for couples. Since it's Valentine's Day, why don't you make the usual night extra special?
You can transform your condo into a cozy home theater by bringing out blankets and pillows. Add some popcorn, chocolate, a bottle of wine, and some candles, and you're ready to set the mood for a night of movies and cuddles. 
2. A wine-tasting session for two
Booking a date to a winery may be a little difficult nowadays, but this shouldn't hold you back from having a wine-tasting session.
Recreate the ambiance of Tuscany vineyards by trying out a variety of wines and cheeses with your partner in your condo. Be a sommelier for a night and research wine pairings and tasting notes. If you're both not keen on wine, an at-home artisan beer tasting night can be just as fun.
3. Mixology party for two
It's always a fun Valentine's Day date idea to learn a new skill together. Making cocktails is easier than you think if you have the right materials and ingredients.
List down your favorite cocktails, gather the ingredients, and whip them up together with your partner. This can be a helpful and cool skill to show off when you host get-togethers with your friends.
4. Intimate home-cooked dinner date
Dining out on a busy Valentine's night isn't as intimate as staying in your condo and cooking meals together. So bust out your tried-and-tested recipes or try new ones to cook with your significant other. You could also light up some candles and turn on romantic music as you make memories and bond over food.
5. Have samgyeopsal at home
If cooking a fancy three-course meal is not up your alley, why not try to cook something more forgiving like samgyeopsal.
Nowadays, you can buy samgyeopsal kits that allow you to grill pork belly at home. Shop for ingredients beforehand so that you and your partner can immerse in the K-experience this Valentine's Day. If you want to kick it up a notch, watch K-drama during the date.
6. "Camp out" in the living room
As a young professional, you are probably living in a bustling city where you don't have the chance to stop, unplug, and appreciate life. Take Valentine's Day as an opportunity for you to connect with your partner without distractions.
Create a blanket fort, indulge in an indoor picnic, and pretend you're both in the woods by telling each other campfire stories, childhood tales, or dreams for the future. For this date idea, there are no phones allowed.
7. Try out the latest TikTok trends
Tiktok is an idea bank for different activities you can try with your partner. If there's any day to start trying them out, Valentine's is perfect.
You can learn different trendy dances throughout the night or do the four-course meal challenge. It's a fun activity where you have to play four rounds of rock-paper-scissors, and the winner decides what food to have for each course. The following courses are drinks, appetizers, main course, and dessert.
8. Decorate your house for the occasion
When you buy a condo, decorating the unit is one of the most exciting tasks. For Valentine's Day, set up scented candles, warm lights, flowers, and jazz music to boost the romance in your space. Bring back that newly-moved-in feeling with your partner by decorating your home together.
9. Sit down and have a lazy day together
Sometimes, the perfect date is just doing nothing together. Living in the city, both of you probably have a "hustle hard" mindset that a lazy day feels like a luxury. Slow down and take a rest this Valentine's Day.
If you want to do something different for the night, perhaps you can take turns giving each other massages! You don't always have to go big. Being with your partner is special enough. 
Keep the Spark Alive
There are plenty of ways for you and your partner to make memories and connect in the comfort of your home. At-home dates are just as exciting as going out; you can cultivate your relationship without breaking the bank or going through the inconveniences of public spaces.
Federal Land offers ready-for-occupancy condominiums perfect for couples looking for their first home together. It has  a wide array of top-quality properties with high-investment potential located in the country's prime spots. Kickstart your homebuying journey and get in touch with our knowledgeable real estate professionals to check out Federal Land's condos for sale in the Philippines.