December 28, 2022
Different Types and Names of Home Furniture: (Visually) Explained!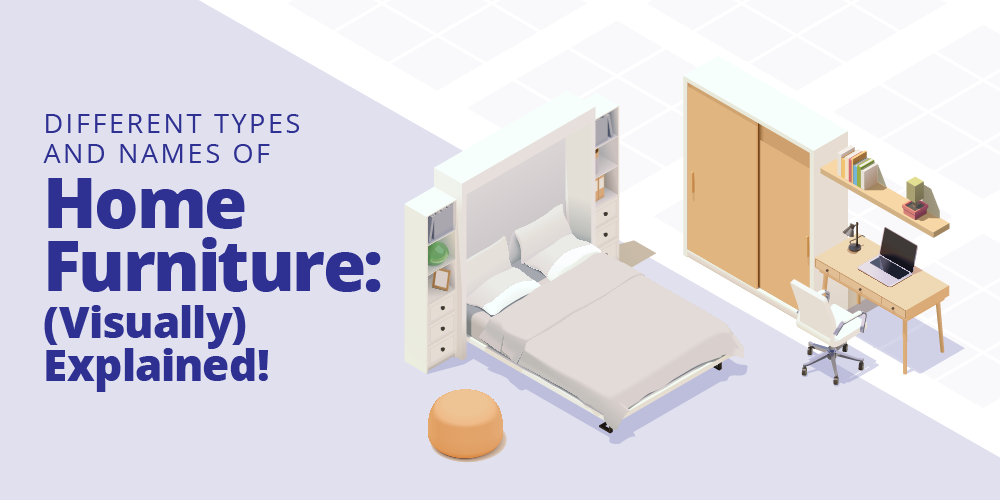 One of the nice things about being a condo owner is decorating and organizing your own space. Now the question is, how do you bring life to your dream property? That's where finding and decorating it with the appropriate furniture comes in.

Apart from providing functionality, a fine selection of furnishings can give your condo identity and make it a more comfortable and convenient space. 
However, there are several furniture types and variations to choose from, especially if you're going after a specific aesthetic to make your condo look bigger and more vibrant. 
If you want to search for a specific kind of furniture online but are unsure of its name, this infographic can help you identify the different types of furniture with names and pictures!

Different Types of Furniture (with Names!)
Furniture comes in all shapes, colors, designs, and sizes. You only need to familiarize yourself with furniture types and names to understand their form and functionality, then use those factors to choose the ones that fit your lifestyle needs.
Here's a list of the different types of furniture to include in your condo.
Chairs and Couches    
1. Dining chair
Dining chairs can seat family members and guests around a dining table during social gatherings and meals. While they come in different shapes and sizes, they usually do not have an armrest compared to other chair styles.
2. Armchair
Armchairs have armrests—upholstered or otherwise—on both sides. Because of their comfort, they are commonplace for lounging in the living room. 
3
.
Reading chair
While similar to armchairs, reading chairs have slight variations that enable them to achieve their purpose. Their long and inclined back support lets you hold up a book comfortably for long periods. If you're a bookworm, this chair is perfect for immersing yourself in a good book while enjoying the view from your balcony and having your favorite beverage. 
4. Desk chair
Also known as office chairs, desk chairs are a staple in home offices or other workspaces. Most desk chairs have an ergonomic design, such as height-adjustable seats, for optimal mobility and comfort while working. 
5. Stool
Stools are chairs that don't have backrests or armrests. Compared to traditional chairs, stools are shorter. Depending on the manufacturer, stools can have three or four legs. There are edgy stools perfect for informal gatherings, while regular ones can be handy as a platform to step on to reach high places.
6. Barstool
Unlike the standard ones, barstools are tall stools ideal for bar counters. Some of these stools have adjustable heights and can rotate, while others don't. Barstools are a great option for condos with kitchen islands, as they can turn the island into a dining table.
7. Ottoman
An ottoman is a multi-functional piece of furniture. You can use it as a footrest in front of a couch, a makeshift table, or a storage chest. You'll usually see this furniture in formal living rooms, but they're also ideal for any room if you want to kick back and unwind. 
8. Couch
Often interchangeable with the term "sofa," a couch is a piece of furniture primarily for seating several people. Couches are long and upholstered, usually with arms and a back. Some couches are also suitable for sleeping because they may be convertible into a bed. 
9. Sectional 
Short for sectional sofa or couch, this type of upholstered furniture comprises two or more joined sections for sitting. Sectionals come in multiple configurations, from being L-shaped to having a sofa bed at the end. This versatility makes sectionals a top choice for condo furniture since they can cater to different room layouts and needs.
10. Chaise 
A chaise's reclining, elongated chair makes for absolute relaxation. Thanks to its design, you can fully stretch your legs while watching TV or sitting for some quiet time. 
Tables and Desks   
1. Dining table
A dining table is a formal table where people gather to sit and eat during meals. Usually, these tables accommodate six guests, but some models allow you to seat more or less depending on your preferred size. Besides their functionality for family meals, dining tables are also great for bonding activities with friends, working, or studying. 
2. Side table 
Side tables are small tables you usually find on either side of an armchair or couch. These tables are good spots to place your books, drinks, or lamps. They must be the same height as your couch's armrest for total comfort and convenience.
3. Center table 
Center tables are large tables positioned at the center of a room. They fill gaps that might otherwise make a room appear dull and are ideal for displaying photos, magazines, vases, and other decorative objects. 
4. End table
End tables usually go at the far end of any furniture. These tables are smaller than side tables and serve as platforms for putting down small items, such as accent lamps, TV and speaker remote controls, or phones for easier reach.
5. Console table
Console tables are long, narrow, and slender tables that add a visual element to plain entryways or hallways. They're also efficient in providing additional storage and displaying home decor. 
6. Patio table
Patio tables are best for outdoor use. These tables are durable and withstand outdoor elements. Patio tables range from plastic to wood or metal finishes, giving you different styling options that cater to your budget and taste. 
7. Nightstand
Alternatively called bedside tables, nightstands are small tables or cabinets placed along both sides of a bed. Nightstands with drawers and shelves emphasize functionality by holding and storing items, such as chargers, reading lamps, personal belongings, etc. 
8. Work desk
Also known as computer tables, work desks provide a designated space for desktop computers or laptops in your home office. 
9. Executive desk
Executive desks are scaled-up versions of work desks ideal for large, spacious home offices. These desks usually have a double pedestal design, drawers, and filing cabinets for organizing files, documents, and office supplies. They may come in l-shaped or U-shaped models to provide extra storage. 
10. Sofa table 
A sofa table is a long, narrow table placed against the back of a sofa. It's versatile because it puts dead space to good use. This table should be the same height as your sofa's backrest to make it visually appealing and functional at the same time. 
Shelves, Closets, and Cabinetry
1. Fixed bracket shelves 
Fixed bracket shelves have supporting brackets bolted on the wall. While there is nothing wrong with putting up a single layer of shelving, this type of shelf is typically placed on top of each other to maximize vertical space.
2. Floating shelves
Floating shelves give the illusion of not using any supporting mechanism. Instead of having attachments for leg installations, you anchor them onto walls, creating a floating appearance. Floating shelves are aesthetically pleasing due to their clean appearance, and you can attach them almost anywhere. 
3. Built-in shelves
Built-in shelves utilize available structures, such as two adjacent walls, as support systems to create shelving in specific areas. You can also install these shelves into nooks or indentations, keeping them fixed. 
4. Free-standing shelves
Free-standing shelves are either positioned against a wall or from a floor. These shelves make excellent bookshelves but can also be used to display small items and old photographs. 
5. Base cabinet
Base cabinets are strong and sturdy table cabinets usually found in kitchens, bathrooms, countertops, and sinks, serving as storage for everyday necessities. 
6. Wall cabinet 
Wall cabinets, or upper cabinets, are hung on walls. These cabinets aren't just functional; they also enhance the appearance of various spaces, such as kitchens, bathrooms, and family rooms. 
7. Tall cabinet
Tall cabinets—also known as pantry or utility cabinets—provide massive storage, especially for rooms and kitchens. Usually, tall cabinets start from the floor and go all the way up to the ceiling.
8. Hoosier cabinet 
Hoosier cabinets are free-standing kitchen cabinets with a countertop and an overhead cabinet. They're usually made of solid wood and come installed with pull-out shelves for basic models. They are a great all-around addition to kitchens that need extra capacity. 
9. Closet
Closets are enclosed spaces built into walls for storing various items, including clothes, bags, shoes, jewelry, and the like. Modern closets offer expanded storage capacity and other features that make organizing your things a breeze. 
10. Wardrobe
Wardrobes are standing closets with doors that open outward. Their primary function is to  
store clothes, but some models can house electronics. The advantage of wardrobes is that they can be transferred from place to place.
Beds 
1. Traditional bed
Traditional beds incorporate old designs and features from previous eras. These beds are usually made with dark wood to evoke a timeless and classic appearance. 
2. Trundle
Trundle beds have a built-in bed underneath that's easily pulled out. These beds are ideal for saving space for kids' rooms and sleepovers.
3. Daybed
Daybeds are all-around beds apt for taking naps and lounging, but you can also use them as benches or sofas. Daybeds are ideal for making spaces extra cozy, including home offices, patios, and guest rooms. 
4. Futon
Futons are similar to daybeds because they can serve as beds or couches. These folding beds are easy to store and use in any part of your home. 
5. Murphy bed
Also known as wall beds, murphy beds are ideal for people that love wide spaces. These beds are foldable, stored against walls, and work well in condos and apartments. 
6. Bunk bed
Bunk beds are well-loved and good options for children who share rooms. They're space-efficient because their design features one bed above the other and a ladder going to the top bed. 
7. Loft bed   
Loft beds look like bunk beds because of their elevated position and the ladders used for climbing up. However, these are single beds with space below for a desk or recreational furnishing. 
8. Platform bed
Platform beds have thick, sturdy bases that support the mattress. They're usually lower to the ground, but you can add an extra foundation to elevate their height. They are great additions to Japanese-style rooms with low furniture.
9. Four poster
Four poster beds have four posts on each corner with caps on the top. These beds come with headboards and footboards, although footboards are optional. This type of bed adds classical elegance to your bedroom.
10. Canopy bed
Canopy beds have posters on each corner. These posters are linked together, forming a frame around the bed. These posters are usually made of very thick wood. You can attach fabrics to the frame to create a sense of privacy or a more intimate vibe.
How to Choose Between These Types of Furniture 
Here are key factors that can guide you in choosing the furniture listed above.
1. Utility 
Think about how often you'll use the furniture you plan to get. Then, only purchase the furniture you need, making sure it's apt for your daily activities. For example, if you have a kitchen island, you should opt for a barstool instead of a dining chair. Meanwhile, a reading chair may be more suitable than a standard armchair if you do a lot of reading. 
2. Materials  
Whether it's the fabric, hardware, or composition, your chosen furniture should match your home's interior design. For example, bamboo and rattan go well with tropical, Japanese, and Japandi-style homes. On the other hand, concrete and metal go well with industrial and contemporary-style homes.
3. Harmony  
The furniture you choose must blend well with the spaces in your home, including the color of the walls, floor materials, and overall design language. It should also make sense in the context of the room. For example, you should not use desk chairs in place of formal dining chairs, nor should you use a hoosier cabinet in the bedroom.
4. Space and layout 
A home's room layout largely determines which pieces of furniture fit and which won't. For example, you can maximize space utility by selecting compact or foldable furniture for your condo.
The Right Furniture for Condo Living 
Condos are comfortable and convenient for your modern lifestyle, but finding the right furniture may be tricky. With many types and variations, your choice should simultaneously convey form and function for your condo. 
Federal Land offers convenient condo living through well-built RFO and pre-selling condominiums in prime spots in the Philippines. Each unit utilizes efficient space planning to provide homeowners comfortable living spaces as well as freedom to design their new homes. 
Ready to move? Check their properties today!