August 5, 2021
How to Organize Your Condo: A Step-by-Step Guide

Having your own place can be truly liberating and exciting. You get to fill the space with pieces of furniture you like and let your personal style and preferences shine through (are you Team Puti-Puti or Team Kahoy?).
However, this can be challenging if you're living in a condo since it doesn't usually offer enough space for storage and big furniture pieces. Having too much stuff can end up being an eyesore or cause problems.
With limited space, organizing your condo can be a daunting task. Where do you store things? How can you make more storage? What can you do to minimize the visible mess? And most importantly, how and where do you start?
If you want your home (and life) to be more organized and only full of joy, keep scrolling. This article will guide you on how to determine which things to keep and throw away and how to organize your condo in a way that makes things look visually pleasing. 
Establishing Condo Organization Goals
Before you get down to business and start finding places for things, you need to approach your organization with a plan. You might also want to get a few boxes ready for three categories: things to keep, donate or sell, and dispose of.
What to Keep: If the item disappears for a day, would you miss it? This helps to declutter clothes, books, and other personal items easier. If you have a strong emotional connection to an item, you can keep it.
What to Donate or Sell: If you decided that an item has no value to you but is still in good condition, consider donating it. If you have items in mint condition, barely used and still functioning, and still have value, you can choose to sell them even for a small profit.
What to Dispose of: For items that are broken, expired, no longer spark joy for you, and won't give value to anyone else, it's better to toss them in the bin.
It will help if you prepare your organization mood board, so you already have a clear idea of organizing things in certain areas of your space. For example, some people prefer their herbs and spices tucked in a drawer, while others choose to display them on the counter neatly. 
The Step-by-Step Guide to Organizing Your Condo
Start one section at a time
Cleaning and organizing require a lot of time, effort, and space. To maintain order, focus on one area or corner at a time, so you don't get overwhelmed with the task. This minimizes unnecessary distraction and disorganization and allows you to complete each section to your satisfaction before moving on to the next.
Kitchen 
Start with the heart of your space, the kitchen. Keep this area functional yet easy on the eyes. Make an organizational system that supports how you move around the kitchen. For example, put your cooking necessities (i.e., cooking oil, herbs and spices, and cooking tools) within arm's reach where you cook. 
Clear the shelves and place them on your dining table to get a good look at what you're going to work with. Then, proceed to clean the shelves.

Set aside items that don't belong in the kitchen. Things that you no longer need and expired goods go to your Dispose box.

Keep a junk drawer. Here, you'll store all things that don't have a "home," or at least not yet. This also keeps your small countertop free of clutter.

Ready your storage containers and label them. You can transfer your grains and cereals in clear containers with labels, eliminating visual clutter since different product containers can be unsightly. 

Group items as you see fit when putting them in storage organizers. Use a cutlery organizer for your utensils to keep them in place.

Clean the items before placing them back on the shelves. 

Finish the area with final cleaning and tidying. 
Living area
Regardless of the size, the living area is where people gather and where you entertain guests. Because of this, it's also a nesting ground for clutter. Finding storage for your things in a small space will be a challenge, but you can maintain a neat living area with regular purging and decluttering.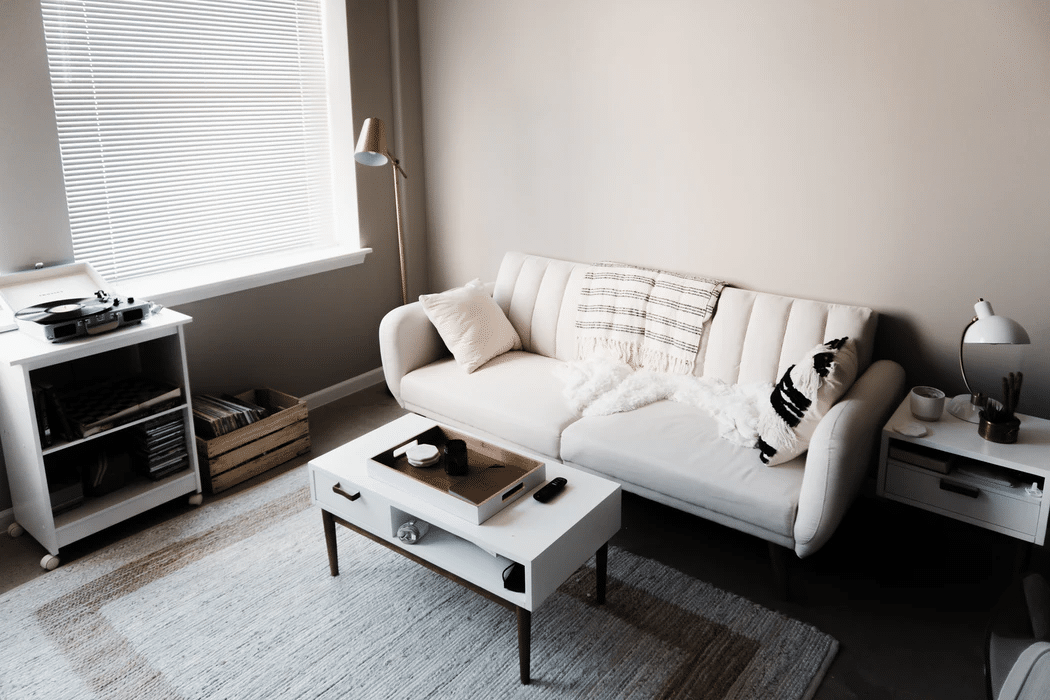 Photo by ian dooley on Unsplash
Declutter and put your knick-knacks, books, electronics, cords, and other items on the floor and get rid of the things you don't want or need anymore. Figure out which items get to stay in the living room, such as some books. 

Donate or sell your DVDs or CDs and embrace digital media to help free up space in your compact living room.

Put away items that don't belong in the living area. 

Use multifunctional furniture, such as coffee tables with storage to store your remote, device chargers, batteries, and other living space necessities. Alternatively, you can use subtle storage boxes with lids to hide other stuff or toys (if you have children) out of sight.
Bathroom
Your tiny bathroom can be a busy and cluttered place since this is where you get ready for the day. But this can be hard to do if the space is messy. So, stay on top of the mess with extra storage, proper organization, and purging.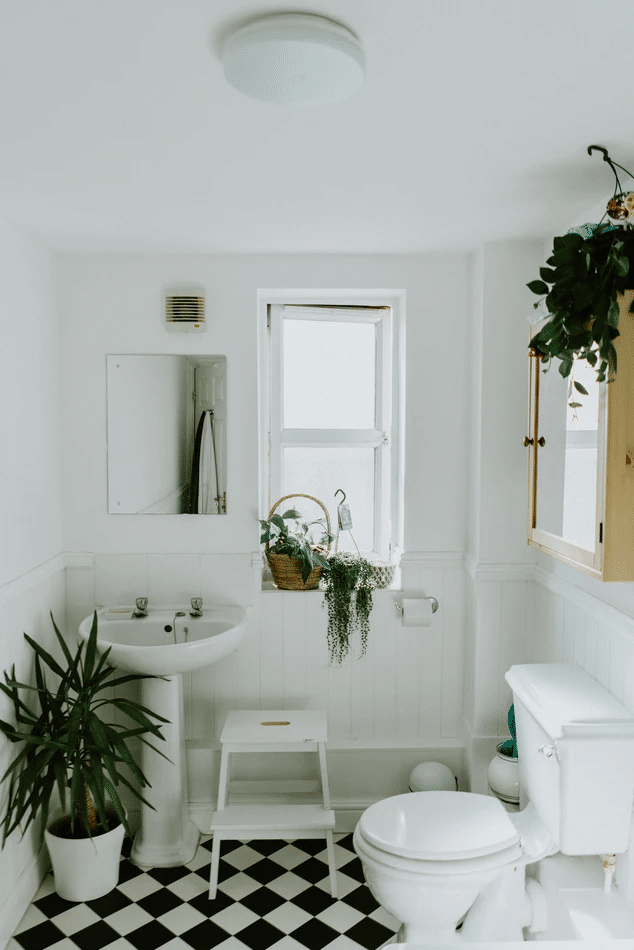 Photo by Phil Hearing on Unsplash
Declutter your bathroom countertop, medicine cabinet, and storage shelves or cabinets. Then, clean them. 

Throw toiletries, cleaning tools, products, and other equipment you rarely use (yes, including that expired mouthwash and unused lipstick). 

Only keep your bathroom essentials, such as bath and body supplies, toiletries, and cleaning products. Avoid leaving personal items that don't belong in the bathroom.

Use storage organizers or baskets with lids to hide unsightly items, such as cleaning supplies. You can use spice racks to organize small things like skincare products and makeup. 

Dedicate a space for your hair tools and products, so they're not always on your countertop. 

If you're running short of storage space, utilize the vertical space on the back of your bathroom door. You can add hooks for towels or shallow shelving for toilet paper. 
Bedroom
Your bedroom should be a place that calms and relaxes you. Even if it's tiny, a clean and inviting bedroom could be the difference between a good night's sleep and waking up on the wrong side of the bed. Clearing the pile of clothes on the bed and getting rid of your catch-all chair is an excellent place to start.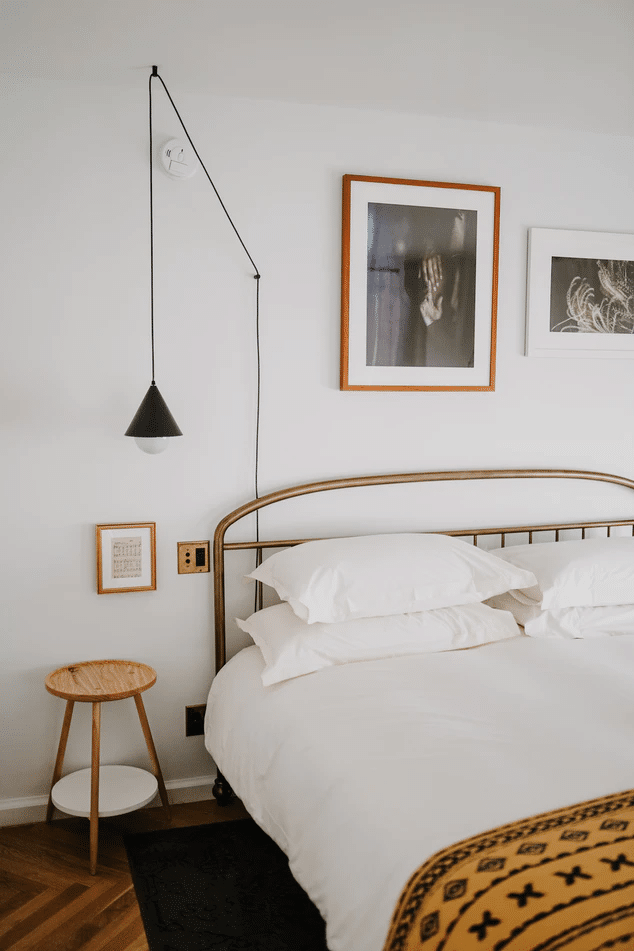 Photo by Chesley McCarty on Unsplash
Declutter the space and tackle each section one by one. That means choosing which area to clean first: the closet, storage cabinet, side table, and entire bedroom, then work your way to the next.

Limit your bedside table to essentials. That means unnecessary clutter like medicine boxes, water bottles, chargers and cords, and others should stay in their places.

Use storage baskets or dividers in your closet for better organization. 

When looking for storage space, don't forget to look up and utilize floating shelves where you can store books, sentimental items, and others. 

If you have room under your bed, get under-bed storage boxes. You can store your pillowcases, bed covers, duvet, and other large and seasonal items you have. 

Don't forget to make use of the vertical storage behind your door. You can use it to hang belts and bags. 

Again, clean everything and fold or organize them neatly before placing them in their places. 

Always make your bed in the morning. No excuses.  
Workspace
In a condo, your workspace is likely shared with another area, such as the bedroom or living room. As long as you keep things tidy and set proper boundaries, you can minimize distractions and make the space conducive for work.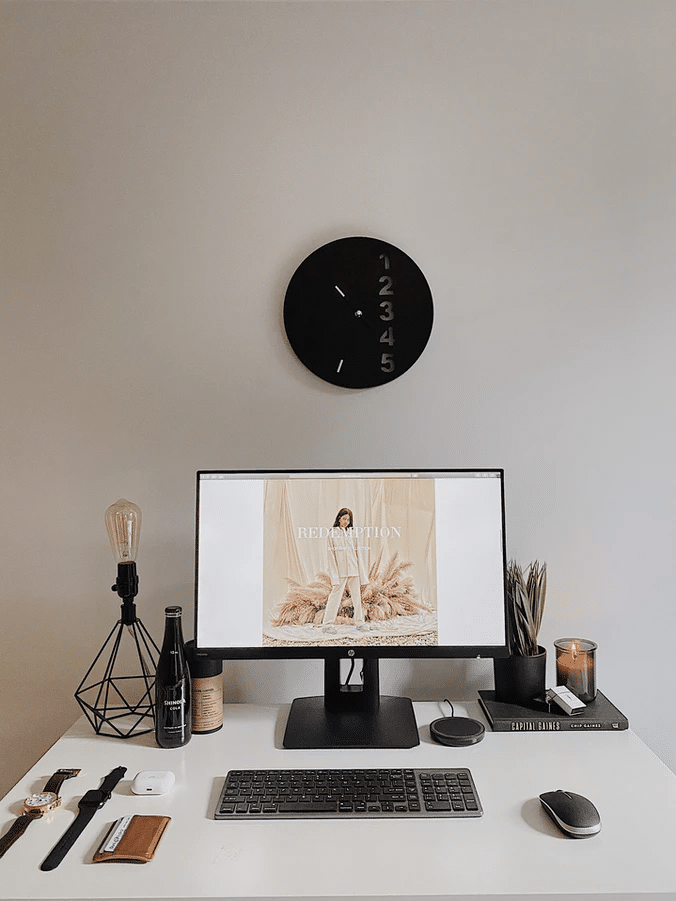 Photo by Jesse Smith on Unsplash
First, get rid of the clutter. So, assess all of the things in your workstation and determine which ones will be kept, donated or sold, recycled, or thrown away. 

Get a rolling trolly cart for extra storage. You can put your pens, papers, notebooks, hardware accessories, and other office supplies here away from your sight. You can place this under your desk or right next to it. 

Use or repurpose a utensil organizer as a drawer divider to maximize the storage space and keep them from getting cluttered. 

Place your most-used tools within easy reach using a pen holder or cup.

Use cable management tools, such as self-adhesive clips, Velcro strips, silicone ties, and cable management organizer boxes to keep cords and your power brick neat. 

Place only the things you need on the table. Proper organization tidies not only your space but also your thoughts, allowing you to put your head where it needs to be. 
Remember, in every area you're organizing and decluttering, bring out your "Keep," "Donate/Sell," or "Dispose" boxes. Then, segregate your stuff into where they need to be.
Get creative with space
If you're in the process of replacing your furniture, think carefully about the new pieces you're bringing in. Look for space-saving furniture or convertible pieces that can double as storage when not in use or have more than one purpose. 
Choose storage organization systems that work for your space and needs. You can find helpful Facebook Groups like Home Buddies, take inspiration from Pinterest, and look for DIY or organization tips on YouTube. 
Do it one at a time
Even if you're living in a condo, don't think that you can accomplish everything in a day. You'd want to spread out your cleaning and organizing project over several days. Otherwise, you'll be too tired to make sound decisions. You wouldn't want to get rid of a sentimental item by accident! 
Declutter often
The initial step to organizing is decluttering. Practice this habit regularly to avoid frequent re-organizing. Once you find your groove in decluttering, cleaning, and organizing, it will feel less like a task and becomes second nature to you. 
Living in a condo shouldn't feel restricting. It also shouldn't keep you from meeting your storage needs. When you find the right strategies and organization practices that work for you, it will be easier to keep things tidy and live in your own space. 
Build a Clutter-Free and Snug Condo Home
Organizing is life-transforming. When you tidy up and declutter your home, it brings the same effect on your mental well-being and lifestyle. Living in a space that houses only the things you need and things that spark joy in your life—imagine how incredible that feels.
When you manage to create a space with less stuff, and it is easier to clean up, you know you've done a great job. As your home looks and feels lighter, you will too.
Are you ready to live on your own and have a condo unit under your name? Check out these quality condominium units from Federal Land. Compare properties tucked in prime spots in the Philippines and find the best match for you!