October 27, 2022
How to Understand a Condo Floor Plan: A Visual Guide for First-time Home Buyers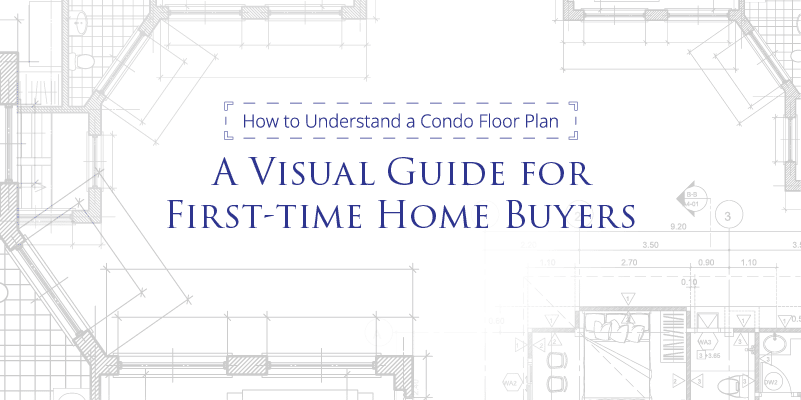 Shopping for a condominium is undoubtedly thrilling. You feel excited visualizing life in your new home, even if you're just looking at the floor plans on display online.
However, floor plans are often jam-packed with details. The symbols they contain may look complicated and overwhelm you, especially if you're a first-time home buyer who has never seen them.
You can use this guide to help make your floor plan reading easier.

What's a Floor Plan? 
Floor plans provide a visual representation of how people can move around their homes by depicting the relationship between rooms, areas, and physical features—such as your condo's interior design—from a top-view perspective. 
This document image can make it easier for you to create a diagram of your condo's layout, as it helps determine if the space is fit for its intended use or can accommodate the items you plan to include. 
The floor plan may illustrate the entirety of your property, including the condo layout, rooms and dimensions, number of lights, doors, and windows. It may also present spaces for built-in appliances and fixtures such as washers, sinks, refrigerators, stoves, etc.
4 Key Points to Identify in a Floor Plan
If you see a circle with an arrow pointing to an N (North), that'll be your compass. This floor plan feature helps you understand the orientation of your property. Plus, the compass will help you understand how light moves around the room so you can maximize natural lighting.
You can then organize your furniture in a way that lets natural light in and bounce around the room. This design hack can make your condo feel bigger while saving on electricity, too.
The entry and exit points are essential elements of a condo floor plan. These elements include the front door and emergency exits. If you know your condo's entry and exit points, navigating through the building won't be a problem for you, especially during emergencies.
As such, you must look for these points in your floor plan to help avoid creating a condo layout that may obstruct these critical pathways.
Another must-have element in a floor plan is room names. This information distinguishes rooms by function, like the living room, dining room, master bedroom, etc. 
By looking at this part of the floor plan, you'll know what furniture and fixtures to include and won't confuse it for other parts of your condo. For example, you can set up a home office space more effectively if you separate it from the bedroom or living room during the floor planning stage. 
Room Dimensions and Scales
Your condo floor plan will typically have room dimensions to let you know the size of each room. Normally, the entire plan layout displays these details in feet measurements. 
However, actual room dimensions may not be feasible to use. As such, floor plans use scales to resemble accurate room proportions, making it easier to create a condo layout. Scale measurements typically show the rooms' equivalent sizes and ratios combined with a "scale bar" that looks like a ruler. 
While ceiling height is essential to gauge a room's vertical space, it's not often part of the condo floor plan. But you can find this dimension if your condo has multiple floors or an extended ceiling.
The Common Symbols on a Floor Plan
Different types of condo units have varying sizes and features. Here are some floor plan symbols you may find helpful when understanding your condo layout.
The most common component of a floor plan is the walls, showing both the exterior and interior walls. Thickened lines or double lines often represent exterior walls. Meanwhile, thinner lines refer to interior walls, but there may not always be any discernible distinctions between these two wall types. 
Apart from differentiating the interior and exterior walls, some floor plans also include the wall's type of material. These materials include brick, concrete, or framing lumber, and outer finishes also use metal, hardwood, plywood, or ceramic tile. Each of these types has a corresponding pattern in the floor plan.
Door symbols in a condo floor plan look like gaps in the wall, often with an open-position orientation. If it's a single door, you'll see a curved line to tell you which way the door swings open. On the other hand, double doors resemble a stylized letter "M," where two curved lines extend from each side and meet toward the middle.
Since sliding doors do not have a door swing, a standard one can be a thin line extending from a thicker rectangle. However, this symbol may change if the sliding door is a pocket one that disappears into the wall when you open it. If that's the case, you'll see a thin line going inside another.
Like the doors, windows in a floor plan come in the form of small breaks in the wall with thin lines running along the width. There are different kinds of windows with corresponding symbols.
For example, casements are similar to doors where singles have arcs to show how they open outward, and doubles have a stylized letter "M" arcs. A horizontal window has three horizontal parallel lines with a small vertical one cutting between the space created. But a vertical sliding window has an elevated line on top of the three horizontal parallel lines.
If you have a loft-type condo, you'll likely see a stairs symbol in the floor plan. This symbol may look like a stack of small rectangles with a larger one for the landings with an arrow showing which way is up.
Straight stairs look like a column of rectangles with an arrow going up. Meanwhile, L-shaped stairs are in a vertical stack and horizontal row of rectangles connected by a bigger rectangle at the corner. 
Winding stairs may show a stylized letter "N" or a curve that resembles a U-turn. On the other hand, spiral ones look like a wagon wheel. 
Floor plans may tackle furniture in ways that let you visualize vital factors, like placement. For instance, how the couch is laid out in the floor plan can clearly illustrate the seating arrangement in the living room. This furniture is represented by rectangles and squares drawn side-by-side. 
Meanwhile, bed symbols depend on their type. For example, single beds are shown as narrow rectangles, while double beds tend to have wider rectangular shapes.  
Coffee tables and chairs may look like big circles surrounded by smaller ones. But dining tables and chairs can have smaller rectangles surrounding a long and wide rectangle.
These condo essentials are another vital consideration when looking at the floor plan to determine the home design. These symbols are mostly just squares like furniture but with more details that distinguish them from each other. 
In the kitchen, you'll see a wide and long rectangle with a vertical line in the middle representing a refrigerator. You may see two smaller lines indicating its handles or a simple snowflake pattern to signify its purpose. Meanwhile, the stove symbol may use a rectangle with small squares representing burners. 
The laundry room may show a washing machine represented by a square with a "W" written on it. Lastly, air conditioners are rectangles with an "AC" marking in the middle. 
Fixtures, like cabinets, counters, and sinks, are essential parts that enhance the function of certain areas in a condo, and you'll see these represented in your floor plan.
For example, the bathroom and kitchen will have a rectangle with an oval shape inside to represent a sink. However, the design may change if it's a corner sink. In that case, a circle enclosed in a cone shape will take its place. Meanwhile, toilets may look like a rectangle with an oval cutting through its bottom and reaching the middle.
Shower heads will have a square representation with a small circle in the middle and lines extending to the square's inner corners. Other variations may show a large square shower head with five small rings inside, resembling a die.
The electrical symbols in the floor plan will show you the locations of sockets, switches, lights, and circuit breakers. You can use this to plan where you will put your appliances. 
Wall outlets are often shown using a short vertical line with an even shorter horizontal bar attached to a big circle. The letter "E" inside the circle shows it's an electrical outlet.
On the other hand, floor outlets are shown using a square containing a circle touching the outside shape's sides and two horizontal lines in the middle of the circle. Meanwhile, switches are the same as an electrical outlet but with the letter "S" inside the circles instead of the letter "E."
Walk Through Your Floor Plan with Ease
Amid the excitement of buying a new home, looking at unfamiliar floor plan elements may overwhelm and take the joy away from the experience. However, taking time to understand each component and symbol may help you overcome the obstacle. And you may even find yourself enjoying the first step of arranging your home.
When looking for a new home, check out Federal Land's ready-for-occupancy condos for sale in the Philippines with thoughtfully designed units and efficient space planning. With a larger space, you can maximize your unit and have more freedom in designing it. Federal Land projects are in prime, high-investment spots in the Philippines, making them valuable assets in real estate. 
Send them a message to start your homebuying journey today!