August 12, 2021
A First-Time Resident's Guide to Living in the Bay Area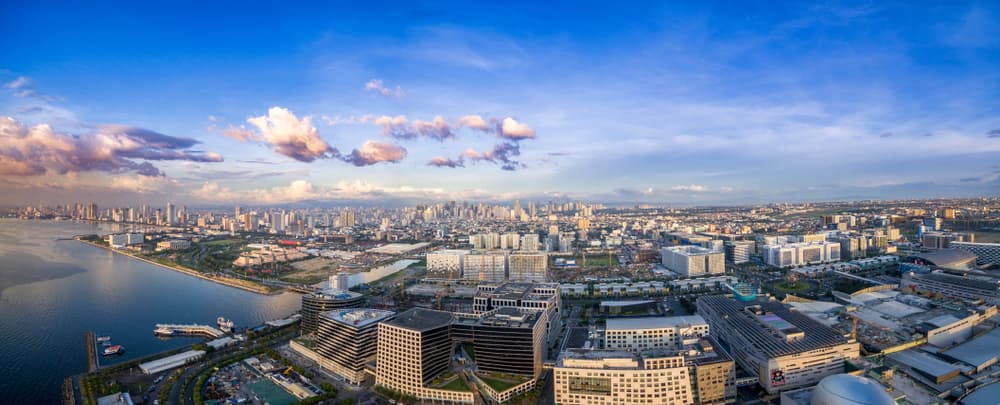 Shopping, entertainment, culture, relaxation, and recreation merge in the bustling city of Pasay. Nestled south of Manila, Pasay City is highly urbanized and one of the oldest cities in Metro Manila.
Through the years, the city has flourished into an entertainment spot and center for culture and recreation.
The buzzing and beautiful Pasay has a lot to offer, especially for people eyeing the city as a place for residency. This article gives a rundown of what makes Pasay City a great urban home for first-time homeowners, along with a neighborhood guide and residential developments you can check out.
Let's get started.
Fun Fact: It is said that Pasay City is named after Dayang-Dayang Pasay, a princess of the ancient kingdom Namayan that existed long ago. 
5 Benefits of Living in Pasay City
You can be more laid-back with the interesting work-play balance in this hip community. Check out some of the advantages of living in Pasay City below. 
1. An entertainment and recreation haven
Pasay is home to one of the largest malls in the country and the world. You can virtually find anything you need at any of the nearby malls, and you'll never run out of retail, dining, and entertainment options. But, if you're looking for bargain finds, you can head over to Baclaran street market.
Other activities you can do here include visiting Resorts World Manila, City of Dreams, and The Dessert Museum. 
2. Accessibility to Makati and other areas in Metro Manila
Situated just 6 km south of Manila and within proximity to Makati, Taguig, and Paranaque, Pasay is known for its accessibility to southern expressways and other urban cities. People commuting in and out of Pasay City can easily travel around and beyond the area through different modes of transportation. 
3. Diverse transportation methods
Coming from the previous point, Pasay City offers cheap and accessible modes of transportation for residents and working professionals going in and out of the city, from jeepneys to LRTs or MRTs to UV Express, vans, and buses. With these readily available public transports, you can navigate the city easily on your own.
Of course, you can opt for time-saving private rides but at a cost. It's up to you when to use either public or private transport. But that's what's great about transportation in this city: it can cater to different needs and lifestyles. Next-level transportation methods also await here.  
4. Proximity to the airport
Pasay City is aptly called the Gateway of the Philippine Islands, for it is home to the main point of entry in the country, NAIA. Consequently, Pasay City welcomes numerous local and international travelers at NAIA's gate.
Living near the airport can be a practical and charming idea. This gives you a higher chance of interacting with people from different walks of life, helping you shape a broader and healthier view of the world. 
5. A rich history and charming arts and culture scene
Residing in Pasay City places you close to the Cultural Center of the Philippines (CCP), which preserves and showcases the best of Philippine culture and arts. Lakbay Museo is another excellent place to learn about Philippine culture and traditions through modern, Instagrammable dioramas and displays. 
Deep into the inner city, you can find art galleries like Avellana Art Gallery and Galleria Duemila that give classic and modern artists a platform for their art. 
Residential Neighborhoods to Live in Pasay City
Pasay City offers a roster of residential areas conveniently located within access to schools, business districts, shopping centers, and other establishments and key areas in this part of the metro. 
Metro Park
A sprawling 36-hectare master-planned community within the thriving Manila Bay Area business district, Metro Park is home to resort-inspired condominiums, commercial spaces, business hubs, and recreational establishments. Within the master-planned community is a retail strip and a mall- Blue Bay Walk, and Met Live. There are also event spaces, a school, a hospital, and a church within the area.
Palm Beach West is a four-tower resort-inspired development in Manila's Bay Area. It merges living and relaxation, meeting the seas and the bustling hip city. The condo provides amenities like adult and children's pools, garden pavilions, an alfresco area, fitness gyms, and more.
Another property in the area is Mi Casa,  a tropical-inspired residence reminiscent of the beauty of the Hawaiian islands. The property features amenities patterned after Hawaii's love of gathering such as the adult and children's pools, a barbeque area, a daycare room, a movie room, a library, and a gym. 
Roxas Boulevard
Roxas Boulevard is arguably the most scenic road in Metro Manila, offering a front-seat view of the Manila sunset by the bay. Within its vicinity, you can find the Cultural Center of the Philippines, the Metropolitan Museum of Manila, and a roster of entertainment hubs, including the City of Dreams, and Seaside Dampa. It's a historical location that accommodates a modern lifestyle.
Taft Avenue
Living in Taft Avenue is a convenient urban location that offers access to different transportation modes like jeepneys, buses, and trains. There are also top-tier schools and universities, churches, hospitals, malls, parks, and countless dining options scattered around the neighborhood. 
Quantum Residences is a mixed-use residential-commercial condo along Taft Avenue that offers convenience and excellent amenities like a pool, business center, and study lounge. It's a great match for the urban lifestyle of students, young professionals, and start-up families. 
Entertainment City
This is an 8km entertainment complex that PAGCOR proposed. It sits on Manila Bay's reclaimed land and is known to be a casino and entertainment hub with the feel of Las Vegas. It is also a business district home to notable developments, retail and commercial establishments, and a few residential and mixed-use towers. Living here puts you close to hip bars, trendy shops, entertainment spots, and recreational places. Indeed, it is a place where work and life come together.  
How to Get Around Pasay City
Public transportation, such as buses, taxis, and trains, are available and easily accessible in Pasay City.
Taxi:

You can take metered taxis or a taxi-booking service to take you anywhere if you're short on time. 
Bus:

There are plenty of local buses that pass through and have a terminal in Pasay City, such as Victory Liner, Five Star, and DLTB. They can take you around and beyond the city.
Jeepney:

Like in any city, jeepneys are commonplace in Pasay and can take you to any part of the city. A short trip starts at PHP 11. 
LRT and MRT:

The main LRT and MRT systems connect Pasay City to Manila through the Pasay Interchange. 

UV Express:

There are UV Express terminals in SM MoA that you can take to commute in and out of the city. 
Nearby Establishments and Things to Do in Pasay City
Pasay City is one of Metro Manila's most urbanized and dynamic cities that offers its residents plenty of entertainment, conveniences, and necessities — fitting of all lifestyles and needs. 
Food
You'll never fall short of food choices when living in Pasay City. There are dining options that can fit any budget and palate. Below are some of the restaurants in Pasay City that you shouldn't miss. 
Vikings Luxury Buffet – SM Mall of Asia
You can fill your plate and go for as many rounds as you can in this "all you can eat" buffet restaurant. They offer a variety of cuisines that will suit your tastes. 
Alba Restaurante Espanol – Harbor Drive
This is a must-visit place for traditional Spanish delicacies, especially if you or your family is always on the lookout for paellas and tapas. 
Wolfgang's Steakhouse by Wolfgang Zwiener – Resorts World Manila, Newport City
Known as one of the best steakhouses in New York, Wolfgang's Steakhouse by Wolfgang Zweiner only serves top-grade steaks. Reward yourself with this gastronomic treat after a tiring workday. 
Entertainment
Pasay City has become quite a tourist destination for many as it's filled with endless options for entertainment. 
SM Mall of Asia – Bay City
You'll never run out of things to do in SM Mall of Asia. For instance, you can have your morning exercise at SM by the BAY, satisfy your food cravings, and enjoy fun-filled weekends at The Mall of Asia Bay Area Amusement Park.
Star City – Roxas Boulevard
Star City's numerous adventure rides and entertainment are perfect for the whole family celebrating special occasions and holidays.
Resorts World Manila – Newport City
You can experience a different world of thrills through shopping, cinema, restaurants, gaming, and other entertainment outlets at this world-class integrated resort. 
Hospitals and Pharmacies
Access to healthcare services like hospitals and pharmacies is critical when property-hunting. Good thing Pasay City houses these premises and is nearby other major cities with top hospitals. 
Pasay City General Hospital – Padre Burgos Street, Pasay City
Pasay City General Hospital is a public hospital with good facilities and professional staff. Being within proximity of a hospital is ideal for emergencies. 
Makati Medical Center – Legazpi Village, Makati
Makati Medical Center is known in the healthcare industry as a hospital that upholds quality facilities and compassionate services. The hospital sits less than 6 km. away from SM MoA.
Mercury Drug – Multiple branches
As the leading drugstore in the country, you can spot Mercury Drug scattered throughout the city, including in EDSA MRT, BlueBay Walk, and Pasay City Rotonda. 
Schools and Universities
Pasay City is an excellent place for families as it's close to schools and universities that provide first-class education. 
Pasay City Science High School – Vergel Street, Pasay City
If you have kids or siblings entering K-12, Pasay City Science High School is known for quality, science-oriented learning programs that offer affordable education. 
Arellano University – Taft Avenue
Arellano University is dubbed the school for "freedom-loving Filipinos" and offers a wide variety of degree programs, such as Education, Nursing, and Computer Science. 
PATTS College of Aeronautics – San Isidro, Parañaque City
PATTS is an educational institution for aviation education, offering courses and programs like Aeronautical Engineering, Avionics Technology, and Airline Business Administration.
Arts and Culture
Cultural exploration can be your regular unwinding activity in Pasay whenever you need a quick breather from your busy routine. 
Cultural Center of the Philippines – Roxas Boulevard
CCP is the country's leading arts institution that conserves, promotes, and develops Filipino arts and culture. It boasts six exhibition halls, a museum, and five theaters. 
Coconut Palace – CCP Complex
Also known as Tahanang Pilipino, Coconut Palace showcases an architecture mostly made of materials from coconut trees, such as coconut lumber and shells. 
Galleria Duemila – Loring Street, Pasay City
Galleria Duemila is the longest-running commercial gallery in the country that works closely with local Filipino artists and abroad.
History
Travel back in time with these interesting landmarks in Pasay City. 
Philippine Air Force Aerospace Museum – Villamor Air Base
The Philippine Air Force (PAF) Aerospace Museum displays uniforms and war memorabilia. It also houses a gallery that educates the public on the aviation history of the PAF. 
San Isidro Labrador Church – Taft Avenue
Old churches tell so much about a place and its history. The architecture and historical statues in San Isidro Labrador Church, with an altar consecrated in 1966, triggers an immaculate feeling at first sight.
Live the Lifestyle You Lead in the Travel City
This guide doesn't encompass everything Pasay City offers, but it's an excellent basepoint to help you get more acquainted with this beautiful city.
Living in Pasay City is ideal for lifestyles that prefer to be in the middle of urban living with limitless comforts and entertainment within reach. Federal Land offers several lifestyle-centered residential condominiums in major cities in the Philippines, including Mi Casa and Palm Beach West in Manila Bay Area and Quantum Residences along Taft Avenue. Explore the website to compare and find properties in Pasay City that match your lifestyle.