November 28, 2022
How to Host a Holiday Party in Your Condo: 7 Pro Tips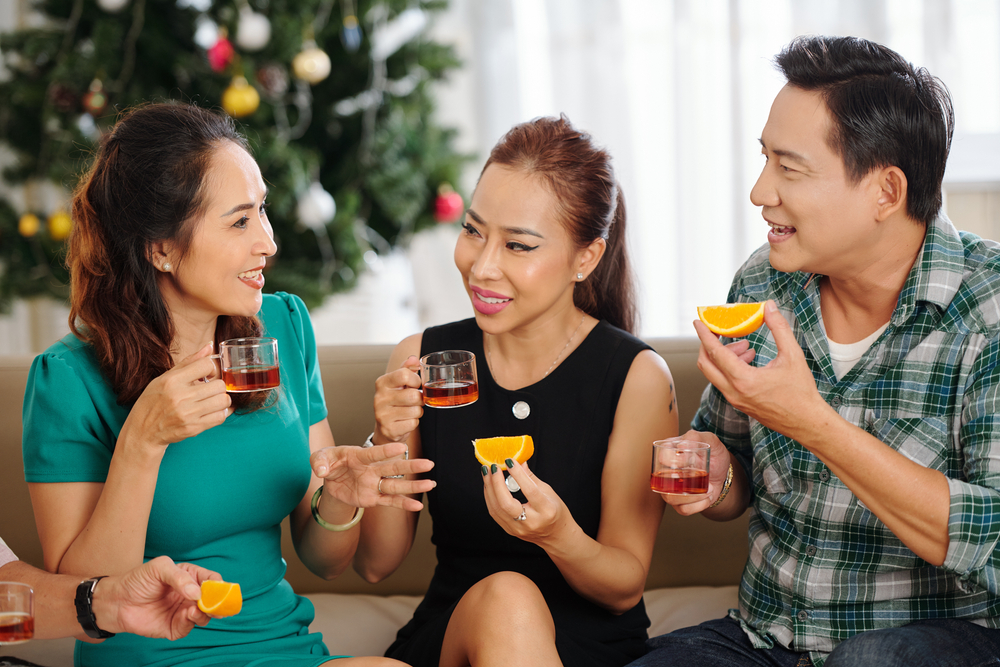 The holiday season is almost here, so it's time to plan festive celebrations for friends and family. If you are hosting one of these celebrations in your condo unit, know there are several ways to maximize your space and entertain your guests properly.
Take a deep breath, follow these tips on hosting a holiday party in your condo, and bring cheer to your favorite people.
7 Tips to Host a Holiday Party in Your Condo
1. Set the mood with appropriate decorations
Your condo must look the part to make your holiday party feel like one. So put up décor that is appropriate for the festivities. Liven up your space with one or two small centerpieces, and opt for decorations mountable on walls or from the ceiling to make room for food and drinks.
Mounted decorations also minimize your post-celebration stress since they're easier to take down and store back into their containers.
2. Stick to holiday-themed food
By now, you already know a lot of holiday food traditions in the Philippines and all over the world. 
However, when you have limited space in your unit, it's best to stick to simple but high-quality food to serve your guests instead of the elaborate dishes requiring long cooking hours and heavy equipment. 
Easy holiday-themed food includes loaded nachos, pichi-pichi, fried lumpia, sweet-style spaghetti, glazed roast ham, and fruit salad. 
Make sure you have all the ingredients you need to save more time. That should be no problem for people who live in condominiums like The Valencia Hills Tower E in Quezon City, surrounded by several malls and groceries where you can easily shop for everything you need for the holidays.
3. Set up your Christmas dining table correctly
Setting up a good and proper Christmas table is possible if you get creative with table-setting arrangements. For example, instead of using a formal table setting for each seat, you could prepare a buffet-style table that stacks all plates and cutleries in one place, giving you a larger area to display your entire smorgasbord of food.
You could also use tiered serving stands to stack up your desserts nicely. You can also use a modest centerpiece to accessorize your table, like small figurines, flower vases, or decorative candles.
4. Designate the main party area
A designated party area gathers your guests in one place, so it's not crowded in every part of your unit. This central area will have the most activity during your holiday party, so ensure your guests have enough space to move around and mingle with each other. You can also designate a specific spot for their shoes, coats, bags, or purses during the party.
Making space for your main party area entails rearranging your furniture. For example, try moving your chairs against the wall to maximize the space; remove any unnecessary pieces of furniture and put them in a guest bedroom or large closet.
5. Prepare fun Christmas party games
Who says you can't play fun and exciting games in your condo unit? There are many games for kids and adults, even with limited space. Once you pin down the number of kid and adult guests, you can choose which games to host. Christmas-themed board games, holiday Olympics, and charades are ideal for intimate spaces like condo units.
6. Keep the temperature in check
The influx of many people in one place can present some challenges for your air conditioner. Turn on your aircon during the party and have one or two fans ready if it gets too hot. If you live in a cool area, you can leave the windows open to get a fresh breeze.
Of course, everything will depend on the number of guests arriving, so make sure your place doesn't get too crowded and improvise space for people to move comfortably.
7. Set up rules for responsible merrymaking
The best parties are those where all the guests have a good time. Here, knowing the rules and regulations of your condo when it comes to throwing parties is essential. As a courtesy, let your neighbors know about the event that might cause noise and laughter. 
Similarly, remind your guests to "keep it low." Maintaining a peaceful party venue while having fun should be part of your agenda. Keep your guests inside, always shut the door, and remember to dispose of trash properly.
Intimate Spaces Create the Best Holiday Moments
These holiday party tips guarantee a joyous celebration with carefully selected friends and family in your condo unit, creating unforgettable moments to treasure. Your choice of residence also impacts the quality of your holiday celebration.
If you live in any Federal Land Inc. condos, feel free to inquire about your holiday celebration with FPMC (Federal Property Management Corp). FPMC is the dedicated team that manages Federal Land condos' day-to-day operations and technical maintenance. 
Check out Federal Land's condos and residential spaces if you plan to move places before the holiday season. As a reputable real estate company in the Philippines, they offer well-built and thoughtfully designed units in the country's prime locations with high investment potential. Send them a message to start your journey with Federal Land.