November 18, 2021
A Comprehensive Guide to Get Pre-approved for a Home Loan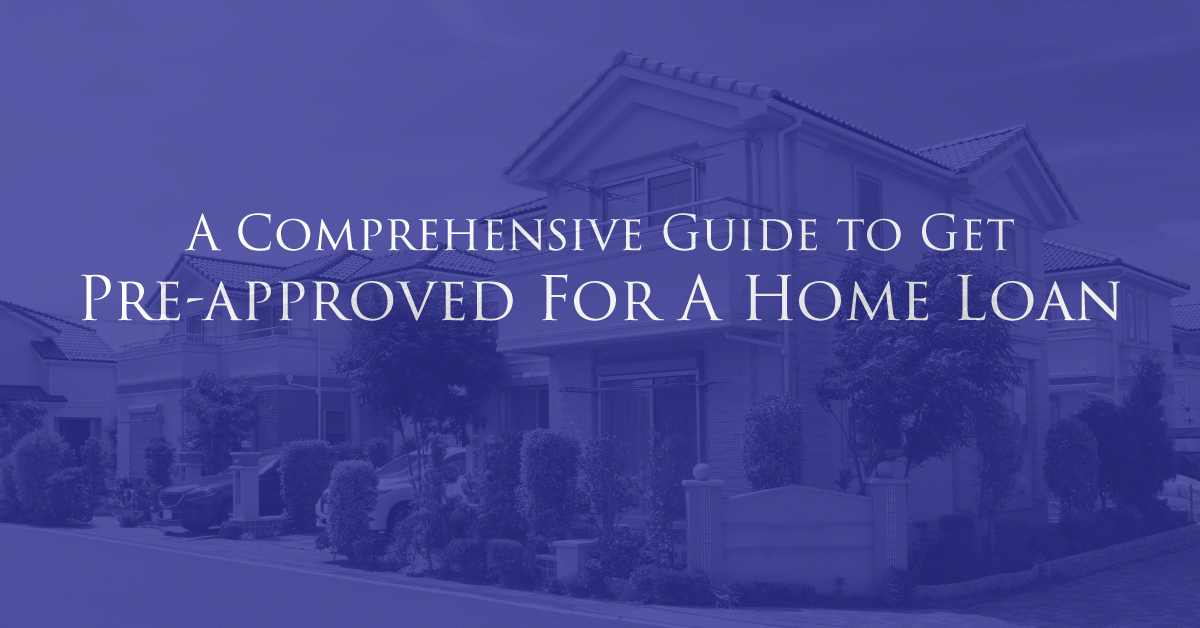 The most exciting stage of buying a property is the home-hunting phase. You can get lost with the hundreds of property options you can choose from, but at some point, you'll need a reality check and narrow down your options based on how much you can afford.
You don't necessarily need to pay for the property out-of-pocket or solely from your savings. You can apply for a home loan to help kickstart your property acquisition. When applying for a home loan, it's best if you're pre-approved. A home loan pre-approval will affirm that a lender has reviewed your finances and deemed you qualified for a specific amount of home loan.
Learn more about how to get pre-approved for a home loan by checking out the infographic and article below.

\
What is a Home Loan Pre-approval?
A home loan pre-approval is a letter from the lender stating how much money you can borrow from them. Do note that this isn't the final loan agreement yet; it only means that you've qualified for the lender's home loan terms and the loan officer has looked into your finances (e.g., debt, accounts, income). Besides an estimate of how much money you can borrow, the pre-approval letter may also indicate how much your monthly payments would be and the loan interest rate.
Once your home loan is pre-approved, you'll get a written statement. You can show this letter to property developers to reassure them that you're already working with a lender and that the lender is open to giving you a loan.
Why Should You Get Pre-approved?
There are huge advantages to having a pre-approved home loan. Here are some of them:
You'll know which properties you can afford
By having your home loan pre-approved, you'll know how much money you can borrow. As such, you can focus on browsing properties within your budget. You may have to say goodbye to that penthouse unit you've been eyeing, but it also means that your home-buying process will be much easier since your options are now narrowed down. 
You can plan your finances better
With a pre-approved home loan, you can plan your finances accordingly. Since you have an idea about how much loan you will be entitled to, you can foresee if the amount will be enough or if you'd need to add more from your savings to get the property you want.
You'll increase your credibility as a buyer
Having a pre-approved home loan to a seller makes you a more attractive buyer, as it shows you're serious about purchasing a condo, your finances are in order, and you're less likely to get denied for a home loan. All of these can give you an edge during negotiations.
You'll be able to close deals faster
Since pre-approval is the first step in getting a home loan, accomplishing it early will make obtaining a loan easier on the home stretch. Once you've found the right property, you can present an offer much faster and prevent your property from falling into the hands of competing buyers. 
Requirements for Pre-approval
Identification
Identification documents must contain your personal information, including your full name, social security number, date of birth, marital status, educational attainment, address, and the number of dependents. Here, you'll need to present valid primary and secondary IDs and fill up a pre-approval form. 
Credit History
Lenders will look into your credit records and see if you have been paying your debts on time over the years. The document will show how responsible you are as a borrower based on how you use your credit. 
Credit Score
It's a common misconception that the Philippines doesn't have a credit score system. The country does have one, and different financial institutions use it to assess a borrower's credit risk. Credit scores range from a low 300 to a high 850. The higher your credit score is, the better.
You can get your credit report with your credit score from the Credit Information Corporation (CIC). 
Bank Statement
A bank statement is a list of all transactions for a bank account, usually from the past six months. This document will prove that you have enough money to cover the down payment and closing costs. It'll also show if you have a steady stream of income. 
Employment Information
Lenders prefer to give loans to borrowers who have stable employment. They'll not only review your payslips but will also call your employer for employment and salary verification. If you're self-employed, you'll need to provide additional documents about your business, like your business permit, Securities and Exchange Commission (SEC) registration, Department of Trade and Industry (DTI) certificate, and the latest income tax return. 
Proof of Income
You'll need to present documents showing your monthly income such as payslips, certificate of employment indicating your monthly income, or latest Audited Financial Statement (AFS) with bank or Bureau of Internal Revenue (BIR) stamp.
Latest Income Tax Return
Tax documents will also verify your income and show how much tax you're paying. If you're locally employed, you can submit your latest BIR Form 2316. Meanwhile, if you're self-employed, your latest BIR Form 1701 will suffice. 
The Home Loan Pre-Approval Process
The pre-approval process is the same as the process for applying for a home loan. 
Gather your documents
The first step of your home loan pre-approval is submitting requirements, so you need to look up your preferred lender's requirements and prepare all the documents you need. The requirements above can be your guide to the general documentation you'll need to organize. 
File an application
Compare home loan offers of different lenders so that you can get the best rates and fees. Then, once you've chosen a lender, submit the requirements and apply. 
Go through the credit check
While reviewing your application and finances, the lender will do a credit check and review your credit report, history, and score to determine if you qualify for pre-approval. If you're curious about your credit standing, you can check your credit report before you apply. By doing so, you can resolve any issues before applying. 
Wait for the pre-approval letter
Once the lender has finished assessing your credit and financial profile, they'll issue a pre-approval letter that states whether you're pre-approved for a loan and how much you can borrow. You can now present this to the seller and use it during negotiations. 
How to Increase Your Chances of Being Pre-approved
While some may feel that going through the pre-approval process is like going through the eye of a needle, you can do the following best practices to increase your chances of being pre-approved for a loan.
Increase your income
Having a high income will signal to the lender that you have enough resources to cover your debt obligations. Before proceeding with the pre-approval process, you should increase your income either by negotiating for a salary increase or finding another legitimate source of income that is registered with the BIR.
Get a steady job
Unstable income is a turn-off for lenders; without a steady job, lenders won't have the reassurance that you can keep up with your loan payments. Before you apply for pre-approval, make sure that you've planted your professional roots and have been with the same employer for at least two years. The same job tenure requirement applies to business owners and freelancers.
Reduce debt-to-income ratio
Your debt-to-income ratio measures how your outstanding debt compares to your income: the lower your debt, the better. Having high debt will cause your lender to become wary of letting you borrow money because they can't be certain that you have the discipline or ability to keep up with loan payments. Start paying down your debts to improve your debt-to-income ratio.
Keep your credit score in mind
A credit score of 700 and above will put you in good credit standing. To ensure that your credit score is in a favorable position, you can check your credit report by requesting it from the CIC. By doing this, you'll also have the opportunity to fix any mistakes and improve your credit score by paying your bills on time and paying down debts. 
Don't take on new debts
It makes sense that alongside reducing your existing debt, you should also avoid taking on new debts. The former action is meaningless if you're replacing your old debts with new ones. As much as possible, hold off large purchases and other loan types until after your home loan is in place.
Increase your down payment amount
Lenders favor borrowers who can show they can be on top of their debt and save money. Nothing shows a lender that you're a big saver like presenting a large down payment. Some lenders work with borrowers with low deposits, but it's best if you can save more. The higher the amount you have for a down payment, the less money you need to borrow, making you look more appealing to the lender.
Start Your New Property Purchase
Purchasing a condo for sale in the Philippines is a large financial investment, and you may need a home loan to make it happen. Getting pre-approved increases your chances of securing a loan. A pre-approved home loan will help get your finances in check during the initial stages of your housing loan application so that you won't have to deal with any mishaps once the actual process starts.
In addition to working with lenders with competitive rates, you should also consider working with property developers who offer convenient and flexible payment terms for buyers.
Federal Land has knowledgeable real estate professionals who can help you in your home-buying journey. Our experts want you to have the property of your dreams in the easiest way possible. Start your property purchase and visit Federal Land to view and compare high-quality condos strategically located in prime spots in the Philippines.