Photo from Philippine Star
It is that time of the year again. The time when pouring rain and cold winds make us wish we can stay forever in bed, with the gentle tapping of the rain lulling us to sleep.
Unfortunately, the rainy season brings not only rains, but also winds, floods, thunderbolts, and ever-looming dread. With the Philippines located within the most active tropical cyclone basin, the Northwestern Pacific Ocean, it is only expected that we get at least a few terrible storms a year. So instead of getting paralyzed by fear every time a typhoon comes calling, here are a few things we can do to safely ride out the storm:
BEFORE THE STORM
• Keep yourself updated with the typhoon movements. Watch the news for
weather updates
, storm warning signals and flood alerts from Philippine Atmospheric, Geophysical and Astronomical Services Administration (PAGASA).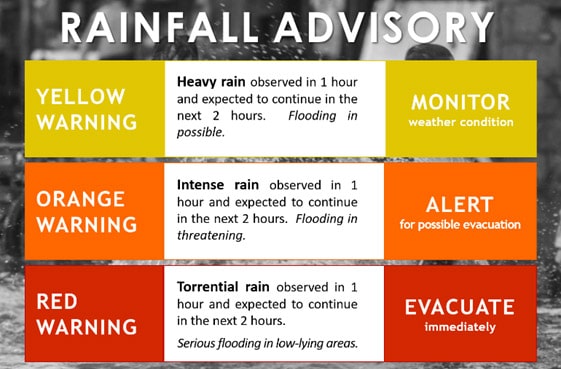 • Inspect your house for holes in the roof, cracks on the walls and clogs in the drains. Fix it as soon as possible. Secure lawn furniture and other loose objects like planters and children's toys.
• Prepare an emergency kit for each member of the family. The kit must include at least a three-day supply of drinking water and non-perishable food, first aid kit, medicine, toiletries, whistle, flashlight, batteries, radio, warm clothes, important documents, and cash. Also, ensure that your cell phones and power banks are fully charged.
• Develop a family emergency plan. Discuss disaster scenarios with the family and make sure that everyone knows what to do. Determine a safe rendezvous point in case family members get separated during the calamity. Teach the children to call emergency hotlines in times of distress.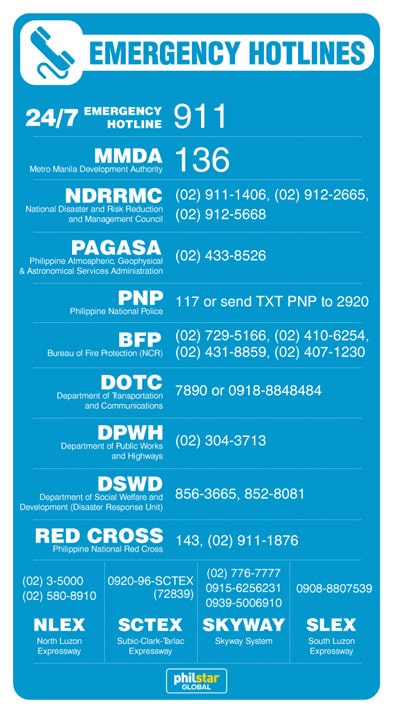 Directory of Emergency Hotlines from Philippine Star
• If you are advised to evacuate, leave as early as possible or while there is daylight. Before leaving the house, shut off the electricity, water, and gas. Move the furniture and appliance in higher areas, or on the second floor if you live in a multi-story house. Lock doors and seal windows, and take your emergency kit with you.
DURING THE STORM
• Stay indoors, and secure family and pets. Keep yourself updated for weather updates and flood warnings through TV, radio or internet.
• Avoid wading through floodwater to avoid getting electrocuted or contracting disease. If you have to go through floodwater, wear protective gear such as raincoats and boots.
• If you suspect that your drinking water is contaminated, boil the water for at least 20 minutes to kill bacteria.
• Unattended candles and gas lamps can lead to a house fire. Use flashlights and batteries instead.
• Use your phone sparingly to preserve battery life and to give way to more important calls to come through like rescue and relief operations.
AFTER THE STORM
• Return home only after the authorities deemed your area safe. Check your house for damages and dangerous animals before entering. If damages are minor, fix it immediately. If your home is heavily damaged, stay in an evacuation center or a nearby relative or friend.
• Do not drive into flooded areas, especially in 12 inches of moving water. An average car can be swept off the road and stall the car engine. Turn around and look for another route.
• Watch out for live wires and electrical outlets that may have been submerged in water. Do not turn on electricity switches unless you are sure it is dry and safe to do so. Report damaged electrical cables and fallen posts to the authorities.
• Boil water before drinking or preparing food to avoid contamination. Tap water may be contaminated due to broken pipes.
• Clean up. Dispose of the debris in your house and surrounding areas. Be careful using a chainsaw when cutting fallen trees. Throw the accumulated stagnant water that may be a ground for mosquitoes to breed.
The Philippines receives an average of
6-7 storms per year
, not counting the torrential rains brought by the Habagat (Southwest Monsoon). With so many storms a year coming in every year, it pays to be alert and prepared. Be smart and stay alert. Remember it is better to be safe than sorry!