May 11, 2023
9 Space-Saving Furniture Pieces for Studio Condo Units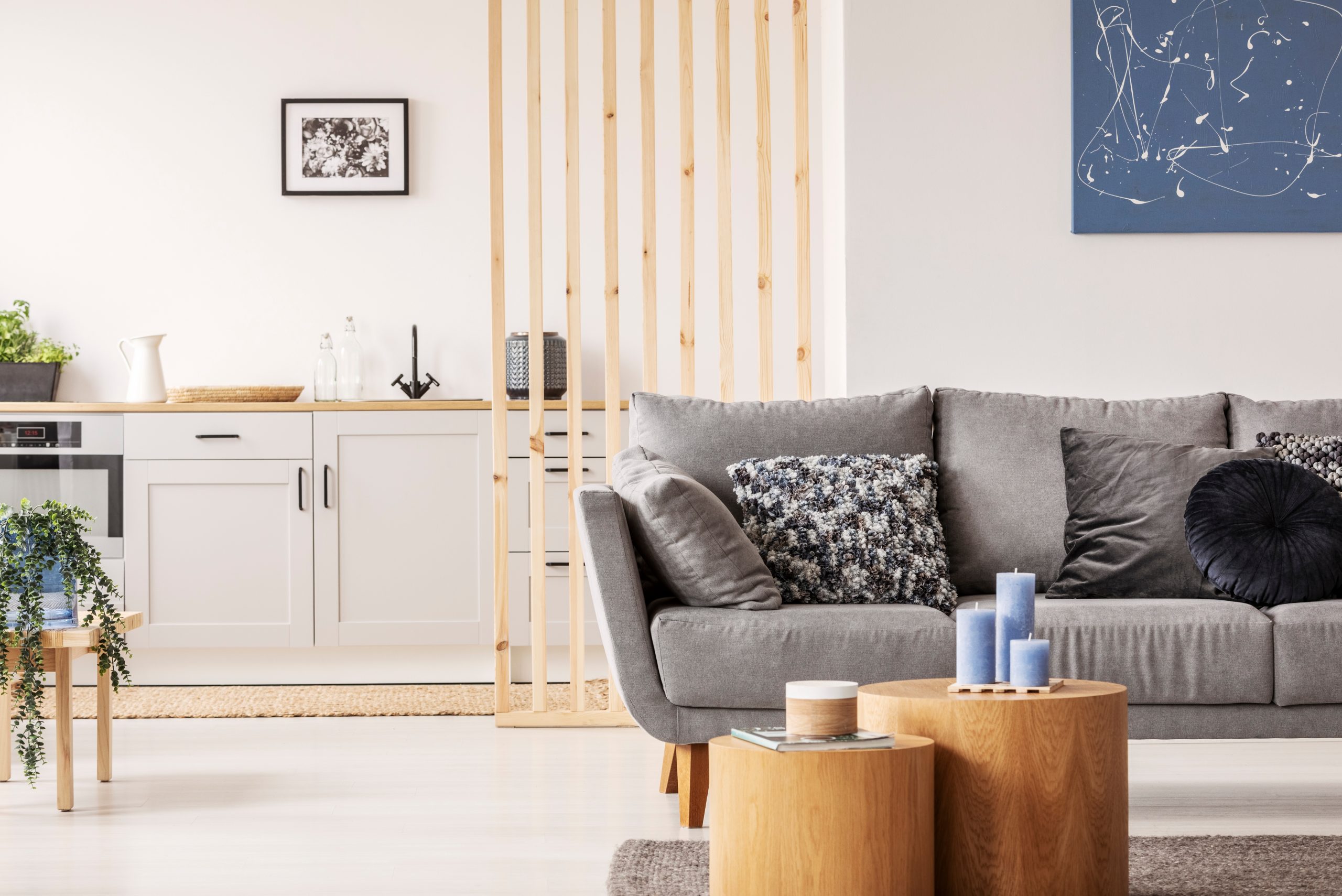 It can be easy to underestimate studio units, but they offer several advantages. Compared to a 1- or 2-bedroom unit, they're easier to maintain and usually cost much less, allowing your finances to relax.
You only need the right furniture to live comfortably in a studio unit. For a studio unit, the ideal furniture should balance form with functionality to create a cozy living space.
In this article, we round up space-saving furniture pieces worth investing in and where you can get them. 
9 Space-Saving Furniture You Need in Your Condo 
Space-saving furniture pieces combine the functionalities of different types of furniture such that you can use them for more than one purpose. As such, they're great for maximizing limited apartment or condo space.
1. Floating shelves
Studio units that don't have much ground space can utilize wall real estate for extra storage.  Floating shelves can provide valuable spaces for small house plants, books, and other knickknacks. In the kitchen, you can place one or two shelves beside the kitchen stove to easily reach herbs and spices while cooking.
2. Bed frame with shelves or drawers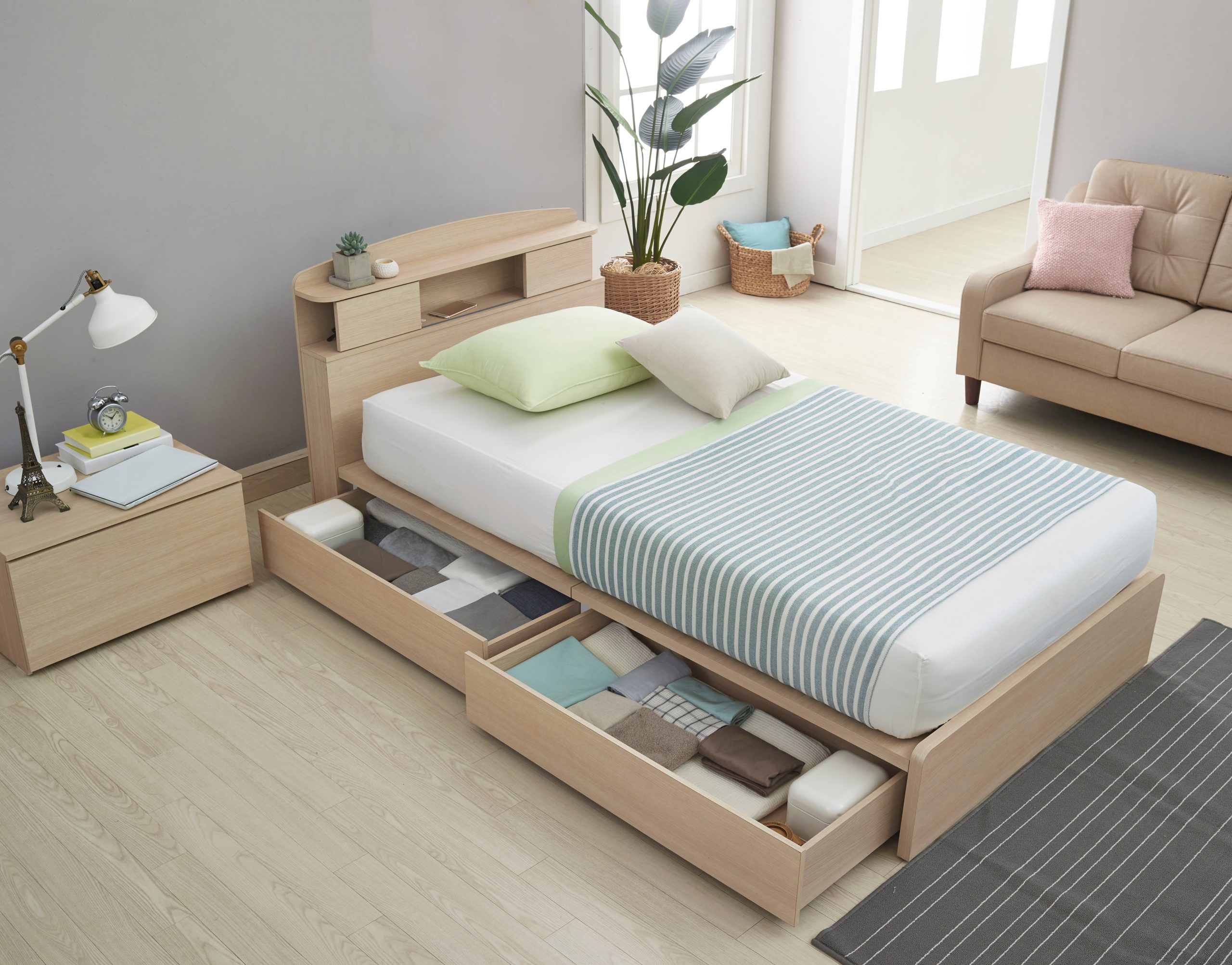 The space beneath mattresses can offer a lot of room for storage. Space-saving bed frames usually have drawers or cabinets at the bottom, perfect for storing seasonal items, bedsheets, duvets, and pillowcases. 
Some bed frames also have hidden shelves on the headboard to hold your books, lamps, glasses, and phone.  
3. Seats with hidden compartments
Like space-saving bed frames, seats with hidden compartments can also help you declutter your home. You can use these seats and couches for storing throw pillows, magazines, additional linen, and other household items you only need occasionally. Plus, when you're hosting a gathering at home, these strategic storage pieces can double as seats for your guests.
4. Stacking side tables
Side tables are fantastic furniture to keep essential items within reach, like the TV remote or your keys. You could remove the side tables from the stack to give guests more space for snacks and drinks during gatherings. Once the party's over, you can stack these tables again to quickly clean your condo. 
5. Expandable table
While a small dining table may be enough for you and your significant other, it can restrict you when throwing a party and having guests over for dinner. Expandable tables can be reconfigured to provide more tabletop real estate to accommodate more guests.  
6. Lift-top coffee table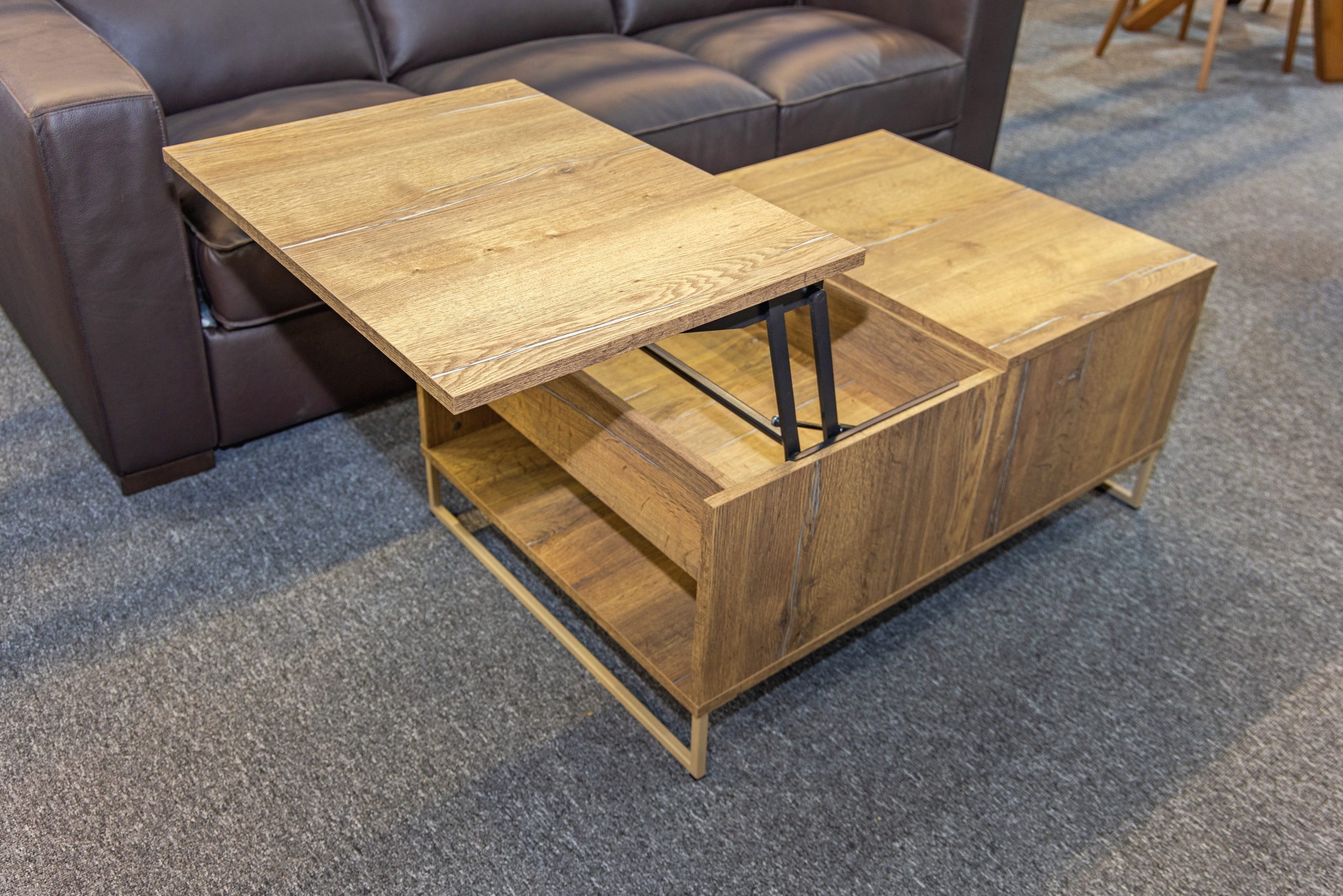 Besides being a piece of furniture to place coffee-table books, magazines, and house plants, lift-top coffee tables can be additional storage in your condo unit. These are great places to store board games, cards, remote controls, game controllers, and more. 
7. Corner desk with storage
A small, cluttered space can disrupt your focus while you work from home. However, large desks won't do in studio units because they take up too much space.
Get an L-shaped or triangular desk instead. This desk hugs the corners of your home office, so they help you boost your productivity without hogging too much space. It can also give you room for two monitors on either wall, which makes working even more efficient.
8. Kitchen floor storage
Underfloor storage is great because it's inconspicuous but still easy to access. For instance, The Season Residences has Japanese-inspired kitchen floor storage and cabinet designs. This space-efficient feature is perfect for storing home maintenance tools you use occasionally, as well as essential household items like cleaning supplies. 
9. Slim shoe cabinet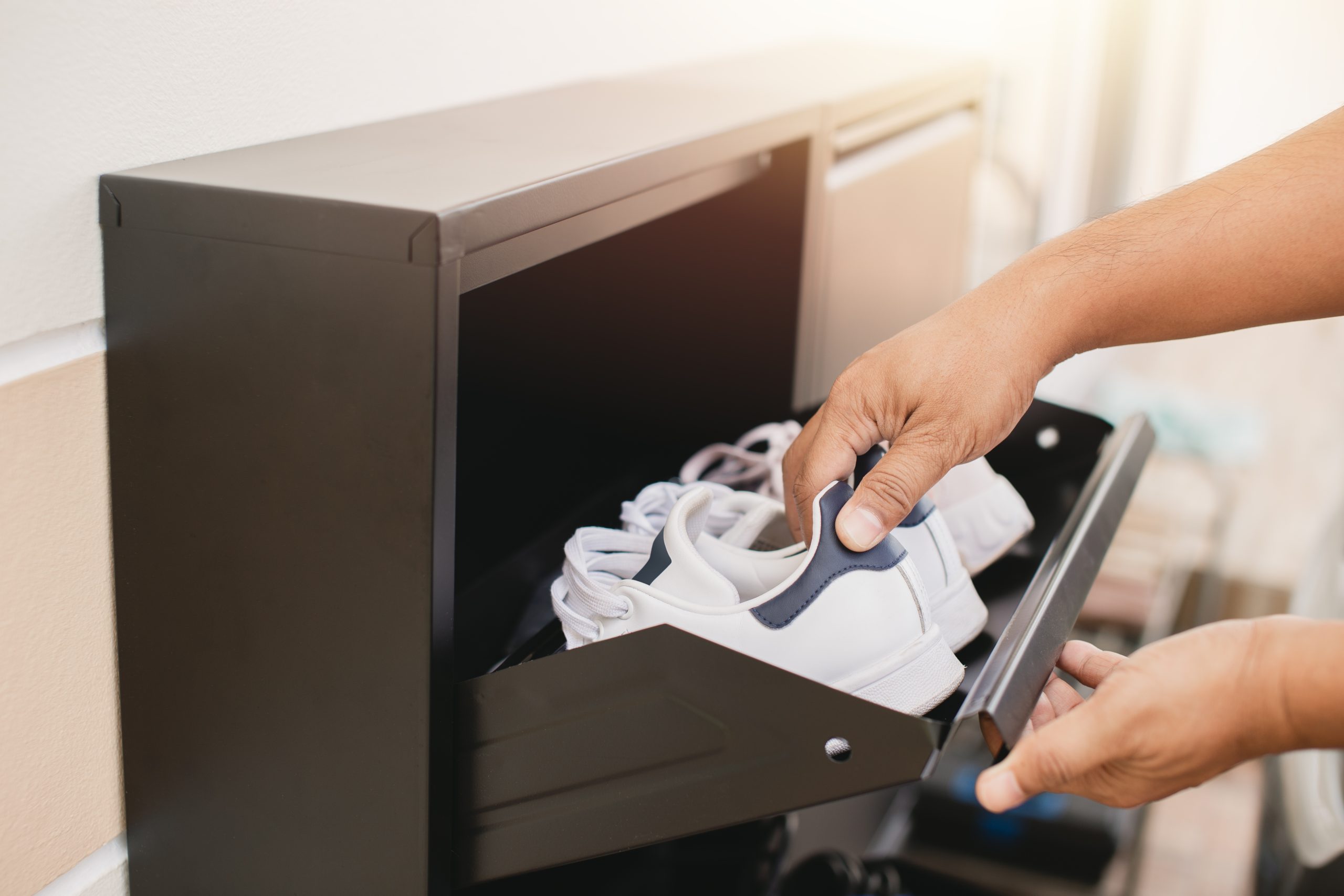 Leaving your shoes by the door is common in Asian culture. However, footwear can clutter your condo unit's entrance. They're also a tripping hazard.
A slim shoe cabinet provides a sleek and aesthetically pleasing solution to this problem. You can find one in The Grand Midori Ortigas via a built-in Japanese-inspired shoe cabinet by the main door of the condo unit. This way, it's easy to keep your shoes tidy, organized, and accessible as you leave the house.
Where to Buy Space-Saving Furniture in the Philippines
Once you know which space-saving furniture you need, your next step is knowing where to acquire them. The number of furniture stores in the Philippines can overwhelm you if you aren't used to shopping for furniture or furnishing a condo unit from scratch.
Below are a few excellent places to score high-quality space-saving furniture in the Philippines. 
IKEA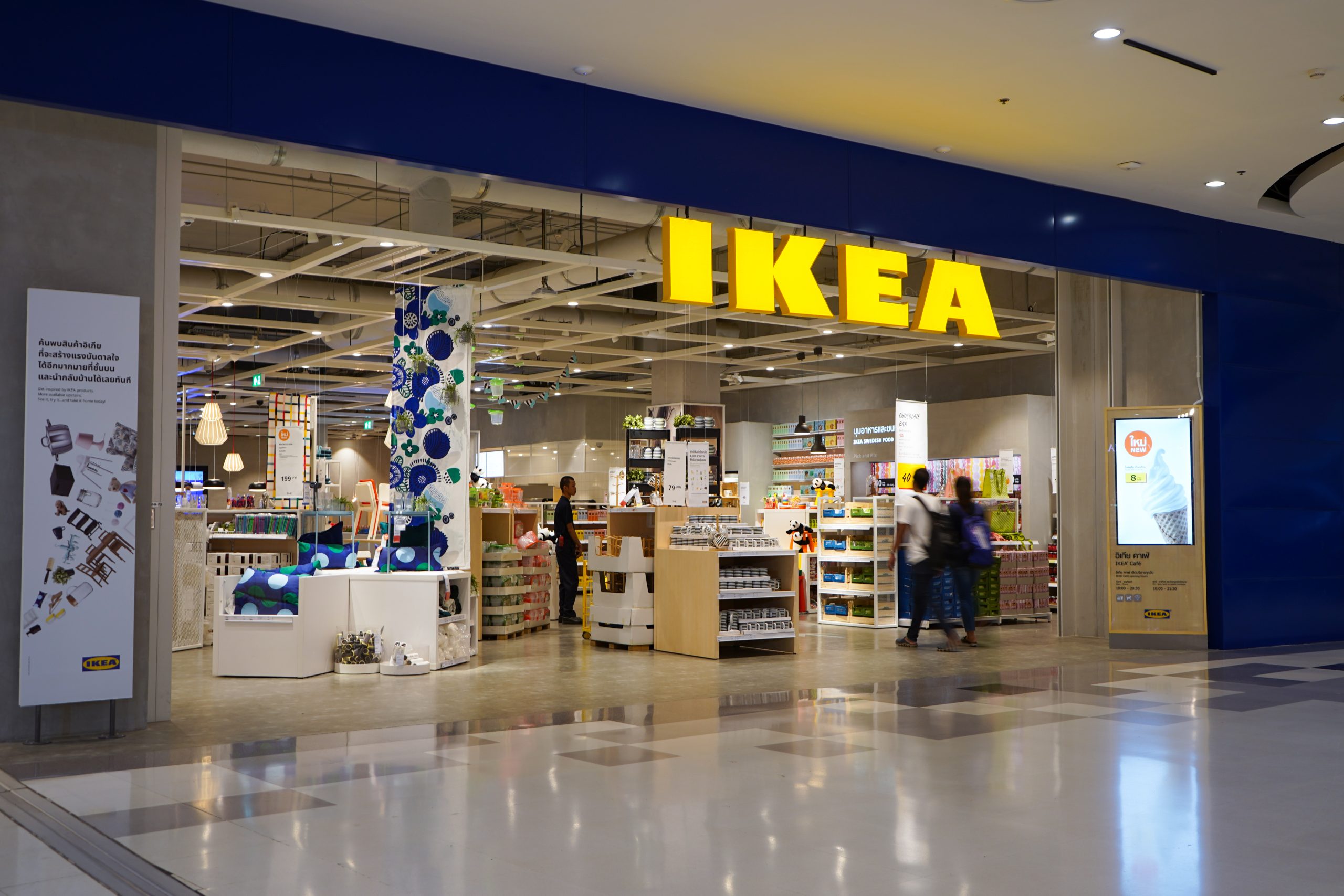 This Swedish company is one of the most popular furniture brands in the world, known for its do-it-yourself approach to furniture use. You'll find fitting furniture when you browse IKEA's immense space-saving furniture collection on its website or at its massive store in Pasay City.
Furniture Manila
Filipino interior designers recognize Furniture Manila for balancing affordability and quality in its furniture products. It's an ideal furniture store if you have a budget but don't want to skimp on quality. You can browse space-saving furniture collections on Furniture Manila's official website or at its physical store in Makati City. 
Furniture Source Philippines
Furniture Source Philippines offers numerous versatile and flexible space-saving options that easily match your desired aesthetic. Look through the store's collection on its eCommerce site or visit one of its shops in Muntinlupa or Mandaluyong City. 
BLIMS Fine Furniture
BLIMS Fine Furniture has a Condo Collection that offers an array of furniture ideal for small homes. BLIMS also has trendy, world-class furniture for a contemporary Filipino look. You can browse through its eCommerce website or visit any of its stores in Quezon City, Muntinlupa City, and Bonifacio Global City. 
Expand Furniture
Vancouver-based Expand Furniture is famous for creating highly functional but aesthetically pleasing space-saving furniture, from wall beds to transforming coffee tables and fold-away desks. Transform your condo by shopping for products via the company's official website. 
Living Large 
Your space needs to match your lifestyle. So, how you organize your furniture and what types you buy can go a long way to building a comfortable life in a condo. Oversized furniture might crowd your space and inconvenience your daily life. 
It's also best to invest in properties built with your convenience in mind, such as Siena Towers by Federal Land. This project is a modern take on the Italian town of Siena, capturing the allure of a cozy town. Siena Towers streamlines the suburban charm of Marikina with modern city conveniences to provide you with lifestyle choices just outside your door. Send us a message to learn more about Siena Towers.